With the Easter holidays around the corner, you may be on the look out for family friendly accommodation in Cape Town that is a) suitable for kids, b) affordable, and c) central enough to be close to major attractions. There is certainly no shortage of places to stay in and around the city, but places that are perfect for a single or couple might not be quite as ideal for those travelling with children. In addition to the accommodation's basic facilities that are offered, there are quite a few things that parents need to consider – security, swimming pools, potentially slippery floors, stairs, whether or not outdoor space is provided, entertainment options and even smaller things such as bedroom and bathroom configuration are just some things to keep in mind.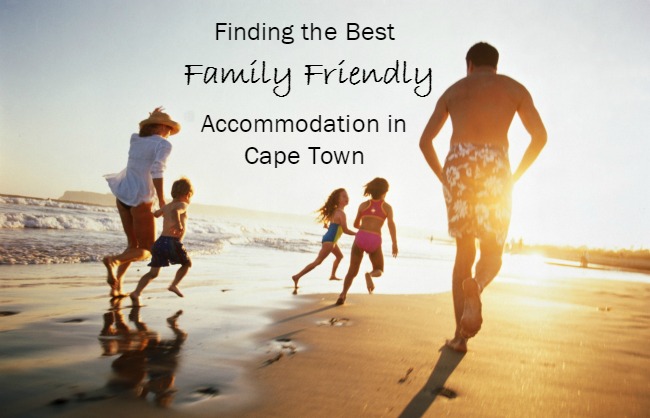 The good news is that, with a bit of advice to point you in the right direction, finding kid-friendly accommodation need not be too difficult. Whether you are visiting from within South Africa or further afield, we have put together some useful tips to help you plan a super rewarding family vacation over the Easter break.
Planning a Family Holiday in Cape Town? Try These Tips.
First and foremost, you will need to make a list of all of the criteria that you require in your choice of accommodation.
Are you  looking for self-catering, or a bed and breakfast? Do you want to be based close to all the action, or near to a beach? Do you have smaller children who may require special facilities, such as cots and high chairs? Or are your kids old enough to share rooms with adjoining bathrooms? You should also make a note of whether you want to opt for add-on services such as a private chef, driver, baby sitter or butler (if your budget allows, of course!).
Write down all of the things that are most important, then use that list to start searching. From there, here are some things to consider during your search for family villas and accommodation…
* Location
You may have a general idea of where you want to be based. There are many, many beautiful suburbs and neighbourhoods situated throughout the city, each offering various advantages. As a general rule of thumb, the city is divided into a few regions, which will help you plan your location.
The Blaauwberg region includes areas such as Milnerton and Blouberg, with a lovely beach, quiet suburbs and close proximity to Cape Town International Airport and Century City hotspots such as Canal Walk Mall and Ratanga Junction theme park. The City Bowl includes the City Centre as well as its suburbs, such as Gardens, Bo Kaap and Tamboerskloof. This is where many top attractions are found, including Long Street, Kloof Street, museums, markets and other landmarks. The Southern Suburbs is where quieter, peaceful suburbs such as Constantia and Newlands are found, along with Kirstenbosch Botanical Gardens and other landmarks. This area often has cottages and gardens with ample space. The False Bay coast is where the coastal suburbs of Kalk Bay, Fish Hoek and Noordhoek are found – it is quiet and low-key with a lot of child-friendly activities nearby. These are just some of the areas to choose from – there is also the Winelands and outlying areas as well.
* Suitability
It is important to note that not all apartments and villas are suitable for children. In fact, some may have specific rules in place about children under a certain age. This does not mean that every place will not be right – it simply means that you need to focus on places that not only welcome younger visitors, but have the capacity and facilities to accommodate them easily.
When making any enquiries, always ask upfront about policies involving children. Find out whether any surcharges are in place for teenagers or children over a certain age. Ask whether the place is safe and equipped for kids. Check whether swimming pools are fenced or covered. Ask about outdoor space, double check whether any breakages deposits are in place (you never know what will happen when excited kids are cooped up on a rainy day, after all!) and always err on the side of caution. By being upfront and asking whether your chosen accommodation picks are child-friendly, you will save yourself (and the accommodation provider) a great deal of time and stress. And, you will also get more peace of mind to enjoy your holiday once you do find a great kid-suitable place to stay.
* Entertainment
Many venues are designed for the whole family, with entertainment facilities that include large scale televisions, DVD and satellite, movie libraries and, in some cases, dedicated home theatres or playrooms. Even if you only have a basic television and a few DVDs, do not despair – finding entertainment for little ones is not too hard in this city.
Added-on services can do wonders for keeping the younger members of the family entertained while mom and dad relax. But if you don't have the budget for a baby sitter, the next best thing is to prepare a full itinerary to use for the duration of your stay. As soon as you have made your booking, look up the area you will be staying in so that you can get a good idea of all the restaurants, parks, beaches, outdoor spots and attractions in the vicinity. Look for free activities, learning activities and every other type of kids' activities in Cape Town. Hunt for outdoor activities, and indoor activities. Look for kid-friendly restaurants, and make a list of suitable teen-friendly activities. You should also start thinking about how you will get around. Will you hire a car perhaps, or use a service such as Uber?
…
Looking for advice on how (and where) to find family accommodation in Cape Town? We are here to help. Contact us today and let us know what we can do to help you plan the best family holiday to date.