Whether you're travelling with a teenager, looking for things to do with your nearly-grown-up kid over the weekend or holidays or even an under 20 looking up some fresh ideas, our blog post today brings you a bunch of ideas for things for teens to do in Cape Town (that are not super lame and/or boring).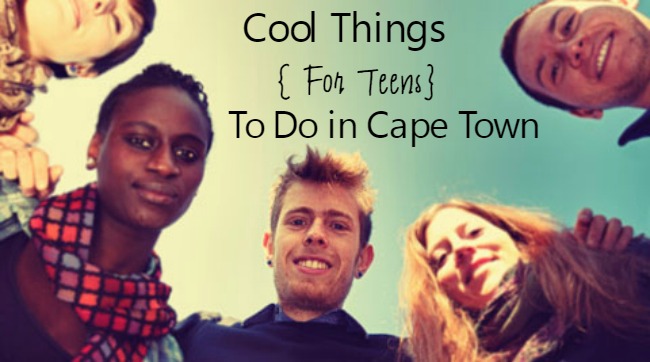 I am not a parent, but my teenage years were vivid enough (and extended enough) that often, I still feel like a teen. In fact, I can eye roll with the best of them, still dress almost exactly the way I did back in the good old 90s, and have enough of a non-conformist streak that I can entirely "get" how easy it is to find nothing to do that appeals to me. It's hard enough for teens to deal with boredom, but for endlessly patient parents of teens who also have to please everyone else in the family (and stay sane at the same time), it can make leisure time something of a strain when there is a lack of suitably 'cool' things to do.
Cool Things to do in Cape Town… The Under 18 Edition
So, how do you keep the 12 to 18 in your life busy without resorting to locking them up in your self catering accommodation until school resumes? For starters, here are some cool things to do in Cape Town for teenagers that (hopefully) will not trigger any eye rolling or dramatics.
Recommended Accommodation
1. Try surfing lessons
If your teen is active and loves the beach, surfing lessons may just earn you some kudos. Muizenberg is the best place for this sort of thing. Gary's Surf School (+27 (0)21 788 9839) is one of the best schools around, catering to surfers of all levels and ages. Lessons are safe but still fun enough to offer loads of adrenalin. Bonus tip: you may want to avoid references to Point Break, which may be met with blank stares and a lack of appreciation for Keanu's classic one liners.
2. Go horse riding
Horse riding can be done on the beach (at Noordhoek's Long Beach), but there are a few schools situated across the city and surrounds. Constantia and Noordhoek are both 'horsey' areas, while there are a few schools in the Cape Winelands as well. For Noordhoek beach rides by horseback, try Sleepy Hollow Horse Riding (+27 (0)21 7892341.
3. Try some Downhill Adventures
A bunch of nail-biting adventures can be enjoyed through this company, which offers everything from sandboarding to quadbiking, cycle adventures, water sports and more. Adventures are organised by water, land and air. The Downhill Adventures Cape Town headquarters is situated in the City Bowl area. Call +27 (0)21 422 0388 for more info.
4. Visit SANCCOB to help penguins
The South African Foundation for the Conservation of Coastal Birds (SANCCOB) is a non-profit organisation that works to rescue and rehabilitate penguins. A day at a rescue centre is sure to be remember for a very long time, giving the chance to see these amazing birds in person and help clean and feed them. Contact the Tableview branch on +27 (0)21 557 6155 to learn more.
5. Head to Canal Walk
Yes, it's a mall. As stereotyped as it sounds though, a decent sized mall like Canal Walk is sure to keep the whole family happy for hours. With hundreds of shops, including clothing and other goods, not to mention a cinema, restaurants and coffee shops and various other activities for all ages, it is safe, central and generally fun for all.
6. Go to Ratanga Junction (permanently closed in 2018)
Not too far from Canal Walk, also in Century City, is the theme park of Ratanga Junction. Here, kids and adults of all ages can enjoy a variety of thrilling rides, along with restaurants, coffee shops and entertainment. The park is mainly open during the holidays and caters to kids and teens with a full day of adventure.
7. Visit Grand West Casino
What? A casino? Why on earth would you take your teen to a casino? Before you look at me like I'm talking crazy, Grand West is one of those rare places that are truly family friendly. Even if it is technically a gambling establishment, that is only a fraction of its appeal. It is also home to an ice rink, a bowling venue, a number of family restaurants and arenas and theatres used for theatre, concerts and other entertainment.
8. Go sea kayaking
Take to the water on a kayak for a fun adventure that gets the whole family active in a way that is not overly exhausting or complicated. In fact, while not so relaxing that you'll fall asleep, kayaking is nonetheless relaxing enough to make everyone feel in the holiday mood. This activity can be enjoyed from Simons Town harbour and from Strand beach.
9. Take a hike
Hiking in Cape Town is fantastic all year round, with many great routes to try. Speaking from my own personal experience of being dragged up Table Mountain via Newlands Forest, teens may complain a bit at first. Once you get further into the hike however, the scenery soon overwhelms any hesitation and dramatic sighs are transformed into sighs of wonder. Try our top picks for Cape Town hiking.
10. Hit the beach
Pardon me for being Captain Obvious, but really, with so many beautiful beaches in Cape Town, we can't NOT include this in our list of places for teens to visit. Teens, kids, adults, seniors… everyone will be able to find a beach to suit just about any preference. From the chilly but beautiful Atlantic Ocean beaches such as Clifton 1, 2, 3 and 4, Camps Bay and Llandudno to the warm False Bay beaches of Boulders, Muizenberg and Fish Hoek, having fun in the sun is as easy as picking a beach and heading to the coast.
11. Enjoy some Paintball
There are a number of Paintball operations in and around the city, including Imhoff Farm in Kommetjie. This game is for the most part safe – it is probably best suited to slightly older teens and/or groups of two or more to add to the fun. Do some digging to find operators in your area (and remember to get input from your teen to check that it's something they'd be keen to do).
12. Go go-karting
This can be done in Kenilworth and Canal Walk (visit www.karting.co.za for info on each track). With indoor tracks that are fast and furious in all the right ways, teens will love the non-stop action. Adults will love it, too. Costs range from R80 upwards.
…
Now it's over to you. What are your top picks when it comes to things for teenagers to do in Cape Town? Share your ideas below and let us know!