Have you been to De Waterkant in Cape Town? Situated between the Bo Kaap and the City Centre, this fascinating little village is home to a range of restaurants, shops, spas, yoga studios and quaint cottages. While not as colourful as its next door neighbour, De Waterkant has a style all of its own. It has a long history dating back hundreds of years and is often referred to as the Cape Quarter.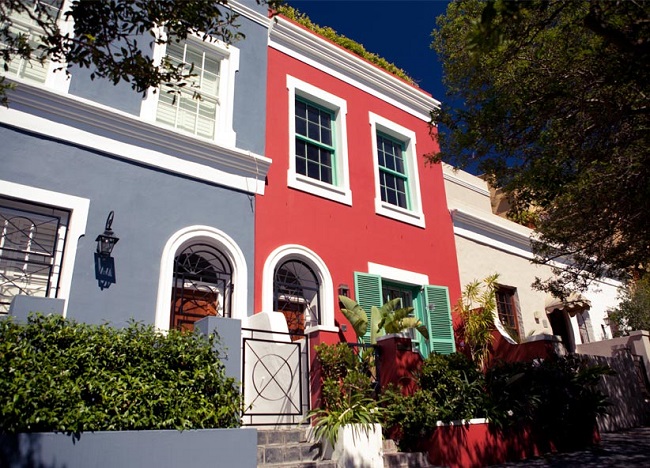 What can you see and do here, and where can you stay if you're planning a holiday to this part of Cape Town? Join us today on the blog as we take a look at what this village has to offer!
What to See and Do in De Waterkant
Technically, De Waterkant is considered a sub-district of Green Point, although it is close enough to the CBD to be thought of as part of that area, too. The suburb's main roads include Waterkant, Buitengragt and Strand Streets, while parts of Somerset Road also lead into the village. Many of the side streets have cobbled roads and steep slopes, with names that reflect the area's mixed heritage. You will often find Italian names, along with other interesting names.
Some of the many things that you can see and do in De Waterkant Cape Town include:
* Shopping. Visit the Cape Quarter shopping centre off Somerset Road to find a huge selection of shops, designer boutiques, wine merchants and restaurants, along with cafes and art galleries. This small mall is relatively new, very modern and it boasts a large upper terrace that is filled with cosy cafes. Whether you're window shopping or gift shopping, this spot is always worth a visit.
* Chocolate Tasting. We love chocolate so much that we've featured Honest Cafe in our 10 Things to Do in the Cape Town City Centre guide. The cafe is located on Wale Street, offering tastings for groups of 8 or more people. They also have an incredible selection of treats, including sweet and savoury concoctions. If you want to try locally made artisan chocolate, make sure you stop past for your chocolate fix! In addition to Honest, there's also the Lindt Chocolate Studio in the Cape Quarter centre – also well worth a visit!
* World-Class Coffee. Origin Coffee Roasting is also in the area. Origin coffee is out of this world, and the cosy cafe on Hudson Street is always great for a leisurely cup of good, locally made java. Their coffee selection is wide enough to cater to all tastes – look out for exotic picks such as the Uganda White Nile, Kenya Gakuyuini, Ethiopia Gigesa Guji and the Spring 2016 Espresso to name just a few. All coffee is made sustainably in small batches to ensure even more flavour and impact.
* Wining and Dining. Restaurants and bars worth noting here include The Piano Bar on Napier Street (outside patio, live music in the evening, great vibe), Cafe Manhattan on Waterkant Street (trendy bar and burger spot, popular with the gay crowd), La Petite Tarte in Cape Quarter (delightful sweet treats), Izakaya Matsuri on Prestwich Street (Japanese food), Anatoli on Napier Street (Turkish food) and San Julian Taco & Tequila on Rose Street (Mexican food) to name just a few.
Where to Stay in De Waterkant
Wondering where to stay in De Waterkant? We offer a wide range of accommodation options in this area, including centrally located apartments and aparthotels that will put you right near the action. Some of our top picks include Harbouredge Suites – a modern complex boasting 8 units that comprise of studio and 2 bedroom apartments; 317 Rockwell Suites – a contemporary 2 bedroom apartment; De Waterkant Village – offering a variety of apartments and cottages; 24 Loader Street – a 3 bedroom apartment boasting a pool and other features; and 2 Bayview Terrace – a charming 3 bedroom cottage with a pool.
___________________________________________________
Browse our De Waterkant selection of properties to find other places to stay in this area. If you would like assistance finding somewhere to stay in De Waterkant, contact us today and let us know how we can assist!
Image Credit: Go2Africa.com