Bo-Kaap or Bo Kaap Cape Town is one of the most fascinating places in the Mother City. Home to the famous colourful cottages that are set high on steep cobbled roads, this area lies between Tamboerskloof and De Waterkant in the heart of the Cape Town City Bowl It is also known as the Cape Malay Quarter. With a long and interesting history, plenty of things to see and do and photographic opportunities galore, a visit to the Bo Kaap should be on everyone's bucket list!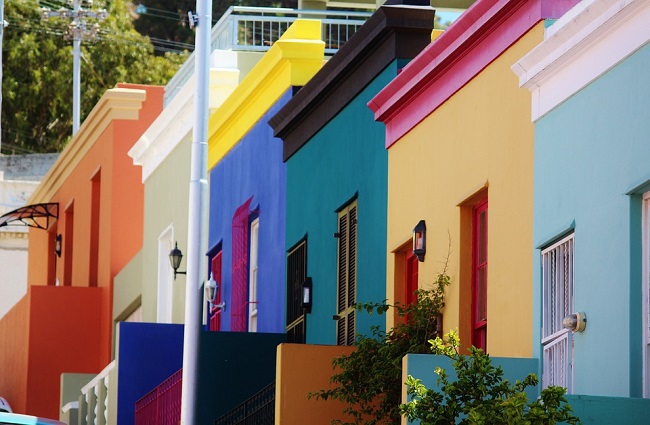 In this mini guide, we take a look at what you can see and do in Bo Kaap Cape Town. Ready to get going? Let's jump right into our virtual tour…
What to See and Do in Bo Kaap Cape Town
The name Bo Kaap translates from Afrikaans to 'above the Cape', which is rather fitting, when you consider that the area lies on the slopes of Table Mountain, overlooking the city. Just about every road leading to the suburb is steep. Some are so steep that there are handrails on the pavements. The roads are cobbled, and flanked by brightly coloured houses in just about every shade imaginable. There are a number of mosques in the area, which is predominantly Muslim.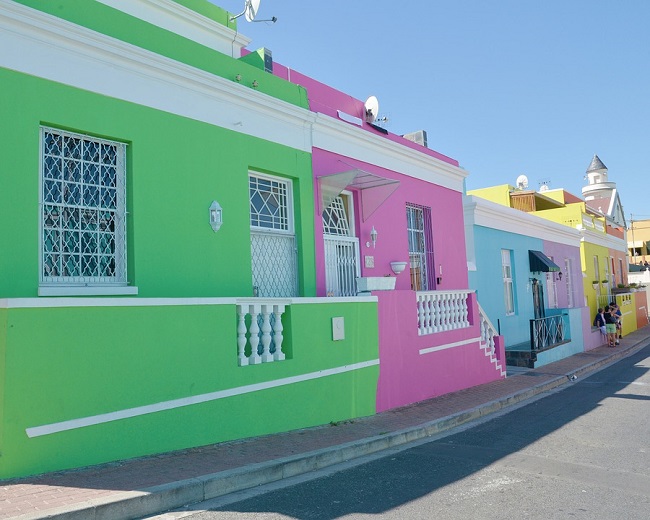 What can you see and do in the Bo Kaap? Here are a few things for starters…
Bo Kaap Museum
71 Wale Street / +27 (0)21 481 3939 / Monday – Saturday, 10h00 – 17h00 (excluding holidays)
The Bo Kaap Museum offers the most comprehensive overview of the area's history, with a number of interesting exhibits on show. Items showcase local Islamic culture and heritage as well as the history of the Cape Malay people – the original inhabitants of the Bo Kaap. The building is believed to date back to the 1760s. In 1978, it was converted into a museum, renovated to reflect a 19th Century Muslim dwelling. It has amazing yellow wood floors, a typical Cape Dutch architecture, teak door and window frames and themed rooms that include a traditional bridal chamber. Entry fees are affordable, making this a must for anyone visiting the area.
Bo-Kaap Food and Craft Market
Schotschekloof Civic Centre, Upper Wale Street / +27 (0)21 424 3736 / First Saturday of the month, 10h00 – 14h00
Entry to this incredible market is free, but make sure that you bring some pocket money because you will want to take something home! The market is held on the first Saturday of each month. A wide variety of goods are sold, from locally made foods to interesting crafts. Look out for home-made cakes, samoosas and koesisters, jewellery, photographs and lots of other goodies. The market is hosted by the Bo-Kaap Cultural and Heritage Gateway, a women empowerment group whose mission is to up-lift local women with the help of skills development and job creation.
Streetwires
77 Shortmarket Street / +27 (0)21 426 2475 / Monday – Friday, 09h00 – 17h00
Streetwires is a fair trade collective of around 60 local artists, who make the most amazing things out of wire, beads and other materials. They are based near Greenmarket Square. You can visit the artist studio and browse the shop to find beautifully made local crafts. Workshops are also offered for small to medium groups wanting to learn about wire art. These colourful, truly South African pieces make great gifts but also add the perfect touch to modern homes.
Atlas Trading Co.
104 Wale Street / +27 (0)21 423 4361 / Monday – Thursday, 08h15- 17h00 (closed between 12h00 and 14h00)
Better known as the Bo Kaap Spice Market, Atlas Trading is a veritable treasure trove for spice lovers seeking good quality spices. The indoor market offers a massive selection of whole spices from all over the world. Started in 1946, Atlas is a family owned business managed by brothers Wahab and Shouket Ahmed. In addition to a huge selection of spice, the market also sells a variety of pickled goods, including swad and local chutney; henna; mango powder; incense and plenty of other heavenly goodies as well, all at excellent prices.
Bo-Kaap Kombuis
7 August Street / +27 (0)21 422 5446 / Tuesday – Thursday & Saturday, 12h00 – 22h30; Friday, 14h00 – 22h30; Sunday, 12h00 – 22h30
If you are looking for a genuine Cape Malay dining experience, Bo-Kaap Kombuis (Kitchen) is where to go. Run by Yusef and Nazli, this restaurant offers amazing views of the city, along with a tantalising menu of local dishes. Be sure to try the tasting platters, which include a selection of local specialties such as bobotie, curry and roti, as well as the tamatie (tomato) bredie, sosatie and frikkadels. Save room for dessert too – you have not lived until you have tried traditional Bo Kaap koeksisters or malva pudding. Yum!
 ___________________________________________________
Keen to explore Bo Kaap Cape Town? The ComeToCapeTown.com City Tour is the best way to see the sights of Bo Kaap and other highlights in the heart of the city. Contact us if you would like to book this tour!