Situated on the eastern side of the Cape Peninsula, just before Cape Point, Simon's Town in Cape Town offers the perfect place to spend a day, weekend or holiday. This sleepy False Bay suburb is home to the South African Navy, along with an abundance of things to see and do. Penguins, a bustling harbour, museums, shops, restaurants and plenty of spectacular scenery make Simon's Town an essential addition to any Mother City travel bucket list.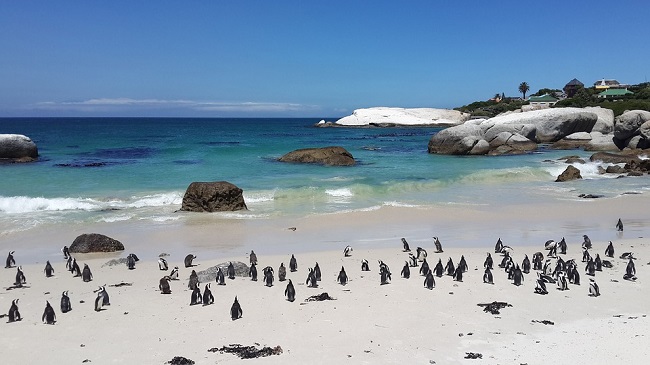 What can you see and do in Simon's Town? Let's take a look…
A Mini Guide to Simon's Town Attractions
Sometimes spelled Simonstown, the town was named after Simon van der Stel, one of the first governors of the Cape Colony. For over 200 years, the area has served as an important harbour and naval base, housing first the Royal Navy, and later, the SA Navy. It lies at the end of the Southern Railway Line, while its Main Road (called St Georges Street) connects the town with neighbouring False Bay suburbs such as Kalk Bay, Muizenberg, St. James and Lakeside. While travelling here by car is a great way to take in the sights along the coast on a self-drive adventure (and get the chance to see whales between August and November), taking a train trip to Simon's Town is an equally lovely way to enjoy a scenic cruise through False Bay alongside the water.
There are many Simon's Town attractions to see during a visit to this part of the world. Some of our favourite things to see and do in Simon's Town include the following:
1. Boulders Beach
1 Kleintuin Road, Simon's Town / +27 (0)21 786 2329
There are very few places on earth that offer the chance to swim near penguins. A protected nature reserve, Boulders Beach is home to a large colony of African penguins, also known as Jackass penguins. A small entry fee is required to visit the beach (it's really not a lot however). Once you enter, you will walk along a wooden boardwalk before reaching the sands. Some areas are not accessible to the public, including penguin breeding and nesting areas. It is also important to note that while photographing, admiring and swimming or sitting near the penguins is fine, the birds are still protected so may not be touched or hassled. If you are visiting with kids, make sure that they do not chase or upset the birds. No alcohol is allowed into the reserve and you will need to remove any picnic litter when you leave.
2. South African Naval Museum
St Georges Street, Simon's Town / +27 (0)21 787 4686
The SA Naval Museum is part of the South African Navy, and is staffed by Naval Personnel and civilian volunteers. The Museum is supported by the South African Naval Heritage Trust formed to preserve and publicise South Africa's Naval Heritage. It is houses within the original Dockyard Magazine from 1810, which was developed when the Royal Navy moved from Cape Town to Simon's Town. Exhibits include life-sized Ship's Bridge and Submarine Operations and Control Room, torpedoes, mine-sweeping equipment, photographs, uniforms, ship and submarine models and plenty of other interesting naval items. It's open every day from 09h30-15h30, except for Good Friday, Christmas Day and New Year's Day.
3. Warrior Toy Museum
St George's Street, Simon's Town / +27 (0)21 786 1395
For a nominal entry fee, you can visit the incredible Warrior Toy Museum, which houses some 4000 model cars, 500 dolls and teddies, many beautiful dolls houses, two fully operational railroads, many lead soldiers, ships, trucks, planes and other toys from various ages throughout history. Kids will adore this quirky shop, but adults will also be amazed at the rare and amazing finds. There is also a sales section for those wanting to buy toys. The museum is on the main stretch of road, not far from the Naval Museum. It's open daily from 10h00 until 16h00, but is closed on holidays.
4. Jubilee Square
St George's Street, Simon's Town / +27 (0)21 786 4737
Also on St George's Street, the Jubilee Square and Jetty is where you will find the famous statue of navy dog, Just Nuisance, along with a selection of shops and restaurants, and the harbour. This is a great place to spend an hour or few, watching the boats, enjoying an ice cream or sitting down near the water for lunch or coffee. There is a market held here on Saturdays and the photographic opportunities are outstanding. The square is within walking distance to the toy and navy museum, and just a few minutes walk from the Simon's Town Station.
5. Scratch Patch and Mineral World
Dido Valley Road, Simon's Town / +27 (0)21 786 2020
The original Scratch Patch in Cape Town, this is the best place to find an assortment of semi precious stones at great prices. Kids will love the chance to dig for stones in the scratch patch, while adults will likely also find this plenty of fun. Stones are charged by the bag, ranging in price from a small bags to large boxes. There is also a gift shop called Mineral World, which sells an array of gorgeous items ranging from jewelry to other unusual finds. It's open Monday to Friday from 08h30 – 16h45, and on Saturday and Sunday from 09h00 – 17h30.
________________________________________________________
Have you been to Simon's Town in Cape Town? Let us know what you love most about Simon's Town! Oh yes, and before we forget, if you are looking for places to stay in this part of the city, be sure to check out our selection of Simon's Town accommodation options.