The Cape Wine Route is arguably one of the Mother City's best known regions. Comprising the wine-growing towns of Stellenbosch, Paarl and Franschhoek, this lush valley lies a little way outside of the CBD. This is where you will find some of the world's top wine estates, along with some of the most dazzling scenery imaginable.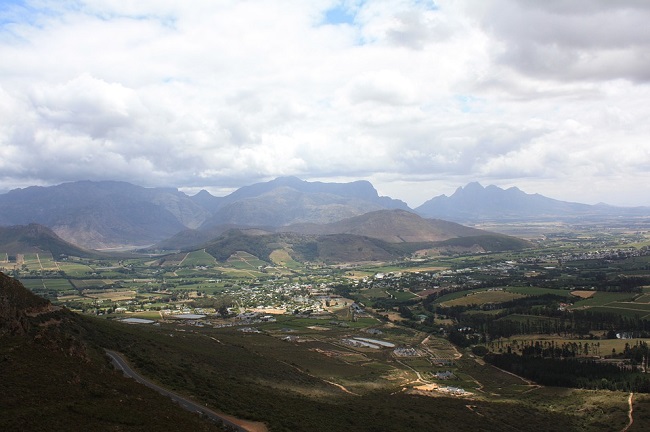 In the final installment of our Cape Wine Route guide, we will be visiting the beautiful town of Franschhoek. This is arguably one of the most spectacular towns in the region. Set in a lush valley that was once filled with free-roaming elephants, the area is home to some of the country's top wine estates. It's also a foodie haven, with many 5-star restaurants. Then there is the laid-back culture, the friendly people and the many things to see and do. All in all, it's easy to see why this town continues to attract both local and international visitors alike each year.
Cape Wine Route Spotlight: Franschhoek
Meaning French Corner in Afrikaans, this town is like a slice of France in the heart of the Cape. Its history dates back to 1688, when 176 French Huguenot refugees arrived in the valley. Many were given land by the Dutch government in Olifantshoek Valley (elephants' corner, named for the elephants that crossed into the valley to calve). Later, the name changed to  le Coin Français (the French Corner), before becoming Franschhoek. Many settlers named their farms are the regions that they had fled, and most of these names still remain today.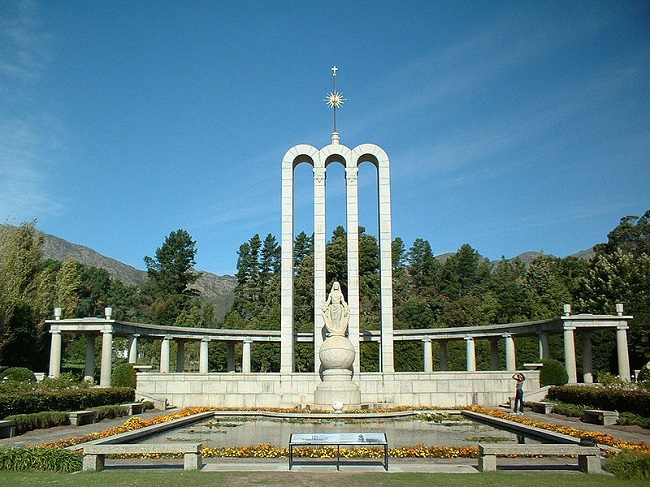 [Image: Huguenot Monument – Dewet, Wikimedia Commons]
The area has retained and celebrated its heritage since its early days. The Huguenot Monument stands proudly in town, while Bastille Day is celebrated every year. Estates such as La Motte, Champagne, La Cotte, Cabrière, La Provence, Bourgogne, La Terra de Luc and La Dauphine still have their original Cape Dutch homesteads, with many being turned into award-winning wineries. With its picturesque surrounds, charming French atmosphere and variety of excellent wine and food hotspots, Franschhoek is a must-visit for anyone wanting to explore the Winelands. Here's what you can see and do in this area:
* Huguenot Monument
An optional but worthy highlight on our Full Day Wine Tasting Tour is without a doubt a stop at the Huguenot Monument. The landmark is dedicated to the cultural influences that Huguenots have brought to the Cape, since their arrival during the 17th and 18th Centuries. Nearby, there is also a museum. Designed by J.C. Jongens, the monument was completed in 1945 and inaugurated by Dr. A.J. van der Merwe on 17 April 1948. The three arches represent the Holy Trinity, the Father, Son and the Holy Spirit. On top lies the sun of righteousness, with the cross of Christianity situated above. The lady on the monument was created by Coert Steynberg. She symbolises religious freedom. The fleur-de-lis on her robe symbolises noble spirit and character. Other symbols on the monument include religion (the Bible), arts and culture (the harp), agriculture and viticulture (the sheaf of corn and grape vine) and industry (spinning wheel).
* Wine Tasting
The fertile Franschhoek Wine Valley is home to some of the top wine estates in South Africa.Wine varietals produced here include whites such as Sauvignon Blanc, Chardonnay, Semillon and Chenin Blanc; reds such as Cabernet Sauvignon, Shiraz, Pinot Noir and Merlot and the region's answer to Champagne, Méthode Cap Classique. Notable estates include Haute Cabriere, Grande Provence, La Motte, Boschendal, Dieu Donne, Leopard's Leap, Allee Bleue, Vrede en Lust, Graham Beck and many, many others. You will have the chance to stop at a wine farm to sample local wine from this region on our Wine Route Tour.
* Restaurants
Franschhoek is not called a food lover's paradise for nothing! Of all the Cape Winelands towns, this town has the reputation for being the culinary capital. Food and wine go hand in hand, after all. But it is not just the wine estates that provide a stellar dining experience. Look out for cosy restaurants and cafes offering a wide range of dishes. Highlights to try include Chamonix, Pierneef a La Motte, The French Connection Bistro, Foliage, Allora, Roca, Haute Cabriere Cellar Restaurant, Reuben's, Ryan's Kitchen and many other amazing eateries found throughout the valley.
* Culture
Many festivals are held throughout the year, not least including Bastille Day, which takes place around mid-July. Events include the annual Summer Wines Festival in early February, various summer harvest festivals at selected wine estates, the annual Franschhoek Literary Festival in May, Franschhoek Cap Classique & Champagne Festival in December, Franschhoek Uncorked Festival in September and plenty of other regular events.
* Helshoogte Pass
Connecting Franschhoek and Stellenbosch, the Helshoogte Pass (R310) is a winding pass that offers some of the most breath-taking views imaginable. Mountains can be seen on every side, while the valley lies below in all its glory. Vineyards, fruit farms, clouds, cows and wide open spaces are just some of what you can enjoy on the route. Be sure to have your camera at the ready – you won't want to miss these views!
______________________________________________
That concludes Part 3 of our guide to the Cape Winelands. To learn about Stellenbosch and its attractions, head on over to Part 1 of our Cape Wine Route virtual tour. For a mini guide to Paarl, check out Part 2 of our Winelands guide. To book a Wine Tasting Tour or find out more about this tour, contact us today!