The Cape Wine Route is arguably one of the Mother City's best known regions. Comprising the wine-growing towns of Stellenbosch, Paarl and Franschhoek, this lush valley lies a little way outside of the CBD. This is where you will find some of the world's top wine estates, along with some of the most dazzling scenery imaginable.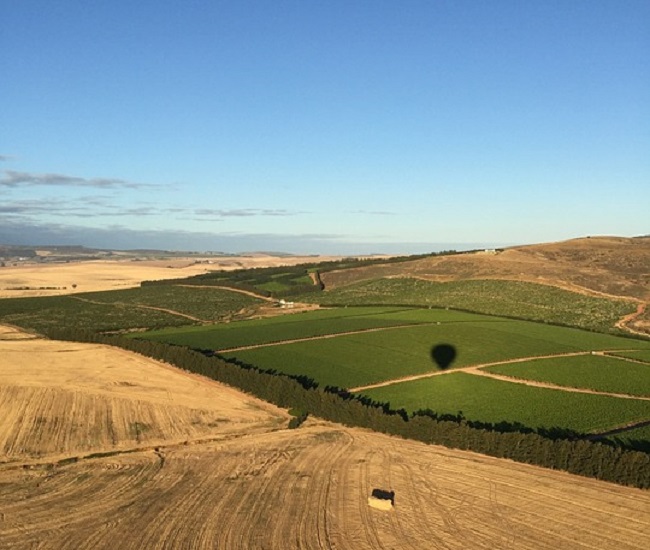 In Part 2 of this series, we will be heading off to the town of Paarl, the third oldest town in the Western Cape after Cape Town and Stellenbosch, and the largest of the three wine towns in the Cape Winelands. Along with a number of excellent wine estates, Paarl is home to many fascinating landmarks, quirky restaurants, markets and other things to see and do. Join us as we set forth on a virtual tour to see what this area has to offer!
Cape Wine Route Spotlight: Paarl
The name Paarl comes from the Afrikaans word for pearl. And, with its great beauty, fertile land and incredible views, this town is indeed a pearl. This is where Nelson Mandela made his walk to freedom on 11 February 1990, after leaving Victor Verster Correctional Centre (now known as Drakenstein Correctional Centre) after 27 years of imprisonment split between Robben Island and Victor Verster. This is also where the massive geographical wonder known as Paarl Rock is found, along with the Taal (Language) Monument and many other interesting sights.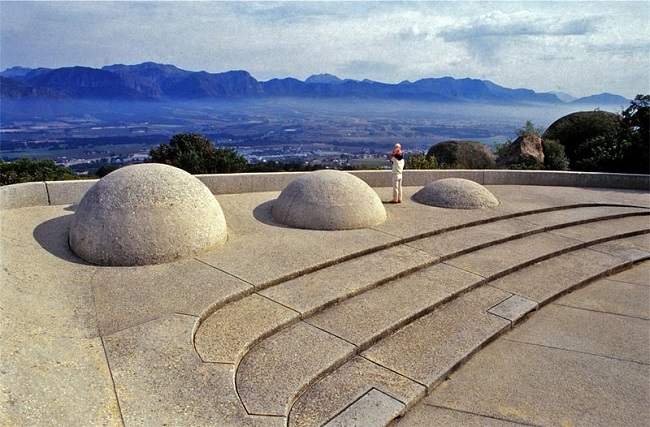 [Image: Taal Monument – Janek Szymanowski, Wikimedia Commons]
Like Stellenbosch and Franschhoek, there are many beautiful old buildings to be found in this town, which has many Cape Dutch style homes along with gorgeous country-style gardens and pretty tree-lined roads. Surrounded by mountains, the landscapes are scenic and always changing with the seasons. It's also home to some great hiking trails, kids' activities, nature and wildlife reserves and even the Paarl Spice Route, which encourages food and drink tourism to the region. Some of the top highlights to enjoy here include the following:
* Groot Drakenstein Prison (formerly Victor Verster)
This is a hugely important landmark for anyone wanting to explore South Africa's history. Nelson Mandela made his famous walk to freedom down the path of this prison, after serving 27 years in prison during the apartheid era. Many people believe that the former president spent all of his prison time at Robben Island, but in reality, he spent 18 years at Robben Island, and the remainder of his time at the prison in Paarl (aside from a short period at Pollsmoor in Cape Town in the early 80s). He arrived at Victor Verster on 7 December 1988. There is a statue erected here in Madiba's honour, near the front entrance. It's a great place to take a photo, and you can also arrange a tour of the prison if you contact the prison in advance (note: this is not always possible – contact +27 (0)21 864 8000 to find out more). At the very least, you will come away with a better idea of how Mandela must have felt leaving this prison after nearly three decades of incarceration.
* Butterfly World
We love Butterfly World. This exotic butterfly, insect and animal sanctuary is located in Klapmuts on Route 44, between Paarl and Stellenbosch. Both adults and kids alike will take great delight in entering the man-made tropical jungle, which is teeming with fluttery winged creatures of all colours and sizes. There are also mammals, reptiles, birds and other things to see here. What makes it ideal all year round is that it is mostly covered, with a controlled climate, making it perfect on rainy days as well as clear days. It is open Monday to Sunday, from 09h00 – 17h00 (excluding Christmas Day). At the time of publishing, entry costs between R45 and R80. For details, contact Butterfly World on +27 (0)21 875 5628.
* Taal Monument
Taal is the Afrikaans word for language. This monument is a fascinating structure that sits on Paarl Rock. It was erected in 1975 to commemorate the semi-centenary of Afrikaans as an official South African language, separate from Dutch. With its unusual design, and its high elevation that offers breath-taking views of the valley below, this is a landmark that has to be seen to be believed. It was designed by architect Jan van Wijk, and features a number of tall obelisk style columns that are inspired by the surrounding environment of granite rock.
* Drakenstein Lion Park
For those seeking a rewarding wildlife encounter, the Drakenstein Lion Park is worth a visit. The park is situated on Old Paarl Road (a few kilometres off the R44 en route to Stellenbosch) and is open daily from 09h30 to 17h00 (not including Christmas Day). Feeding time takes place at 16h00 on Monday, Wednesday and Friday. Unlike some other big cat reserves, the park is not involved in any breeding programmes. Instead, they provide shelter for hand-reared lions that require a safe place to live out the remainder of their lives. The park works closely with conservation and animal rescue groups to provide rescued lions that cannot be released into the wild a place that is as close to their natural environment as possible. Contact +27 (0)21 863 3290 for more information.
* Wine Tasting
Of course, we couldn't leave out the many outstanding wine estates to be found in Paarl, could we? On our Full Day Wine Tasting Tour, you will have the chance to visit a wine estate in Paarl to sample local wines. There are many excellent farms found here, notably including Laborie Wine Farm, Fairview Wine and Cheese, Rhebokskloof Wine Farm, Avondale Wine, Nederburg, Backsberg, Babylonstoren, KWV, Vaal de Vie and many, many others.
___________________________________________
That concludes Part 2 of our guide to the Cape Winelands. To learn about Stellenbosch and its attractions, head on over to Part 1 of our Cape Wine Route virtual tour. To book a Wine Tasting Tour or find out more about this tour, contact us today!