In a place that is world-famous for its fine wines, it goes without saying that a wine tasting tour in Cape Town should be right up there on your travel to-do list, along with visits to Table Mountain, the Waterfront and the city's beautiful beaches. Whether summer or winter; autumn or spring, the Cape Winelands is a magical place that can be enjoyed any time of year. A wine tour is about far more than just wine, too… offering you the chance to explore some of the country's most scenic regions, take in some historical sights, snap some photographs, try some fun activities and generally escape the hustle and bustle of the city for a full day of adventure.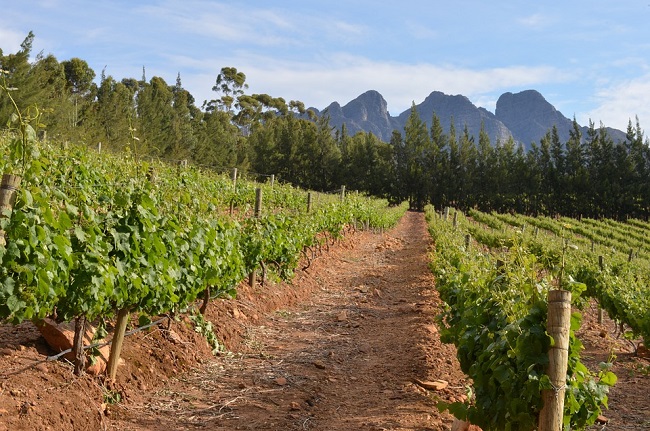 What can you expect from a typical wine tour, and better yet, what makes them such an absolute must-try for every visitor (and local!)?
Why Should You Try a Cape Wine Tour?
Come for the delicious Cape wines, stay for the food, people, sights, scenery, weather and all-round magic! With a tour to the Cape Town Wine Route, you are sure to discover a whole new world. Before we delve into some of the highlights that you can enjoy on this sort of tour, let's take a look at what the Winelands are all about.
About the Cape Winelands
Situated in the Western Cape, within the gorgeous countryside, the historic Wine Route of Cape Town comprises three wine-growing towns: Stellenbosch (the largest and most famous of them), Franschhoek (a town with a strong French influence) and Paarl (home to the Paarl Rock). This is by no means the only wine growing area within the city – in fact, there are several smaller wine routes also to be found, including the Constantia Wine Route. Of all of them however, this is the largest and most renowned. Surrounded by mountains, endless expenses of vineyards, wide open spaces, huge blue skies overhead and quaint little towns with buildings dating back to the very earliest times, a visit to this region is always a treat… whether you are visiting for the first time or the hundredth time.
Top Highlights to Enjoy on a Wine Tour
Now that you have a better idea of where these tours take you to, here are some of the highlights that you can enjoy on this type of tour…
1. Wine, wine, and more wine. No surprises here – you are, after all, in wine country! But with that said, there is a staggering range of wines that are produced in this part of the world. White varietals range from sauvignon blanc to chardonnay, chenin blanc, pinot noir and many others, while reds range from sauvignon cabinet to merlot, shiraz, pinotage and 'pink' wines such as rose. Whether you are seriously into your wines or simply someone who enjoys the odd glass now and then, you will be able to sample a range of locally produced varieties.
2. Delicious, locally produced bubbly. And by bubbly, we mean sparkling wines as well as the famous methode cap classique blend, which is the Cape's answer to champagne. This glorious wine is made using the same methods, with a crisp dry taste that is naturally low in sugar, unlike sparkling wines.
3. Discounted cellar price wines. If you're not really keen to drink on the tour, no worries. You can purchase wines directly from the cellar, to take advantage of greatly reduced prices without the mark-up found at wine stores. Almost every estate has a shop, where bottles of various sizes can be purchased. Look out for great deals throughout the year to save on your wine purchases.
4. Fine dining. What better way to enjoy a glass of wine than with a good meal? With more five-star restaurants than you can shake a stick at, the Winelands is just as famous for its cuisine as it is for its wine. Franschhoek is a noted culinary hotspot, but Stellenbosch and Paarl also have a range of excellent dining options. Prepare to have your taste buds wowed!
5. Amazing weather, whatever the season. Every season offers something for visitors to the Cape. In autumn, you have the best of lingering summer sunshine and mild breezes that cool down the air. In winter, you have crisp days, cool nights, fireplaces and lush trees. In spring, you have wildflowers that span as far as the eye can see. In summer, you have endlessly sunny days that are ideally spent in the shade of a giant, ancient oak tree.
6. Photo opportunities galore. The vineyards, country roads, rural farmlands, beautiful old Cape Dutch homesteads, picturesque dams (often teeming with ducks), pretty gardens, impressive cellars and wide open spaces lend themselves to countless photo opportunities. Be sure to charge your camera before you head out, and take along an extra memory stick to ensure that you have plenty of space to capture everything you see!
7. Transfers to and from your hotel. You won't have to worry about doing any driving when you take a wine tour, as most of the best ones will collect you from your hotel or self catered apartment, and drop you off again at the end of the tour. This leaves you free to enjoy your day out, without the worry of getting lost, navigating roads or abstaining from a glass or few of wine. Most tour buses are comfortable and equipped for travellers, keeping you air-conditioned and relaxed on the road between wine farms.
8. Landmarks, attractions and sights to see. Sightseeing is a big part of these tours. From tiny churches to amazing old streets filled with old buildings, monuments, museums, quirky shops, centuries-old estates and many other fascinating landmarks, you will have loads to see throughout the tour. You will also get time to look around a bit and explore your surrounds.
9. Activities for all ages. While grown-ups will obviously get the most of out of this type of tour, kids up to a certain age are not excluded. Older kids and teens will have much to do, with many estates offering kids' facilities, activities and menus. Adults will also have much to do. Walking tours, tasting sessions, cellar tours, guided tours, chocolate or cheese tasting, picnic lunches… much fun lies ahead!
10. Scenic drives. Last, but certainly not least, the scenery on this sort of tour is sure to blow your mind. As you drive out of the City Centre and enter the country areas, the landscapes change from urban to vast open spaces of field. Cows and horses and sheep appear, birds fly overhead, mini forests of gum trees flash by, clouds make amazing formations in the wide open skies above and you slowly start to feel that you are truly escaping the busy life as you approach somewhere slower, quieter and calmer.
_____________________
These are our top reasons to consider a half or full day wine tour in Cape Town. Have you been wine tasting? We'd love to hear what you enjoyed most!