Are you looking for the perfect Cape Town destination to enjoy a weekend getaway? The Mother City features a variety of incredible destinations, cool coastal towns and beautiful natural wonders, all of which are just within reach.
Situated about 40 minutes drive away from the city centre, Stellenbosch offers wine, food, adventure and relaxation. This captivating and charismatic town has not only established itself as one of the Western Cape's leading winelands destinations, but one of the best places to enjoy a weekend away from the hustle and bustle of the city.
Here are just some of the reasons why Stellenbosch makes for the perfect weekend break anytime of the year.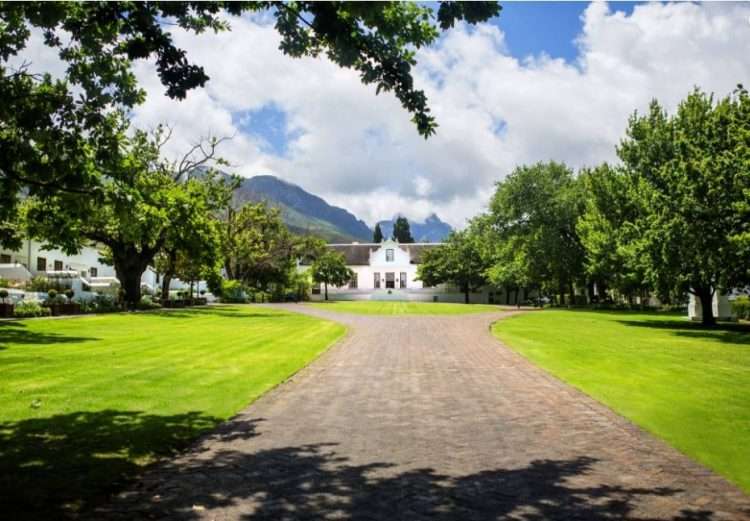 A leading Cape Winelands destination
View this post on Instagram
The beautiful town of Stellenbosch is one of the largest and oldest wine routes in the country and undoubtedly forms the backbone of the Cape Winelands.
Home to more than 200 wine and grape producers, it's no surprise that it has established itself as one of the most sought-after Cape Winelands destinations in the Western Cape for locals and travellers from around the world.
Boasting an endless variety of renowned Wine Estates, each offering a range of exceptional wine and pairing experiences to choose from, Stellenbosch makes for the perfect weekend getaway destination.
Hiking Paradise
View this post on Instagram
Besides the fact that Stellenbosch is the perfect weekend break for wine lovers, it's great for adventurous souls and avid hikers too. Jonkershoek Nature Reserve is undoubtedly one of Cape Town's most beautiful natural wonders.
Home to the majestic Jonkershoek Mountains and parts of the Jonkershoek valley, the reserve, which includes the smaller Assegaaibosch Nature Reserve is any avid hiker or nature lover's dream come true.
It's therefore no surprise that the rugged Jonkershoek Mountains, which form part of the Boland Mountains, has attracted keen hiking enthusiasts with its spectacular scenery and magnificent views.
A culinary hotspot
View this post on Instagram
Besides exceptional wine, Stellenbosch has established itself as one of Cape Town's top culinary destinations for foodies and food lovers.
Boasting a variety of the Western Cape's most renowned restaurants, many of which are situated on the Wine Estates themselves, a weekend away in the charismatic town of Stellenbosch guarantees exceptional food experiences all the way through.
Fun outdoor activities
View this post on Instagram
From hiking, cycling and sightseeing to strawberry picking, golfing and mountain biking, Stellenbosch has an outdoor activity for every member of the family to enjoy. If you're looking to enjoy a weekend filled with fun outdoor adventuring and exploring, this beautiful town is perfect for you.
In addition to the variety of exciting activities Stellenbosch has on offer, it's also home to the Stellenbosch University Botanical Gardens. Known as the oldest university botanical garden in South Africa, this Cape Town natural gem boasts a diverse array of plant species, both indigenous and exotic.
Incredible art experiences
View this post on Instagram
Besides being a nature lover's paradise, Stellenbosch has a variety of incredible experiences for art and culture enthusiasts.
The Village Museum comprises of four historic houses that will give you a true sense of what it was really like to live in Stellenbosch during the 18th and 19th centuries. Exhibitions include the Schreuderhuis, the oldest restored townhouse in South Africa, as well as the Blettermanhuis, which was built in 1789 by the last magistrate appointed by the Dutch East India Company.
In addition, Stellenbosch is also home to a variety of Cape Town's top art galleries including the SMAC Art Gallery, one of the most sought-after galleries in the Western Cape for avid art enthusiasts. Boasting a spectacular collection of South African and international art, it promises a truly incredible artistic experience.
Rich history
View this post on Instagram
Stellenbosch offers visitors the very best of both worlds. Its quaint, small town vibe mixed with a university town's energy, makes this charismatic winelands' town one of Cape Town's top travel destinations and weekend getaways for locals and travellers alike.
Surrounded by Cape fold mountains Stellenbosch, with its oak tree-lined streets and whitewashed buildings, is the quintessential wine-producing town of the Western Cape. And one of the first Western Cape towns to produce its own wine route.
In addition, its cool University town vibe means you can expect a variety of trendy café's, quaint kerbside coffee shops, bicycle lanes, vibrant hangout spots and a lively energy that fills the air.
Unique weekend getaway
View this post on Instagram
The fact that Stellenbosch is located a mere 40 minutes from Cape Town means it's the perfect destination to enjoy a quick weekend break without having to travel too far from the city.
In addition to the variety of activities and experiences it has on offer, its prime location means you can enjoy a variety of Cape Town's top attractions, landmarks and beaches too.
Stellenbosch is located about 25km from the False Bay Coast. Boasting some of Cape Town's most beautiful beaches like Strand's Melk Baai, Gordon's Bay and Muizenberg, thereby making a beach day or learn-to-surf adventure just a stone's throw away.
Its top winelands status, beautiful surrounding scenery, rich history, vibrant energy and endless variety of natural beauty and outdoor adventures are just some of the reasons why Stellenbosch makes for the perfect weekend break.
Where to Stay
---
Want to enjoy a scenic drive through the Cape vineyards and learn more about their history? You can check out our Cape Winelands full day tour and spend your day visiting the various wine estates to enjoy wine tasting, delicious meals and have a good time. Contact us today with any booking related queries you may have, or to learn more about the tours and things you can do during the tours including Cape Winelands Hot Air Ballooning in Cape Town. Keen to make it a longer adventure? Why not browse our range of Stellenbosch accommodation to choose villa, guest house or holiday home in this region.