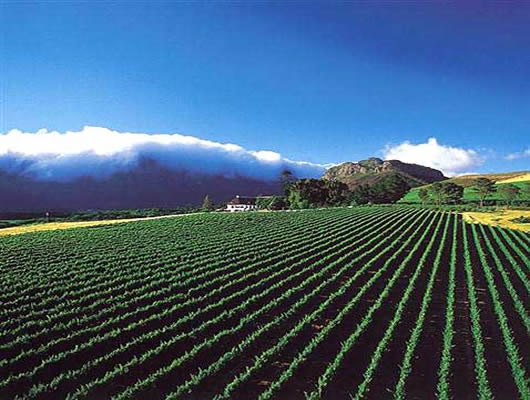 The glorious Cape Winelands lie less than an hour away from the Cape Town City Centre, comprising the wine-growing towns of Stellenbosch, Franschhoek and Paarl. Of these three towns, Stellenbosch is the oldest and best known. Here you will find a huge number of award-winning wine estates, charming Oak-lined roads boasting beautiful Cape Dutch homesteads and miles upon miles of vineyards that span as far as the eye can see.
The winter months are perfect for a drive through the Wine Route, with crisp, clear days and plenty of ways to stay warm even when the temperatures start to drop. Take a tour through the cellar of a renowned wine farm, sample a range of red and white varietals, enjoy delicious country style cuisine and stock up your wine collection with the help of discounted cellar rates. Sound good to you? Here are a few of our favourite stops along the Cape Wine Route.
5 Must-See Highlights of the Cape Winelands
Whether you take a guided tour, hire a bus for you and your travel companions or try the self-drive thing, these places are a must-see on any visit to the Winelands.
1. Spier – this estate is not only home to one of the country's finest wines – it also offers a wide range of additional attractions. Pay a visit to the Cheetah Outreach Programme to see these big cats that are known for their speed and agility, enjoy a tour and tasting in the cellar, take a walk around the huge lake and then enjoy traditional dancing, face painting and music at the popular Moyo restaurant.
2. Zevenwacht – the scenic surrounds of this estate alone make it worth a visit. Sample a range of red and white wines, have a picnic on the rolling lawns in front of the lake, try a cosy lunch in the country-style restaurant and take a stroll through the pretty gardens of the estate. Zevenwacht is also a popular wedding venue, with one of the most romantic settings in the Cape for those wanting to make their big day even more special.
3. JC le Roux – if it's sparkling wine and MCC (Methode Cap Classique) you are here to sample, this is a good place to get started. The impressive cellars make for an interesting tour, with plenty of bubbly varietals to try. The grounds of the estate are also rather stunning, allowing you to work off your indulgence before heading on to your next stop.
4. Jordan – whether you are a wine fundi or someone who enjoys a good wine, Jordan produces some of the best wines in the country. This estate recently picked up a number of trophies at the Old Mutual Trophy Wine Show this year. Their Chardonnay is particularly worth trying, while their Syrah is a sublime option for red wine enthusiasts. They also have an excellent restaurant powered by Chef George Jardin, with three course menus that are too good to miss.
5. Alluvia – last but certainly not least, Alluvia Specialist Winery should be right on the top of your list of Cape Winelands hotspots. This wine estate has a unique approach to wine, food and indulgence, with their signature 'vineyard lifestyle' rooted in luxury. Along with the finest accommodation, the estate also offers wine tours, spa treatments, fly fishing and golfing for those seeking an all-round experience on the Wine Route.
Win Your Very Own Cape Winelands Experience
From 16 June to 15 November, CometoCapeTown.com gives you the chance to win your very own Cape Winelands experience at luxurious Alluvia Specialist Winery. The prize package you could win includes two nights stay in one of the estate's sumptuous suites, along with a private wine tasting, discounts on spa treatments, free use of fishing and golf equipment and two bottles of their 'Give Me a Chance Children's Foundation' special edition wine.
All you have to do enter this fabulous giveaway competition is to give us a Like on facebook. Extra points can be gained by sharing this exclusive completion too. As far as Winelands pampering goes, it really doesn't get much better than this… make sure you have your game face on from 16 June to get in line to win! ENTER HERE