The Western Cape is home to the largest and certainly the most beautiful wine producing region in Africa. Thereby making the magnificent Cape Winelands an absolute must-visit destination on any trip to Cape Town. Boasting some of the most renowned wine routes in the world, an endless array of picturesque Wine Estates and an exceptional range of unique award-winning wines, it's no surprise that people can't get enough of that Cape Winelands magic.
The Cape Winelands has therefore become one of the most sought-after Cape Town destinations for travellers from all around the world. Just to make sure you don't miss out on a single second of the beauty, fun and adventure the Cape Town Winelands has to offer, here are some reasons why you shouldn't miss the Cape Town Winelands on your next trip:
Don't Miss the Cape Town Winelands on Your Next Trip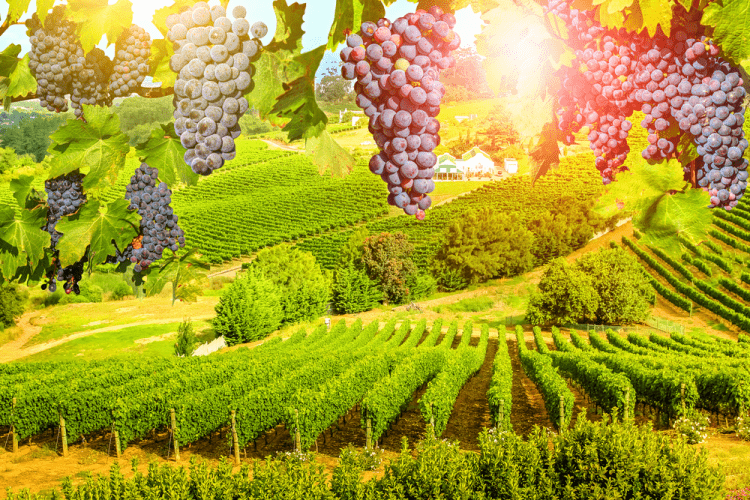 It has an enchanting beauty you won't find anywhere else in the world
View this post on Instagram
While the picturesque beauty of the Cape Winelands may come without saying, we can't help but celebrate it too. Lying in the shadow of a continuous belt of Cape fold mountains, nestled in a series of generous valleys, the beauty of the Winelands is something straight out of a fairytale. You don't even need to be a wine lover to appreciate its enchanting beauty. It therefore comes as no surprise that the Cape winelands is celebrated as being one of the most scenic regions in the world. This contributes to the thriving Western Cape wine tourism industry and thrilling wine culture it has to offer, with people travelling from all around the world to experience it.
The Cape Winelands include a variety of picturesque wine routes making up quite a substantial portion of the Cape's landscape. The wine routes include Stellenbosch, Paarl, Wellington, Franschhoek, Constantia, Durbanville, Darling and Walker Bay winelands. Each route adds its own unique scenic beauty to the Cape Winelands region. Boasting endless stretches of enchanting vineyards, beautiful mountainous backdrops and spectacular surrounding scenery, the Winelands really offers the ultimate picture-perfect escape for anyone visiting Cape Town. Besides that, it also adds its own touch of Cape character and charm with its collection of historic towns, little hamlets and Cape Dutch farmsteads. Thereby making it a real treat to explore.
The WINE!
View this post on Instagram
There is no denying the fact that drinking wine has become somewhat of a culture in Cape Town. With locals and guests embracing it with open arms and a full wine glass in their hands. But with such a spectacular and abundant wine producing region all ready and waiting to be explored, how can it not be? We just have to take a moment to celebrate the beautiful Cape Winelands and all its exceptional wine. Not only because of its superior quality and taste, but also its uniqueness too. Being home to some of the most renowned Wine Estates in the world means the Cape Winelands has an endless array of top-tier wines to offer all its guests. You'll certainly regret it if you don't give as many of them as you can a try!
Western Cape Winemakers have without a doubt perfected the winemaking craft. They showcase robust fruit flavours, warming spices, wild herbals, full-bodied whole mouth tastes and crisp freshness in their wines. Tasting your way through the Cape Winelands and its unique wines is quite an adventure. Apart from all its unique flavours, the Cape Winelands is celebrated for the extensive variety of wine it has to offer. From zesty Sauvignon Blanc, toasty Chardonnay and Chenin Blanc, sweet dessert wines and a variety of unique blends to full-bodied merlot, smoky Pinotage, robust Bordeaux and Rhône blends and Pinot Noirs, there really is something for every wine lover at heart. Even if you don't consider yourself to be a wine enthusiast, you'll certainly be tempted to try a few. There's nothing quite as special as a glass of Cape Winelands wine, and trying it for the first time might just convert you to a true wine believer.
---
---
It's sense of wonder & adventurous spirit is hard to resist
From exciting Wine Trams, cycle tours, walking routes, bus tours and Segway adventures through the vineyards, the Cape Town Winelands offers all its visitors an amazing variety of ways to explore all it has to offer. It really is every bit as incredible and exciting as it sounds!
There are also a variety of hop-on-hop-off winelands experiences that allow you to explore the wine estates as much as you can. Giving you the opportunity to taste your way through the Winelands in one of the most memorable and exciting ways. Apart from the winetasting adventures, some wine estates offer several other activities such as hiking, golfing, guided cellar tours, winemaking tutorials and many more. You'll never run out of ways to enjoy everything the Cape Winelands has to offer.
There is always something new on the Cape Winelands horizon
View this post on Instagram
The wine producing region of the Western Cape is home to century old vineyards that have maintained their charm over the years. It also boasts some incredible up-and-comers and new rising stars that have taken the world's wine industry by storm. They are constantly pushing the envelope with new experimentations and explorations every now and then. Thus, you can always expect to be pleasantly surprised with what the Cape Winelands brings to the tasting table.
Several estates are also experimenting with lesser-known varieties such as Albarino, Roussanne and Nebbiolo, and South Africa even have their own Champagne and Port equivalents to rave about. The Cape winemakers are also constantly re-inventing the wine game by introducing new blends and one-of-a-kind creations for everyone to try out. The Cape Winelands therefore has something for everyone, and definitely encourages you to step outside of your wine comfort zone and try something new. It might just surprise you in the very best way.
---
---
It is both a wine utopia & a culinary hub of excellence
View this post on Instagram
Besides picturesque views and sensational wine, the Cape Winelands has fast become one of the most sought-after culinary hotspots for locals and travellers alike. Even if you're not a wine lover at heart, the glorious abundance of sensational food is a reason in itself to not miss the Cape Town Winelands on your next trip.
From world-renowned restaurants, iconic Chefs showcasing their culinary skills and an endless array of incredible food and wine pairing experiences to try, it truly is something special. With an endless variety to choose from, each adding something unique and sensational, it promises to be one culinary adventure you won't soon forget. It puts a whole new beautiful spin on lunch with a view.
The Cape Winelands is MAGICAL in every way!
View this post on Instagram
A visit to the Cape Winelands is magical in every way, and it promises to be an unforgettable experience you'll cherish for many years to come. The fact that they are all located just a short distance away from Cape Town, almost seems unimaginable. A trip to the Cape Winelands will therefore almost feel like you've escaped to a whole new enchanting world without really leaving the city at all. It therefore comes as no surprise that the charismatic and picturesque Cape Winelands has stolen the hearts of many locals and guests alike. It's certainly bound to steal yours to on your first visit, and without a doubt keep you coming back for more on every visit to Cape Town thereafter.
---
Want to enjoy a scenic drive through the Cape vineyards and learn more about their history? You can check out our Cape Winelands full day tour and spend your day visiting the various wine estates to enjoy wine tasting, delicious meals and have a good time. Contact us today with any booking related queries you may have, or to learn more about the tours and things you can do during the tours including Cape Winelands Hot Air Ballooning in Cape Town. Keen to make it a longer adventure? Why not browse our range of Cape Winelands accommodation to choose a hotel, guest house or holiday home in this region.