It's the time of year where we take great delight in dressing to er, scare, and as far as Halloween in Cape Town goes this year, there are plenty of ways to get some spooky good fun underway! We may not take the holiday quiet as seriously as our northern hemisphere counterparts, but here in South Africa, any excuse to have a good party will do the trick. In fact, it is mostly the adults and fully grown kids (and zombies!) who take the most delight in the scary season.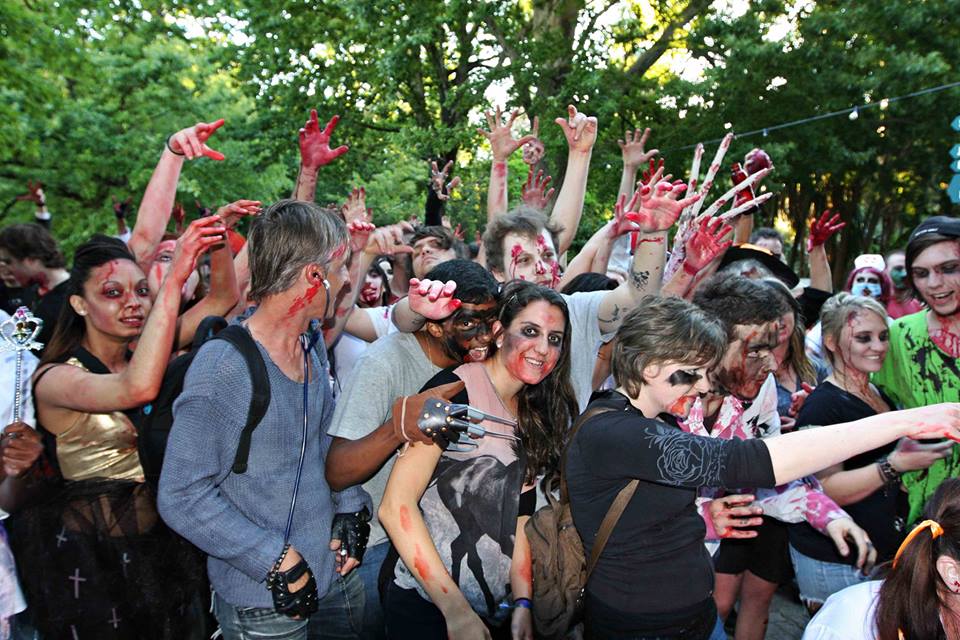 This year, we have some pretty cool things ahead for 2015 Halloween in Cape Town. Let's take a look, shall we?
2015 Halloween Events in Cape Town
Without further ado, here are some of our pick for what to do in Cape Town this Halloween…
South African Horror Fest @ The Labia on Orange, Gardens – 29 October – 6 November 2015
Horror movies, a dress up contest, live fiction readings and other cool performances are just a fraction of the fun going down at The Labia Theatre on Orange Street in the Cape Town City Bowl. Tickets range from R40 per show for standard ticket to R55 per person for live soundtrack shows, and can be purchased via Quicket.co.za.
Sexy Halloween Party @ Mavericks, City Centre – 31 October 2015
Mavericks Revue Bar will be transformed into Mavericks Haunted Mansion, with lots of saucy costumes and decadent fun ensuing. Ladies enter free before 22h00 and men pay half price if wearing costume. There's also free entry between 17h00 and 19h00 for the Rugby World Cup, so you can watch the game before joining the party. Strictly no under 18s!
Night-Time Mountain Biking @ Table Mountain, Tamboerskloof – 1 – 31 October 2015
This Halloween, opt for something different with an after-dark mountain bike ride on Table Mountain. Setting off at 19h00, this bike ride gives you a chance to see some of the rare nocturnal creatures found on the mountain, while enjoying a thrilling ride under the glow of the moon. Bookings are essential – contact [email protected] for details.
The Deadly Disco @ Caprice, Camps Bay – 30 October 2015
Bust out your best Thriller dance moves as you party the night away at popular hotspot Caprice in trendy Camps Bay. Hosted by Jaegermeister and featuring world-class DJs, a chic venue and plenty of entertainment, this party is sure to raise the undead. Bookings are essential and can be made by emailing [email protected] or phoning +27(0)21 438 8315. Those in costume get a free welcome drink!
All Hallows Eve @ The Village Idiot, City Centre – 31 October 2015
Loop Street's hottest spot will be heating up even more with its very first Halloween hoof and mouth, tsetsi fly convention (their words, not ours). DJs, treats and other entertainment are all on the cards, with the chance to skip the lines after 21h00 if you're in costume. Bookings are essential though – contact +27(0)21 418 1548 to make your reservation.
Day of the Dead Festival @ Daytona, Killarney Gardens – 31 October 2015
A full day festival of music and entertainment (along with other spooky stuff) will be taking place at Killarney Gardens. International act Bass Modulators will be playing, with local acts such as Hamza, Lunar Project, Marco Massive, Bane and others also on the line-up. The party starts at 17h00 on Halloween, and ends at 06h00 the following morning. Tickets cost R100 per person and are available at selected Pick 'n Pay outlets as well as Webtickets.co.za.
Cape Town Zombie Walk and Festival @ CBD – 31 October – 1 November 2015
No Halloween in Cape Town is complete without zombies, and for all fans of The Walking Dead (and the undead in general), this annual event promises to be nothing short of spectacular… spectacularly grim, that is! The route has been extended to 4.5km this year, giving you lots of time to get your shuffle on as you make your way through the Cape Town CBD. Entertainment will be provided by Rudimentals, Reborn, The Damned Crows and Ratrod Cats, with a nice big after party to finish things off. It's free to join the walk, but the after party costs R150 pre-sold or R200 at the gate. Tickets available via Quicket.co.za.
Transylvania @ Flenterskloof Farm – 31 October 2015
A trance party with a Halloween twist, this event is sure to get the dance floor going in no time at all. Acts include Hippie Mafia, Paralocks, Broken Toy, Bruce, Rubix Qube and others, while facilities like swimming areas, toilets and camp sites add to the mix. Pre-sold tickets cost R260 per person, full festival passes cost R310 per person and Sunday passes cost R200. All but the Sunday pass can be purchased via Quicket.co.za, with the Sunday pass available at the gate only.
Psycho @ The Galileo, Kirstenbosch Gardens – 31 October 2015
The original Psycho movie will be screened at The Galileo Open Air Cinema this Halloween, for those who love them some old horror movies. Movie goers are encouraged to dress up and get into the spirit of the event, while enjoying a picnic and some old-school screams on the big screen, under the stars. Tickets are available via TheGalileo.co.za and range between R79 and R149 per person. Also, remember that Kirstenbosch Summer Concerts have started, too!
…
Being a horror movie fan who is sadly almost past the days of wild parties and Old Hallows mayhem, I have to admit that the horror fest and Psycho screening have my attention most. But who knows? I may just get my zombie makeup on and get into the spooky good fun this Halloween weekend after all, if the mood decides. After all, it's all about fun and entertainment as far as Cape Town Halloween events go!
What are your Halloween plans this year? Share your costume/party/plan ideas below and let us know!