Coming to the Mother City this Halloween, Zombie Walk Cape Town 2015 is sure to be the ultimate top choice for anyone in the mood for scary good fun. This year, Halloween (31 October) falls on a Saturday, which gives you even more reason to head out and join the undead fun. This entertaining walk is all in the name of charity. The 2015 walk will be in aid of the Lucky Lucy Foundation, which supports animal rights in local communities.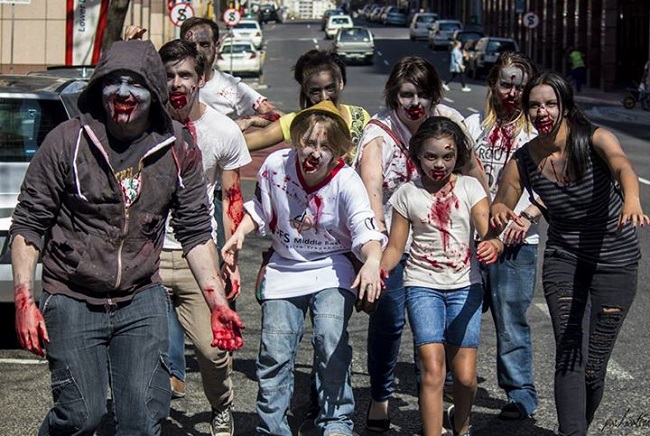 What is this super awesome zombie event all about, and how can you join the epic fun? Let's take a look…
Halloween Zombie Walk in Cape Town
The brain child of Luke Wiggins and Dieter Wambach, Zombie Walk is now in its sixth year running. Each year, the crazy costumes, hilarious antics and, of course, zombie shuffles get more and more outrageous. The idea is simple – on Halloween, anyone and everyone wanting to join in heads to the start point, after which a procession of zombies takes over the city. It costs not even a cent to join, but donations for the year's charity are welcomed.
Pets, kids and grown up kids of all ages are invited to join this free walk, which culminates in Zombie Fest 2015 – a huge street party like event with live music, drinks and other good stuff. The route will be published on the event's Facebook page (click here for details) and on www.Nightlife.co.za, and is around 4.5km. Walk, run, or shuffle your way to the finish line and make sure that you are dressed to impress!
Event details that have been released thus far include the following:
Date: Saturday 31 October 2015
Time: 13h00 – 01h00
Venue: starting point and route to be confirmed, but the walk will likely take place in the City Centre
…
Load on the fake blood, guts and gore, and join other walking dead guys and girls this Halloween, for a Zombie Walk in Cape Town that you won't forget in a hurry!