Cape Town weather is notoriously hard to predict. Whatever the season – summer, winter, spring or autumn – rainy days are sometimes impossible to avoid. This is great for the countryside – our diversity of trees, plants, flowers and of course, crops need the rains after all. It's less great on travel plans though – especially if you don't have too much time to spare when plans get changed at the last minute.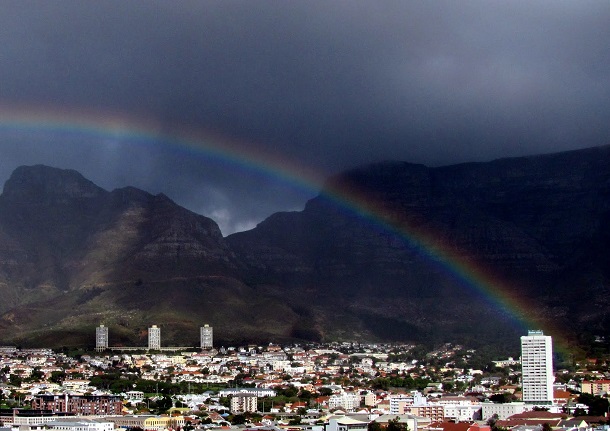 Cape Town Weather Getting in the Way of Your Plans?
Cape Town's constantly changing weather is something that makes it all the more magical – no two days are ever the same, and as the seasons slowly change, the scenery too begins to change. On any given time of the year, it is hard to be absolutely certain what the weather will do. So, we bring you some weather-proofed ideas that will act as backup in case it rains down on your parade (see what I did there?).
1. Catch a movie at The Labia Theatre
The Labia Theatre is a beloved institution for cinemas fans, and is one of the few working art deco style cinemas that remain in the city. The cinema is situated on Orange Street in Gardens. Shows range from current blockbusters to arthouse, ensuring plenty of diversity when it comes to film genres. There is also an old fashioned bar and snack shop – you can take your drinks into the theatre or enjoy a quick one during intermission. Perfect for a rainy evening!
2. Grab a bite to eat and enjoy the best of Cape dining
Try one of our top picks for Cape Town restaurants for chilly weather, head to a perennial favourite such as Royale Eatery (yummiest sweet potato fries), Fat Cactus (outside heaters, tequila and Mexican food… who needs more?) and Jason's Bakery (baked goods, served fresh all day) or order takeouts. Forget that diet – winter is the perfect excuse to indulge your taste buds with some delicious treats.
3. Visit the Two Oceans Aquarium and watch the daily afternoon shark feed
We love the Two Oceans Aquarium, and on rainy days, this is a great place to enjoy a whole other world for hours on end. The ragged tooth sharks in the I&J Predator Exhibit are fed every day at around 15h00-15h30 – divers enter the exhibit and hand feed the sharks on Mondays, Wednesdays, Fridays and Sundays… something you will definitely want to see. Penguin feeds are usually done at around lunchtime daily and are also very entertaining.
4. Take a Cape Winelands tour and sample some of the region's finest wines
While many think that the weather needs to be clear to go wine tasting, winter is actually one of the best times to discover the beautiful Winelands. The scenery is spectacular once the rains start turning everything green, and as most tours are done in cosy cellars, not even the chance of rain can put a damper on things (no pun intended). You can try Half Day Wine Tours or Full Day Wine Tours, depending on how much time your have on your hands.
5. Go indoor karting and warm up from the inside out
Looking for fun activities you can enjoy whatever the weather in Cape Town? In Kenilworth (southern suburbs), just behind Access Park, you can get onto the karting track and put your racing skills to the test. This activity can be enjoyed by all ages, with special tracks especially for little ones along with tracks for bigger kids (and grown ups who still feel like kids). Rates are charged per number of routes, and are very affordable. The track is open every day of the week – on weekends until late at night. Call +27 (o)21 683 2670/683 6174 for details.
***
So there you go – enough ideas to get you started, even on the chilliest, rainiest of days. Luckily, Cape Town weather is generally mild and varied enough throughout the year that the sun will be shining again before you know it. In the meantime, at least you can't say you are getting bored!
What are your favourite things to do in rainy weather in Cape Town? Share your ideas below and let us know!