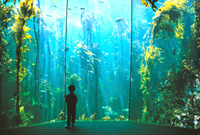 Located at the waterfront, the Two Oceans Aquarium is a family must-see. Offering a variety of interactive experiences for all, the Aquarium is considered the "window on the oceans of South Africa".
With over 3,000 living sea animals, the aquarium is a top tourist attraction, with events and even live scuba diving for your viewing pleasure.
Animals include sharks, seals, turtles and penguins, all viewed within a spectacular underwater nature reserve. The Cape Town aquarium also offers live exhibitions, functions, and a family restaurant
Visit the aquarium website for more information about events and activities, and for entrance fees.