Wondering what to do in Cape Town on a sunny day? You're in luck. The Mother City has plenty of sunny days throughout the year, whether it is in the middle of a cold winter or halfway through a hot summer. As you might expect from a city blessed with two oceans, a number of wine routes, a massive mountain, lots of forests and even more nature reserves, and a charming rural countryside to boot, Cape Town was made to be enjoyed outdoors.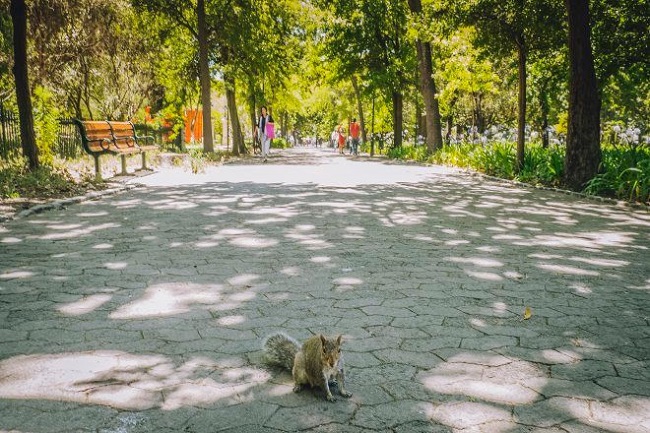 We've rounded up some of our favourite ways to enjoy a sunny day in Cape Town. Keep reading to get inspired on how you can enjoy sunny weather in the Mother City.
Things to Do in Cape Town When it's Sunny Outside
Getting right down to it, here are our top picks on things to do in Cape Town when the sun is shining…
Feed squirrels in the Company's Garden
Accessible from Orange Street or Queen Victoria Street (at the South African Museum), the Company Gardens are beautiful to visit all-year round. You can stroll along shady tree-lined avenues, sit and relax with a picnic or snack on the lawns, see the amazing bird aviary, check out the fish ponds, admire the rose garden and feed the curious, entertaining squirrels. Vendors selling peanuts can be found in the gardens and the squirrels are mostly tame enough to take nuts from visitors' hands.
Sit back and relax at a sidewalk cafe in the heart of the city
There are many charming sidewalk cafes found in the CBD. So many in fact, that you only need to stroll down to Greenmarket Square and then take your pick. Longmarket, Shortmarket and Long Streets are especially great for enjoying a leisurely coffee (or iced cold drink or craft beer) and people watching. Bree Street is also always interesting. Sit back, enjoy the sun and take in the energy of Cape Town's CBD!
Enjoy tasty gelato at the V&A Waterfront
Gelato Mania is the best place to grab a gelato on the go, before taking a stroll around the harbour. Take a walk to the water's edge to look at boats (and spot lazy seals, sunning themselves on the dock), listen to some live marimba music by a street performer or sit down to savour your icy treat in the food court's outdoor dining area. There are also numerous benches that are ideal for relaxing as you take in the holiday vibes of the Waterfront.
Go for a jog on the Sea Point Promenade
If you're in the mood for something active, the promenade is an amazing place to take a jog. This long stretch of beach-front path runs all the way through Sea Point, taking you up to the public swimming pools. The path is well-paved, the views are dazzling, with the Atlantic Ocean spanning as far as the eye can see, the atmosphere is festive and there is even ice-cream to be enjoyed once you reach the pools. The promenade is found on Beach Road in Sea Point and there are parking areas at various points along the way.
Take a walk on Hout Bay beach
This beach is perfect for a long way. Starting from the parking area on Beach Road in Hout Bay, you can get right onto the sand and then continue walking along the shore. Along the way, you will cross a small river that dissects the beach (it's easy to cross with just a small jump). You can get your feet wet, look out for interesting shells and bits of seaweed, enjoy some cool ocean breezes and then finish with fresh fish and chips. Back at the parking area, there are also a number of restaurants and shops to explore.
Explore the shady gardens of The Cellars-Hohenort
On Brommersvlei in Constantia, you will find a truly magical wine estate that is home to a large garden filled with lush plants, trees, pathways and shady spots to relax. There's a small stream, massive tropical plants, flowering roses, quaint bridges and many other delights to behold as well. The restaurant of this estate offers a number of options for breakfast, lunch and high tea. Go for a meal, and then explore the gardens afterwards to find yourself in a cool, shady wonderland! For bookings, contact +27 (0)21 794 2137.
________________________________________
With so many things to see in Cape Town, and so many things to do in Cape Town for R100 or less, you will never be short on ideas when it comes to finding out what to do in Cape Town when it's sunny, cold or anything in between!