Cape Town is well-known for its vibrant nightlife, so it comes as no surprise that South Africa's Mother City is packed with hundreds of amazing cocktail bars. From classy rooftop spots with spectacular views and swanky cocktail bars to luxurious hotel lounge bars and hidden watering holes, we've carefully handpicked the best 15 cocktail bars in Cape Town.
1 Café Caprice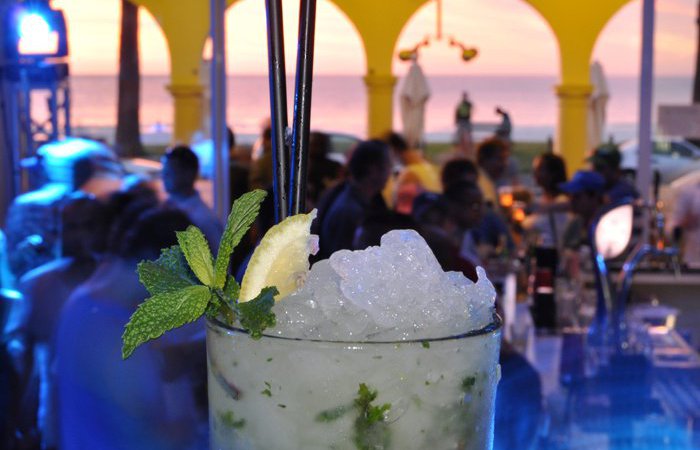 Offering charming views of the ocean, Café Caprice boasts an extensive list of perfectly crafted cocktails. Try the popular Botanical Gardeners which is a mixture of tea soda, rosemary, and Tanqueray No 10.  In 2014, Café Caprice was recommended for the popular "World Class" mixology award.
2 Twankey Bar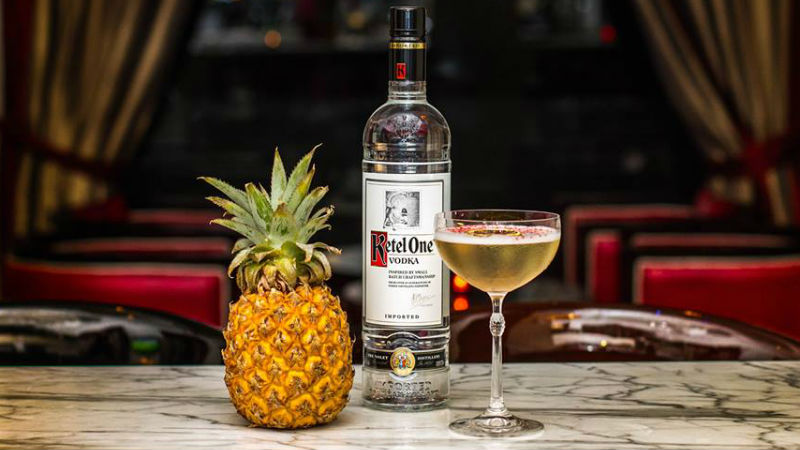 The famous mixologist, AJ Snetler is in charge of preparing tasty cocktails here at the Twankey Bar. Besides excellent cocktails, they offer a wide range of beers and wines, as well as some bar snacks. Come early in the evening, as this cocktail bar gets quite busy at night.
3 Harringtons Cocktail Lounge
Harringtons Cocktail Lounge is a boutique bar, restaurant, and a classic cocktail lounge. The interior here is lovely with nicely polished wood, velvet bottle service booths, draped velvet curtains, and old black-and-white pictures of Cape Town. Eclectic lounge music can be heard in the background and they have glamorous crystal chandeliers hanging from the ceiling. Besides being tastefully decorated, Harringtons Cocktail Lounge has a nice selection of cocktails and a variety of tapas to share. Go for the seafood platter with oysters and you won't be disappointed.
4 Outrage of Modesty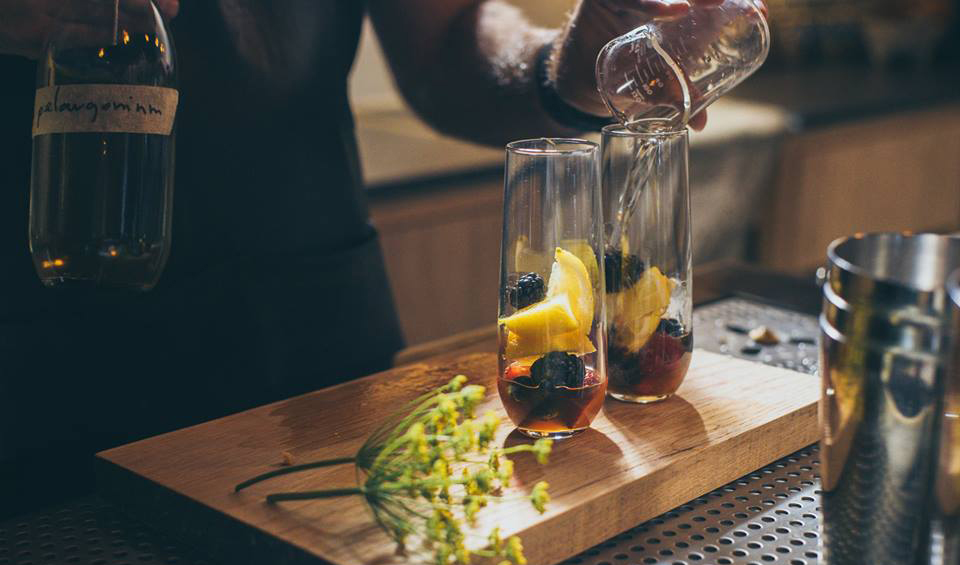 Situated in an old frame theatre, Outrage of Modesty is a popular mixology bar where you can try creative cocktails prepared by Noreen Dunzo from Singapore. The menu consists of 8 carefully curated cocktails and the bar can accommodate up to 28 guests. As for the interior, it can be best described and cozy with giant fuchsia X on the wall and dim lights.
5 Tobago's Bar and Terrace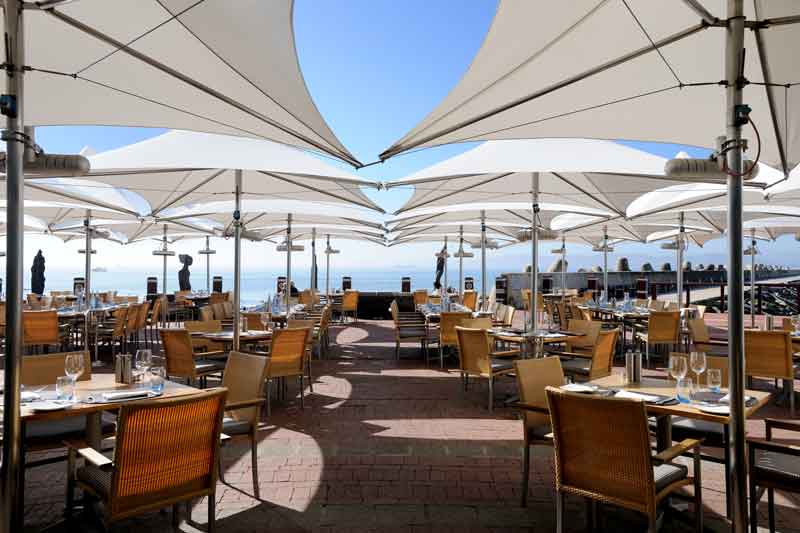 One of the finest cocktail bars in Cape Town, Tobago's Bar and Terrace offers panoramic views of the ocean shoreline and features a wide range of cocktails to choose from. Some of the favorites include the Watermelon Cosmopolitan and Passionate Mojito. You will also find an extensive wine list here at the Tobago's Bar and Terrace.
6 The Gin Bar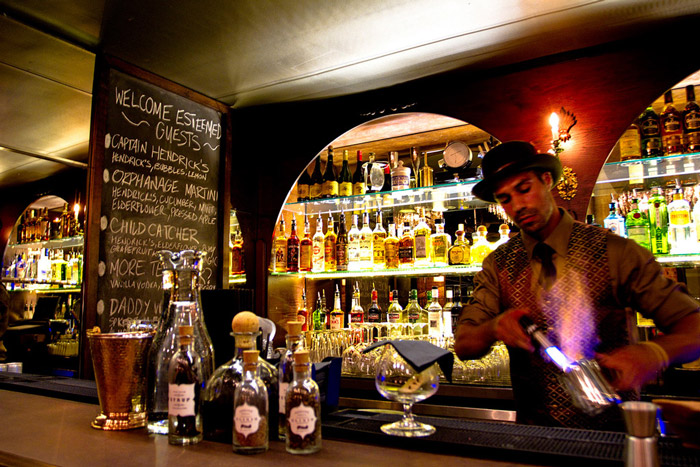 The Gin Bar is one of those hidden gems in Cape Town that not many people know about. As the name suggests, this bar focuses on gin and has trained professional waiters who are in charge of mixing tasty gin cocktails. If you not a fan of gin, they also serve a variety of wines and beers.
7 Cape Royale Hotel Zenith Sky Bar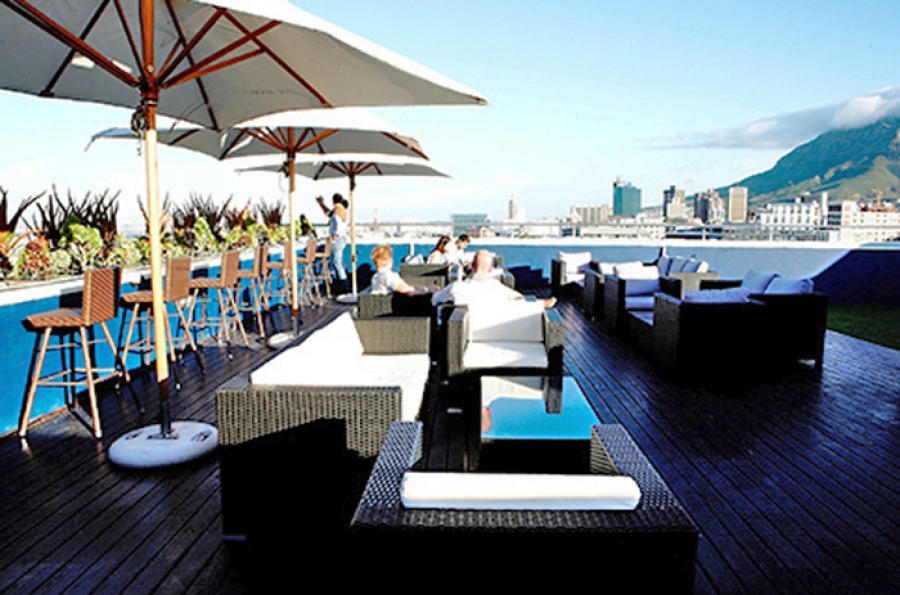 Head out to the lovely Cape Royale Hotel in Green Point and spend an evening at their charming Zenith Sky Bar. Expect to find daybeds to lounge on, as well as a nice rooftop pool with spectacular views of the city. Of course, let's not forget the perfectly presented cocktails. They serve them with tapas and sushi.
8 The Botanical Bar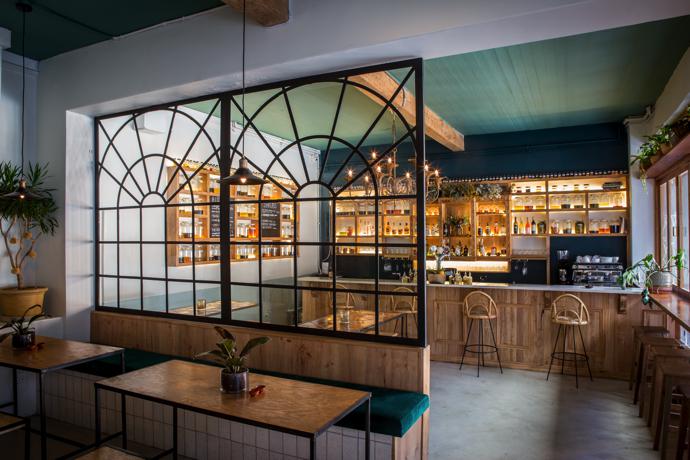 The people behind the Gin Bar decided to open a new place and call it the Botanical Bar. Located on Longmarket Street, this amazing place is all about creating drinks with local herbs, plants, and foraged ingredients. Make sure to order something from their snacks menu that consists of ethically-sourced meat.
9 Orphanage Cocktail Emporium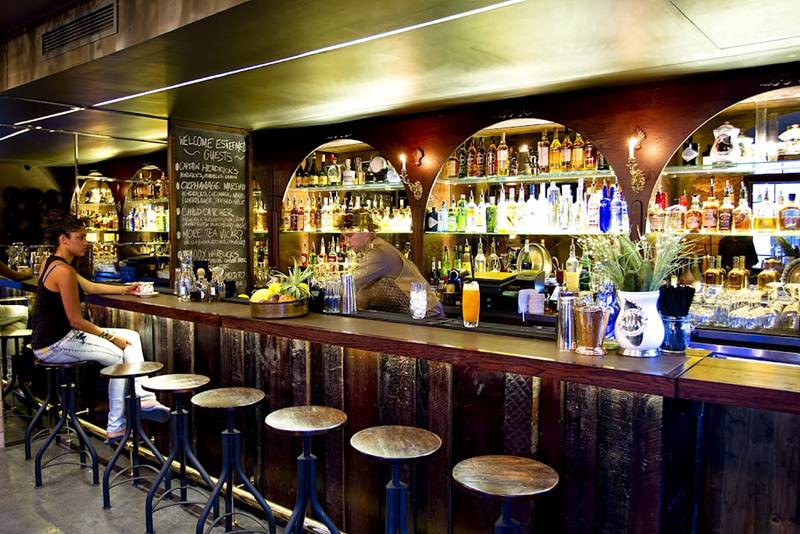 There are many original cocktail bars in Cape Town and the Orphanage Cocktail Emporium is one of them. This cute place is located on the lively Bree Street and offers an incredible cocktail menu that includes a variety of excellent cocktails with an unexpected mix. How about a lit-on-fire cocktail or a cocktail in an old-fashioned flowery tea cup?
10 Cape to Cuba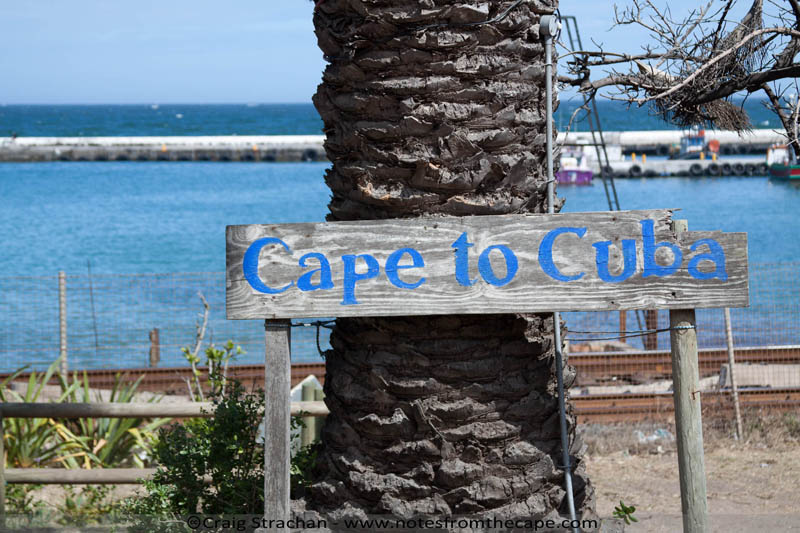 Cape to Cuba is a beachfront restaurant/bar that serves tasty Mojitos and other well-crafted cocktails. Enjoy the Kalk Bay harbor views while sipping on a Voodoo cocktail or a Cuban Sunrise. Besides great cocktails, they also offer fresh seafood and tasty burgers.
11 Grand Café and Beach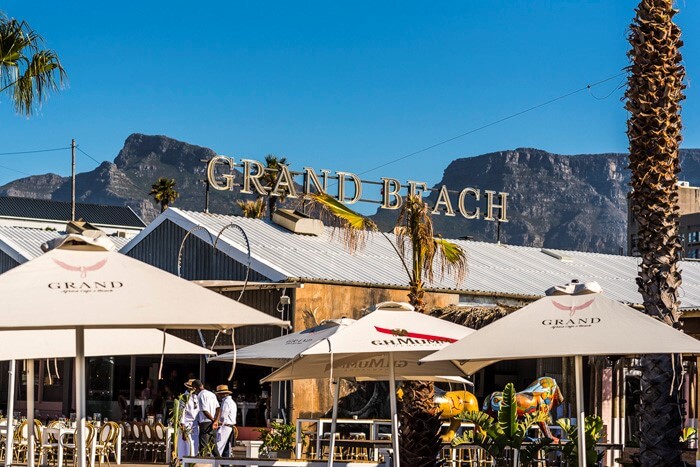 Located on the beach, Grand Café and Beach is a swanky bar that offers innovative cocktails like Figgy Sour, Moulin Rouge, and Madagascan Vanilla Daiquiri. Their terrace is huge and there over 40 waiters serving tasty cocktails and delicious seafood. The good news is that there are plenty of parking spots in front of the café.
12 Planet Bar and Restaurant at Mount Nelson Hotel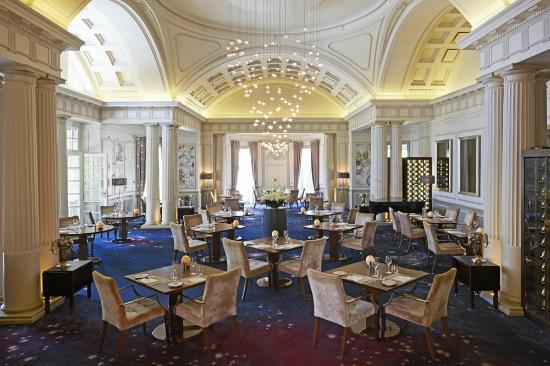 Planet Bar and Restaurant at Mount Nelson Hotel is all about style and great cocktails. The interior boasts galaxy carpets, large mirrors, and cute chandeliers, which makes a perfect setting for a posh experience in Cape Town. They even have live piano performances and serve a variety of bar snacks and oysters. Of course, a nice selection of expertly crafted cocktails can be found on the menu, as well as a six pages long wine list and a couple of non-alcoholic options.
13 Skybar at the Grey Hotel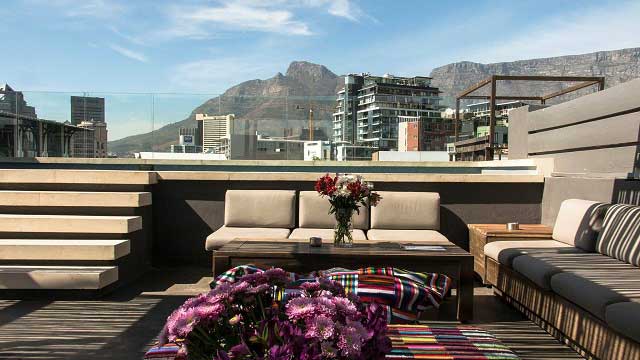 Situated inside the Grey Hotel in de Waterkant, SkyBar offers excellent views of the Cape Town skyline and boasts an amazing cocktail menu which is perfect for sundowners. In case you get hungry after all the cool cocktails here, you can make a reservation at the Shio restaurant and try some delicious Japanese specialties.
14 The House of Machines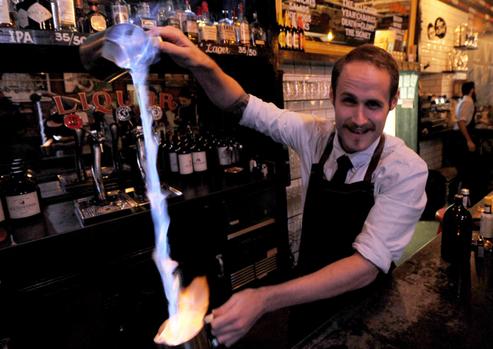 Spend an evening at the lovely House of Machines in the center of Cape Town. During the day, this brick-lined joint offers stellar coffee and breakfast, but in the evening it transforms into a lively bar with an extensive cocktail list. There are live music performances on the weekends and their version of Negroni cocktail is probably the best in the city.
15 The Vue Skybar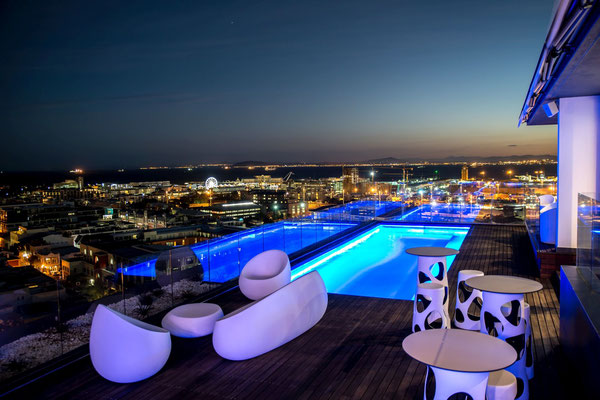 From all the cocktail bars in Cape Town with panoramic views, the Vue Skybar is definitely the best one. The cocktail menu offers a number of great options including favorites like watermelon martini and the amazing grilled pineapple margarita.