This amazing video will make you long to visit the charming seaside town of Kalk Bay in Cape Town! Not too long ago, we featured an incredible Cape Town drone video by the talented Luke Maximo Bell. Luke has a brand new video out that was made for the Cell C #BreakTheNet digital reality show. He's teamed up with Hloni Coleman to create a fun video showcasing the many highlights of Kalk Bay.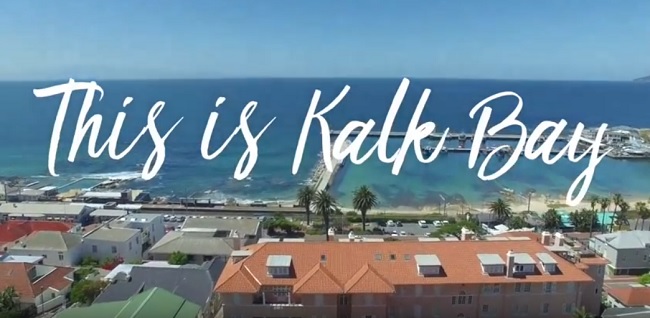 We love Kalk Bay. Needless to say, we think this video is the perfect way to show off the sleepy fishing village and its many, many charms.
Watch This Awesome Kalk Bay Video
Whether you have been to this False Bay hotspot, or it's on your bucket list of places to visit in the Mother City, you are sure to love this quirky Kalk Bay video.
What Kalk Bay attractions and activities are featured in this video? Let's take a closer look…
Kalk Bay Harbour
The bustling harbour has everything you would expect… non-stop hustle and bustle, plenty of noisy seagulls, lots of interesting boats and a year-round atmosphere. You will often see seals around here, playing in the water. Take a walk on the pier, enjoy some fish and chips and take in the quaint fishing village vibes that make this spot so popular.
Bakeries and Ice Cream Shops
There are some lovely bakeries along the Main Road, including the famous Olympia Cafe. Enjoy a leisurely breakfast, or get something tasty to enjoy on the go as you browse antique shops, art galleries and other interesting places along this stretch of road. You can also find delicious ice cream at The Ice Cafe. If you're in the mood for something savoury, there are also many excellent restaurants in this area, including Cape to Cuba and Harbour House.
Kalk Bay Tidal Pool
There is a large tidal pool below The Brass Bell that is perfect for swimming. One of the best sheltered swimming spots in Cape Town, this tidal pool allows you to take a dip in the ocean. The waters here are warm, as False Bay lies on the Indian Ocean coastline. The waters can get rough at high tide, but for the most part, the pool is safe and family friendly.
_____________________________
All in all, Kalk Bay in Cape Town offers the perfect way to spend a day out in False Bay. It's also great for holidays, weekends and romantic escapes. With plenty to see and do here, you are sure to love Kalk Bay as much as we do.
P.S. Looking for places to stay in Kalk Bay? Browse our range of accommodation options to find nearby apartments and villas.