Green Point Cape Town lies on the Atlantic Seaboard of the Mother City, between De Waterkant and Sea Point. Famous for its incredible urban park, sports stadium, restaurants and scenery, this area is the ideal base from which to explore the city. It's central location puts you just minutes away from major landmarks such as the V&A Waterfront, Cape Town CBD and Sea Point Promenade, while its wide variety of cafes, restaurants, bars and trendy eateries give it an energetic atmosphere, whatever time of year you visit.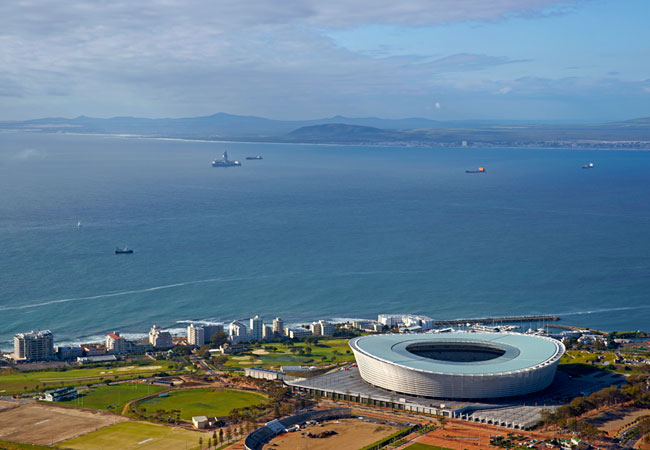 Whether you're planning an upcoming holiday, looking for a central location for a business trip or even considering honeymoon options, Green Point has plenty to offer. Join us today on the blog as we take a virtual tour of Green Point in Cape Town to see what this area has to offer its visitors.
Why You Will Love Green Point Cape Town
Why should you consider staying in Green Point Cape Town for your trip? For starters, here are a few reasons to love this vibrant suburb…
1. The Vibe
Not quite as upmarket as Sea Point, but not quite as eclectic as the nearby Inner City suburbs of De Waterkant or Bo Kaap, Green Point has a vibe that is all its own. The suburb is fairly diverse, with a mixture of old, young and in between. Due to its large number of apartments, the area caters to young up and coming professionals who work in the nearby CBD. There are also older family homes, brand new complexes and a variety of property types on offer. For holidays, the area is upbeat and always interesting. The stretch of Main Road is dotted with shops, restaurants and cafes, while the areas around Somerset Road have a thriving nightlife. The promenade runs through Green Point from Beach Road, giving you all the festivities of this popular beachfront, in close distance.
2. The Wining and Dining
One of the top places to wine and dine is The Foundry on Prestwich Street. Here, you will find Beluga – a popular sushi and cocktail spot that serves a variety of delicious treats. Be sure to try the oysters – they are not cheap but are worth a splurge. On Somerset Road, you will find a number of good restaurants, including Pigalle. This Portugese restaurant has regular live jazz, salsa and swing, and does delicious steaks. There are a number of spots on Main Road as well, including El Burro (super popular Mexican restaurant and bar), Hudsons (burger joint), Mykonos Taverna (Greek restaurant), and Mario's (Italian fare) to name but a few. There are also places to try on Beach Road, including La Perla and Rockpool.
3. The Scenery
Needless to say, ocean views are par for the course in Green Point. But then there are also the incredible mountain views. With the mountain sitting right on your back doorstep, you can enjoy both sea and mountain views daily from the majority of Green Point apartments and villas. If you're in need of some serenity, you can also enjoy some natural scenery at Green Point Urban Park. This park is free to the public, with a breath-taking Biodiversity Garden, outdoor gym, running paths, benches, lawns and a wetlands area. All in all, when it comes to scenery, this area seldom disappoints!
4. The Centrality
One of the best things about choosing Green Point Cape Town as your base is its location. Even though you are technically on the Atlantic Seaboard, you are close enough to the CBD to even walk there on the Fan Walk if you really wanted to make the effort. The Waterfront is also just a few minutes away, with easy access from Somerset Road off Portswood Road. The beaches of Camps Bay and Clifton are a short drive away, while the nearby hotspots of Bo Kaap and De Waterkant are also nearby. This means that you can easily head out and explore during your holiday, without having to venture too far.
5. The Accommodation
There is plenty of diversity when it comes to finding accommodation in the Green Point area. This spot is ideal for those looking for conveniently located lock up and go apartments or villas that are close to all the action. Some of our top picks include Residence Penthouse, a gorgeous 3 bedroom apartment; Oceanscape, a modern 2 bedroom apartment; Portland Cottage, a charming 2 bedroom cottage; Milieu, a modern 3 bedroom villa and Hero City Urban Studio, a trendy studio apartment. For a full list of places to stay in this area, browse our current selection of Green Point apartments and villas.
___________________________________________________
What do you love most about Green Point Cape Town? Share your thoughts below and let us know what you love the most about this vibrant Atlantic Seaboard hotspot!
Image: SA-venues.com