There is nothing quite like a family holiday in the Mother City, filled with fun, excitement, beauty and so much to do and see, there's certainly something for EVERY member of the family to enjoy! When it comes to planning a family holiday in Cape Town there are two very important components to consider in order to ensure your fun-filled family vacation is not only a successful one, but one you'll remember for many years to come – accommodation and area.
Renting a family-friendly luxury holiday villa will not only guarantee tons of space and plenty of super cool amenities that will keep the kids entertained and give you some much needed rest and relaxation time, but ensure you're right where you want to be to enjoy everything Cape Town has to offer! So, in order to ensure you have the very best time discovering and exploring the Mother City, here are the best 10 family-friendly luxury holiday villas in Cape Town to enjoy all the holiday bliss you can handle: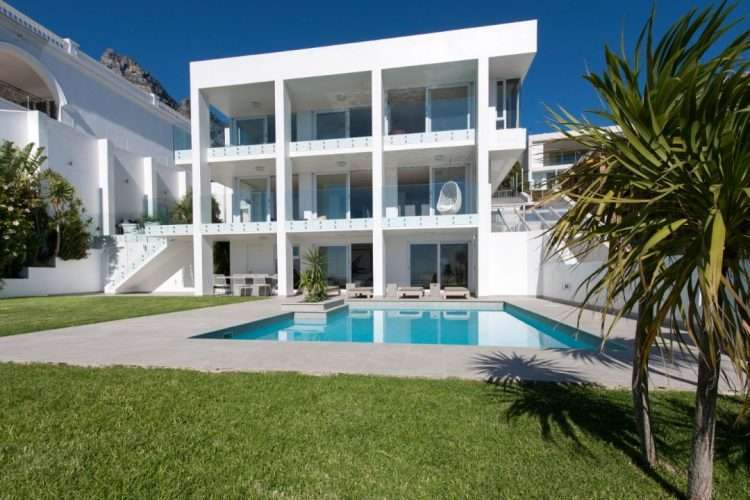 Tons of space, a swimming pool, large entertainment area, outside garden area AND just a 5-minute walk from the renowned Camps Bay, sounds like a family vacation dream come true right? Well, now it can be your reality! Boasting 5 double bedrooms each with their own sea-facing balconies, contemporary interior design touches, an upper decked terrace, heated swimming pool, a spacious garden with tons of space to run around in and a variety of state-of-the-art features that will allow you to take the load off, it really is the perfect family villa for a Cape Town holiday. Not only does it have everything you need to keep the kids happy and entertained, it also has everything you SO desire and deserve for a some much needed rest and relaxation. Plus, the magnificent Twelve Apostles Mountain range and Atlantic Ocean view will ensure you always have something spectacular to look at while you do it!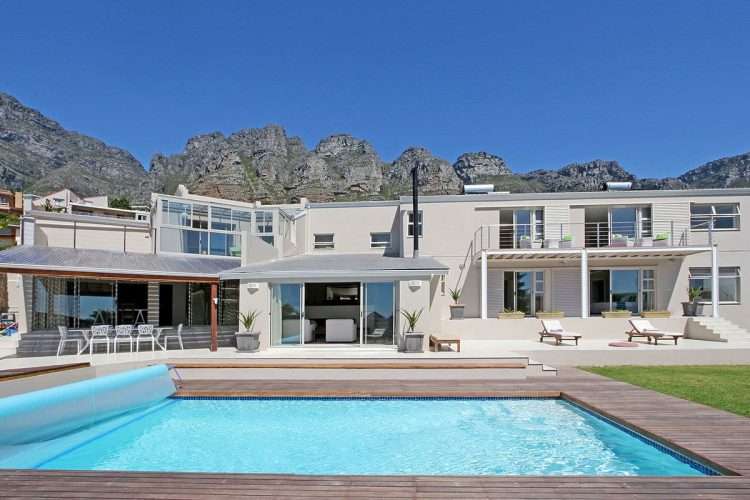 This 8-bedroom family-friendly luxury Camps Bay villa is not only beautiful, luxurious and equipped with everything you could ever want in a private holiday villa, but it's also perfect for larger groups of family and friends looking to have a great time while enjoying tons of space! Boasting both an incredible indoor and outdoor area, Villa Sublime is one Cape Town villa that is jam-packed with a little bit of EVERYTHING. 8 Bedrooms, 8 bathrooms, a large garden with plenty of space to run around in, spacious open plan living and entertainment areas, home cinema, fully-equipped kitchen, decked outdoor area, swimming pool, sun terrace, sun loungers and SO much more. All that combined with its close proximity to the Camps Bay beach front and a variety of restaurants as well as less than 15 minutes away from the vibrant V&A Waterfront and an endless list of Cape Town attractions makes it a real Cape Town family holiday dream come true.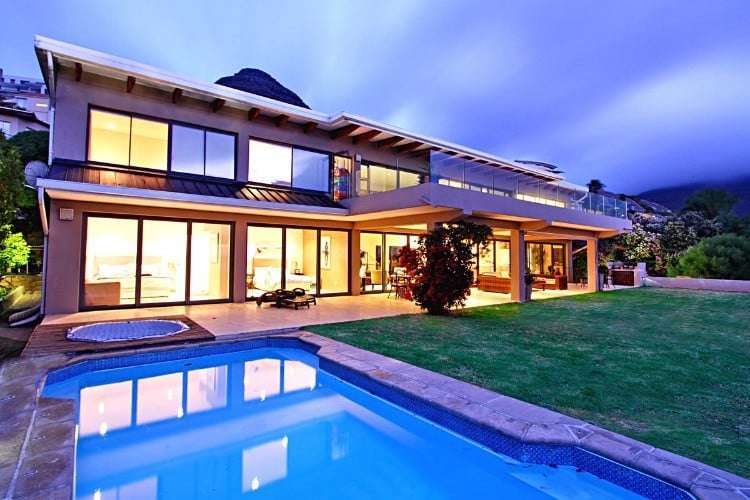 Situated in one of Cape Town's most beautiful hidden gems and best kept beach secrets, Llandudno Beach, Cool Waters is every bit as beautiful as its location, plus it's jam-packed with everything you need, want and desire for the perfect Cape Town family holiday. This stunning 5-bedroom private villa therefore makes for the perfect coastal escape whether you're looking for a weekend, week-long or open-ended holiday filled with fun in the Mother City sun. Boasting incredible features like a swimming pool, spacious lawn, jacuzzi, BBQ, outdoor dining table and plenty of space for entertaining, Cool Waters makes outdoor living feel like a real dream come true. But besides a cool outside living space, its interiors are every bit as incredible as you'd think! Including a variety of modern contemporary touches and a host of lavish features and luxury amenities, Cool Waters is one family-friendly Cape Town villa that will certainly not disappoint. Llandudno is also famous for its sheltered beach, thereby making it the perfect hideaway for you and your kiddies to have the best time sandy-feet, salty-hair and all.
---
---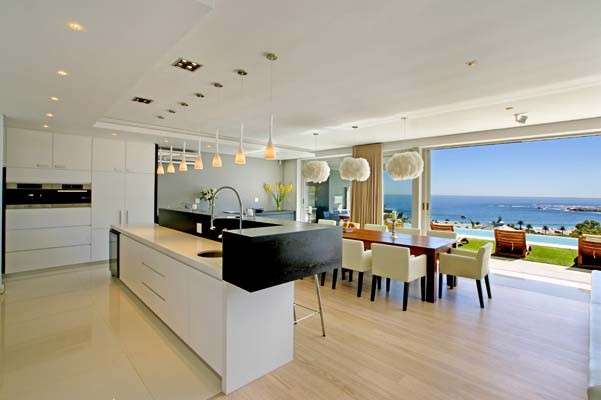 The Entertainers Delight is a 6-bedroom, ocean-facing, spaciously-stylish, family-friendly Villa that not only boast a prime Camps Bay location, but everything you need for a fun-filled holiday exploring and enjoying everything Cape Town has to offer! A see-facing swimming pool, large outside decked area, jacuzzi, BBQ, pizza oven, spacious open-plan living areas and ample outdoor dining and relaxation areas are just some of the incredible features and amenities you will get to enjoy! Just as its name states, the Entertainers Delight is a real entertainment dream come true, and the best is, it caters to every single member of the family, thereby making it the perfect Mother City holiday spot. Plus, the fact that it's only a stone throw away from one of Cape Town's best blue flag swimming beaches, Camps Bay, means it's perfect if you're in the mood for a beachy family breakaway! The uninterrupted Atlantic Ocean view also ensures you get to soak up every second and spectacular sight of one of the most beautiful cities in the world and all it has to offer.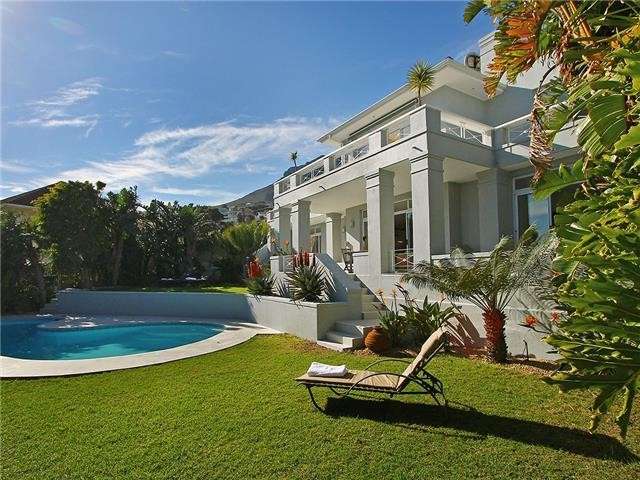 In Cape Town outdoor living is the BEST kind of living, and African Shores will sure make it super easy for you to love every second of your outdoor living family holiday in the beautiful Mother City. Spread across two stunning levels of private-luxury-villa-goodness, this 5-bedroom villa boasts its own kitchen, dining area and living room with access to an outside terrace on each level. Thereby making it ideal for big families or even two families exploring Cape Town together, the more the merrier right. Including both upstairs and downstairs terraces, a large private garden boasting tons of space for tons of fun, BBQ and swimming pool, African Shores makes outdoor Cape Town living both stylish and fun at the same time. As soon as you step foot inside this beautiful family-friendly villa you will be confronted with plenty of natural sunlight that floods the whole house, giving it a beautifully warm summer feel. The decor is neutral, fresh and white further adding to the ambience of space and tranquillity. African Shores is also located a mere 5 minutes from the beautiful Camps Bay beachfront as well as a range of other incredible and exciting Cape Town landmarks and attractions that promises to make your holiday well worth every second.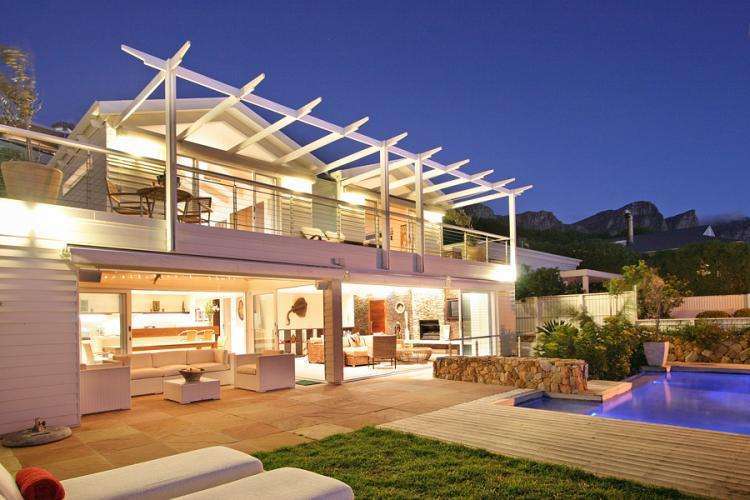 The Beach Retreat is pure beach bliss and every Cape Town family beach holiday dream come true! Not only is it located right on one of Cape Tow's best beaches, Glen Beach, it also has direct access to the beach, therefore allowing for all the beach family fun and sensational ocean views you can handle. Thereby making it the ultimate beach escape and the perfect location for a family beach holiday you won't soon forget! Boasting 4 bedrooms, 4 bathrooms, fully equipped kitchen, large living room with ample space for relaxing and entertaining, swimming pool, spacious garden, patio, BBQ, sun loungers and So much more, the Cape Town family-friendly villa has absolutely EVERYTHING you need. The fact that it's located in Camps Bay means that you have an endless range of incredible destinations and exciting activities right at your fingertips.
---
---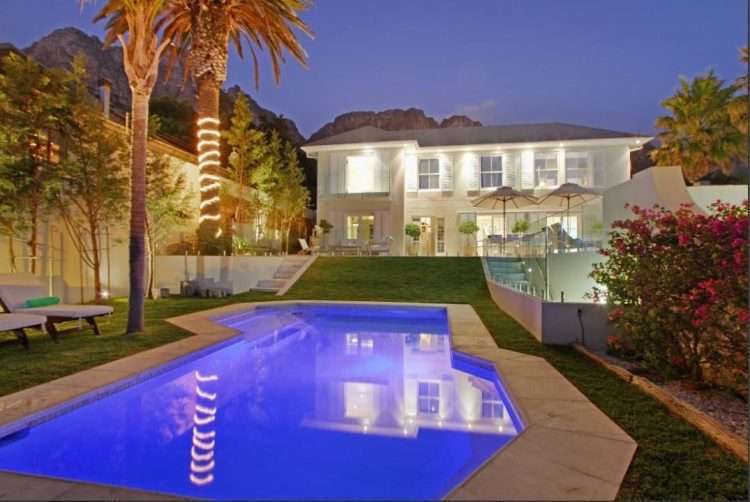 If you're on the lookout for a 6 bedroom (including a child-friendly bedroom with bunk beds) family-friendly Cape Town Villa that includes a sprawling sheltered garden, swimming pool, sun terrace, jacuzzi, beautiful and spacious indoor AND outdoor living areas, fully-equipped kitchen and an endless list of luxury amenities to ensure you don't have to lift a finger on your well-deserved Cape Town family holiday, then look no further. Villa Pinache located in the beautiful, vibrant Camps Bay has EVERYTHING you've been looking for and so much MORE. The fact that this beautiful Camps Bay villa boasts all the luxury features and amenities you can expect from an elite private villa AND that it's located walking distance from one of Cape Town's most famous blue-flag swimming beaches means you get to experience the very best of everything.
Built over two levels, Ocean Drive offers tons of space for every member of the family. Besides it's prime Camps Bay location and close proximity to a wide range of restaurants, beaches, and fun-filled family activities as well as all of Cape Town's prime attractions and iconic landmarks, it's also jam-packed with all the incredible amenities and luxury features you'd expect from a private Cape Town villa. Boasting an interior consisting of 7 stunning bedrooms, 7 bathrooms and a large open plan lounge, dining room and kitchen area which all open up onto a spacious outdoor terrace featuring a spectacular Mother City view. But besides beautiful interiors and state-of-the-art-amenities, it also has a fantastic outdoor space that can be thoroughly enjoyed by the WHOLE family! From a spacious garden and BBQ to a swimming pool and sun loungers, Ocean Drive makes sunny Cape Town days feel like a dream come true.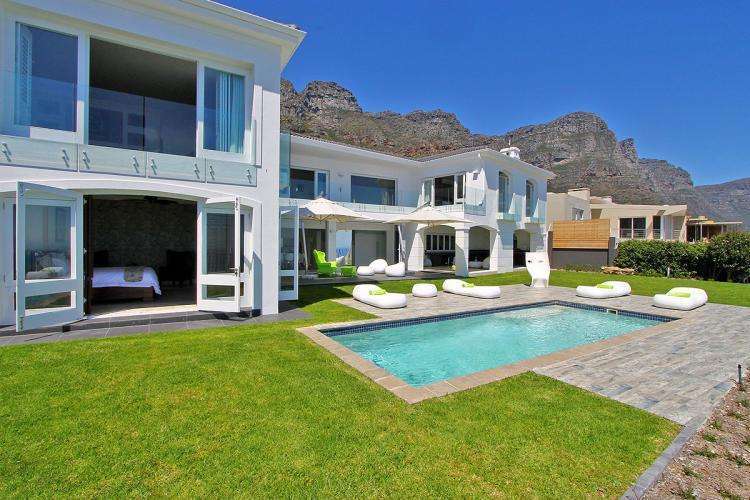 Located in the sought-after Cape Town holiday and traveller destination of Camps Bay, Elegant Horizon is not only located walking distance from one of the most beautiful beaches, as well as one of the most famous blue-flag swimming beaches, in Cape Town it's also just a short distance away from some of the Mother City's most scenic sites, vibrant destinations and fun-filled attractions. Thereby promising one incredible and exciting Cape Town family holiday every member of the family will remember for many years to come. Besides it's prime location, this family-friendly Cape Town holiday villa also boast the most spectacular indoor and outdoor living areas. 6 Stunning bedrooms, 7 bathrooms, a private cinema, multiple open plan living and relaxation areas, fully-equipped kitchen, a variety of luxury amenities, swimming pool, lush garden, lavish patio, sun loungers and so much more, Elegant Horizon has absolutely EVERYTHING you need for an unforgettable family holiday! Plus, the spectacular ocean view is guaranteed to leave you spell-bond and amazed.
---
---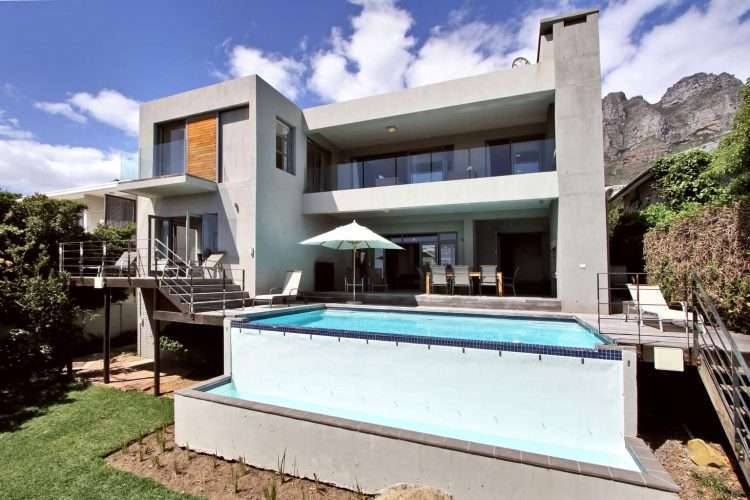 As the name suggest this is one family villa with a bit of extra Cape Town charm that you'll certainly find hard to resist, and to be honest, why should you! Villa Familia is a Camps Bay family-friendly villa that invites you and your whole family to enjoy all of its incredible amenities, lavish features, open spaces, beautiful views and contemporary touches to its fullest extent. Featuring 5 bedrooms, 5 bathrooms, plenty of open-plan designs with ample space for living, dining and entertaining, a glorious infinity pool, lovely lush garden and a decked area perfect for soaking up all the Cape Town sunshine and cool vibes, Villa Familia is a Cape Town family holiday dream location in every way. Together with its spectacular Atlantic Ocean and mountain range views as well as its close proximity to famous blue-flag swimming beaches and a range of other Cape Town attractions like the V&A Waterfront, the Sea Point Promenade, Hout Bay and so much more, you'll be sure to love EVERY second of your holiday.
With so many incredible family-friendly luxury holiday villas in Cape Town to choose from, each with their own unique features and lavish finishes, you definitely can't go wrong! Besides an incredible location to call your own for the duration of your stay, you will also have all the sensational landmarks, celebrated attractions and beautiful destinations the Mother City has to offer right at your finger-tips. Cape Town sure isn't known as one of the most beautiful and exciting cities in the world for nothing, and now you can experience all of it in full force with your beloved family right by your side.
---
Looking for help finding luxury Cape Town villas and apartments you can actually afford? Browse our selection of accommodation by area, or get in touch today for help with finding the perfect places to stay in Cape Town.