One of the many great things about booking a stay at one of the many luxury villas in Cape Town is the views that are on offer. Areas such as Camps Bay are highly sought-after, for good reason. This is where some of the best views can be found, spanning across ocean and mountain. Whether you're planning a well-deserved holiday or you are starting to think about your honeymoon, finding the best views often comes down to choosing the right luxury villas in Cape Town.
Enjoy Dazzling Views at These Luxury Villas in Cape Town
Looking for the best views in town? We've put together a list of villas that offer the very finest views. These luxury villas in Cape Town are sure to make you want to pack your bags and head off on holiday! Some of our favourite villas offering magical views include the following:
1/ Cape Sunset

Cape Sunset is an elegant, 4 bedroom villa set over multiple levels, with amazing ocean views enjoyed from every level and every bedroom. Minutes away from the Camps Bay beachfront, this villa is fully equipped to meet the needs of the modern traveller, with every luxury imaginable on offer.
2/ Paradise Views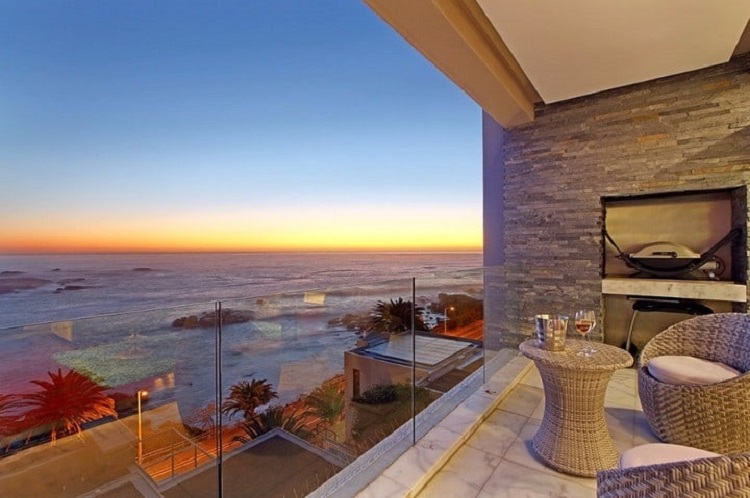 Set across multiple levels, Paradise Views is a one-of-a-kind 4 bedroom villa in the heart of Camps Bay, offering the most dazzling ocean views. The beach is minutes away, while a wide range of luxurious facilities will make you feel at home from the very first moment you arrive.
3/ Blue Tranquility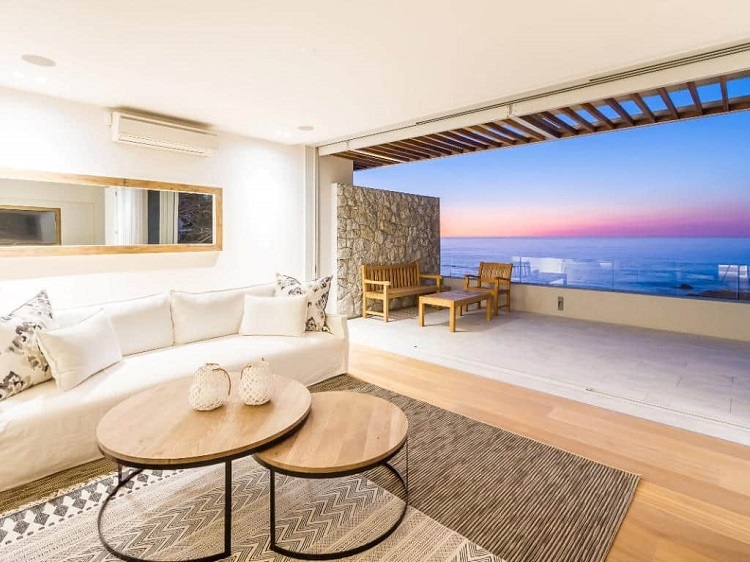 Boasting 3 bedrooms, 3 bathrooms, a modern swimming pool and incredible views of the ocean, Blue Tranquility is a tranquil 4-star villa in Bakoven. Whether travelling for romance or holiday, this villa is sure to be the perfect abode to take in the sights of the city in true luxury.
4/ Beach Villa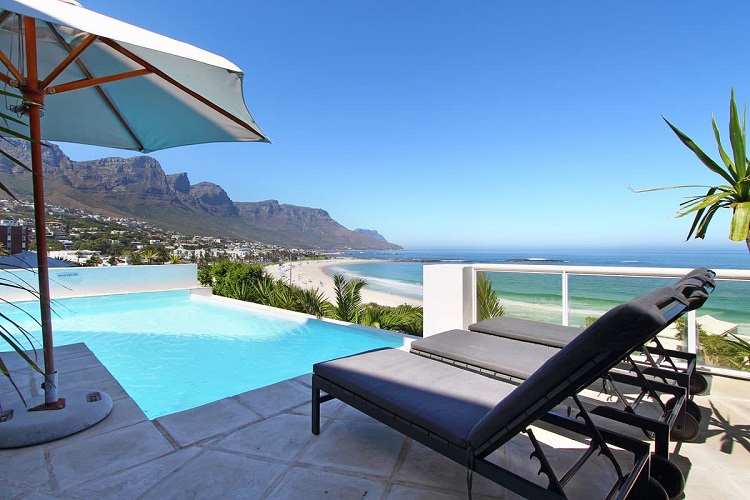 Just minutes from Camps Bay's beachfront, Beach Villa offers uninterrupted views of the ocean and beach. This villa has 6 bedrooms, an ocean-facing swimming pool, a spacious living area with cocktail bar and plenty of other luxurious touches that enhance your stay.
5/ Modern Hideaway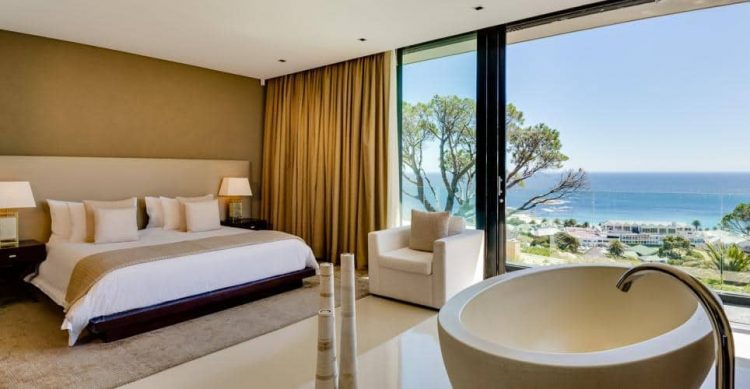 With 6 bedrooms, 6 bathrooms, a swimming pool and many additional luxurious touches, Modern Hideaway is a spectacular 5-star villa in Camps Bay. Wake up to views of the Atlantic Ocean, sip cocktails on the deck as the sun slowly begins to set and fall in love with Cape Town all over again.
6/ Azure Escape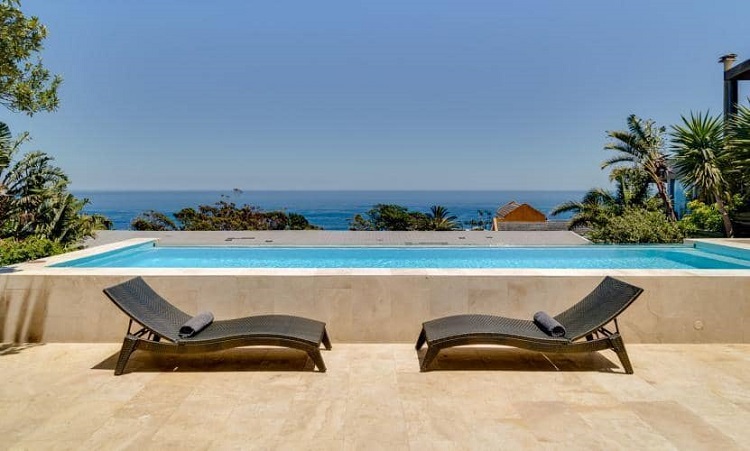 Offering 4 bedrooms, 4 bathrooms, a swimming pool overlooking the ocean and a host of luxurious features, Azure Escape is a modern 4-star villa located in Camps Bay. This villa is ideal for romance and leisure alike, with all the luxury you could ever need to feel at home from the moment you arrive.
7/ Minima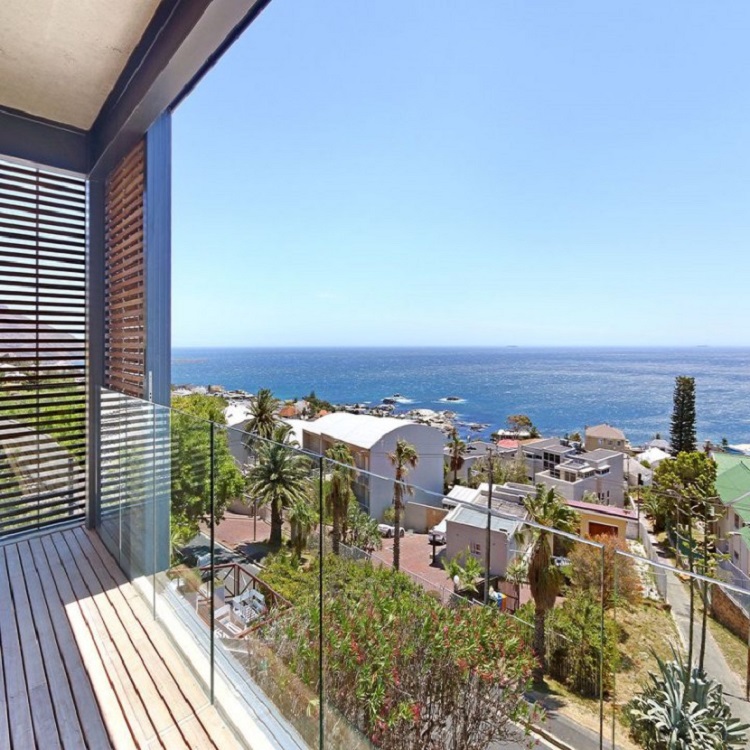 Located in Camps Bay, Minima offers 4 en-suite bedrooms, set across 2 levels. Book as a full house, or as two 2 bedroom units. Highlights include luxurious bathrooms, modern furnishings and appliances, a swimming pool, rock garden, off-street and garage parking, elevator access and incredible mountain and ocean views.
8/ Villa Aqua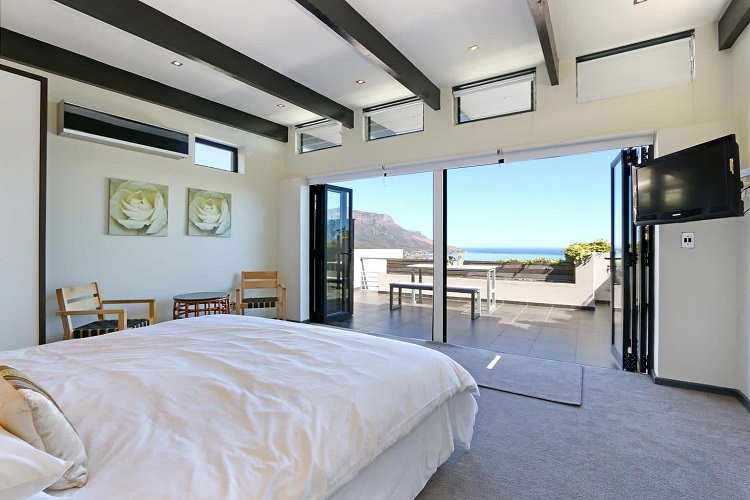 Situated on a quiet street in Camps Bay, Villa Aqua is a modern multi-level villa with 4 bedrooms, a unique African infused contemporary style and a host of luxurious features that make you feel at home. The views enjoyed from this villa are equally outstanding, allowing you to wake up and enjoy ocean views each morning of your stay.
9/ Glen Sunsets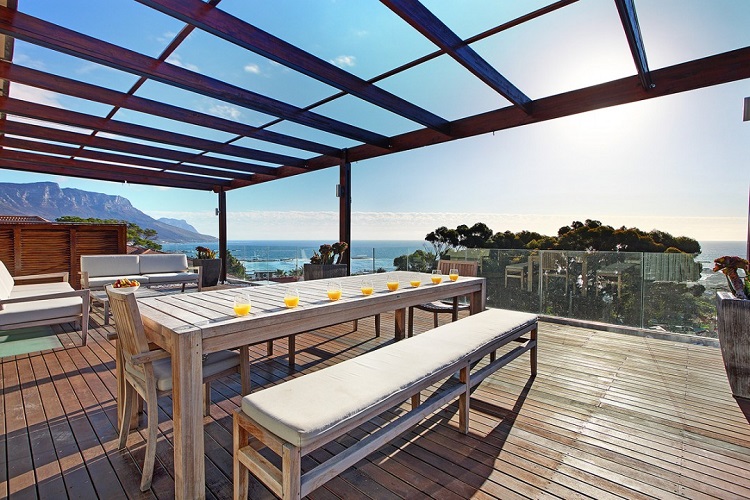 With its contemporary style, incredible location in Camps Bay and top-rate features ranging from swimming pool and hot tub to gas fireplace, wooden deck overlooking the ocean, garage for 2 cars, 3 modern en-suite bedrooms and a wide range of luxurious features, Glen Sunsets also boasts some of the most dazzling views imaginable.
10/ Modern Vistas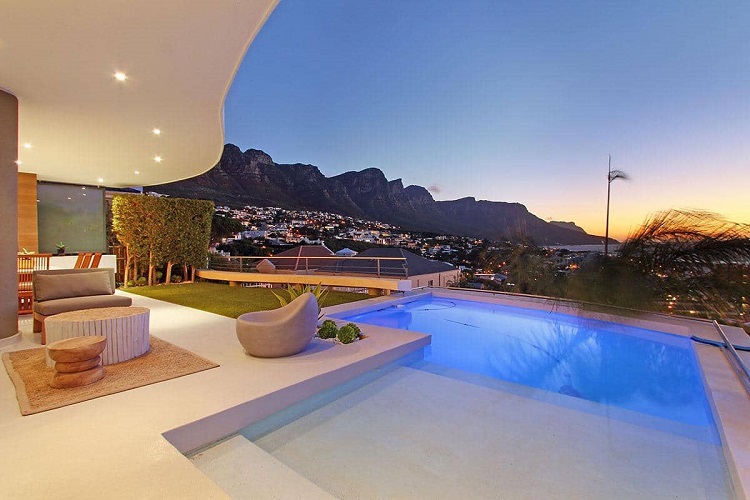 Boasting 3 bedrooms, 3 bathrooms, a large swimming pool, spacious deck and plenty of elegant touches, Modern Vistas is a gorgeous 5-star villa in Camps Bay that offers some of the most incredible views you could ever imagine. Wake up and watch the sunrise over the Atlantic Ocean and sip cocktails in the evening as you watch the sun slowly set after a magical day of exploring the city.
---
Looking for something specific? Get in touch with our team to find the perfect accommodation for your needs or browse our Curated Collection to find the very best luxury villas in Cape Town.