Travel in style with a chauffeured Classic Cats Winelands Tours, and you are sure to be transported to a bygone era that is reminiscent of Great Gatsby, elegance attire and the finer things in life.
While there are many ways to explore the famous Cape Winelands, very few can surpass the level of luxury that a private tour in a classic Jaguar has to offer. With a choice of five special packages, this experience is perfect for a romantic date, sophisticated outing or purely as a fun weekend activity.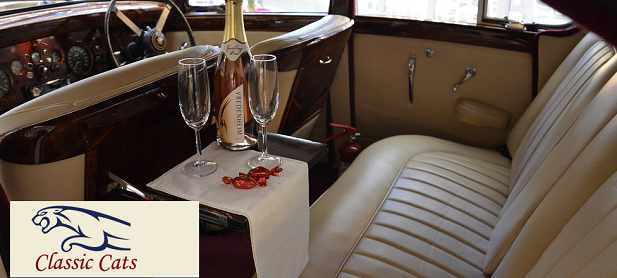 Chauffeured Wine Tours with Classic Cats
Based in Stellenbosch, Classic Cats is a car hire company that specialises in beautiful vintage cars. Their fleet comprises a selection of history's finest Jag models, as well as a few other restored rides that are no less iconic. While you can hire a chauffeured car for your special ocassion, wedding, dance or date, the Cape Winelands Tour is an absolute must-dry.
On one of these tours, you will visit a number of wine estates and enjoy tasting, tours and lunch. Each tour has its own list of estates, and lasts in duration for anything from five to seven hours. Tours offered include the following:
1. Stellenbosch Route 1: 5 hours 
-Mulderbosch
-Blaauwklippen
-Avontuur (lunch)
2. Stellenbosch Route 2: 6 hours 
– Clos Malverne
– Waterford
– Eikendal (tour and/or picnic lunch)
3. Stellenbosch Route 3: 5 hours 
– Morgenhof
– Tokara (lunch)
– JC Le Roux
4. Stellenbosch Food and Wine: 6 hours
– Mulderbosch – pizza & wine
– Clos Malverne – ice cream & wine
– JC Le Roux – nougat & bubbly
5. Franschhoek: 7 hours
– La Motte (tasting)
– Moreson (lunch)
– Haute Cabriere (cellar tour)
Find out more about what you can expect, take a look at the amazing image gallery and see the fleet of cars by heading over to the Classic Cats website.