Looking to plan a corporate event with an extra touch of luxury and exclusivity? Choosing a private luxury villa in Cape Town as your corporate venue location will not only take your event, get-together, conference, out-of-the-box strategy session or corporate celebration to the next level but make it a truly unforgettable experience for everyone who attends. When choosing the perfect corporate venue, accessibility, accommodation, suitability and exclusivity are all important factors to consider, and the best thing is, a private luxury Cape Town villa has all of that in bucket-loads.
Let's be honest, enjoying all the lavish features and luxury amenities a private villa has to offer, while soaking up all the spectacular views of some of the Mother City's most sensational landmarks and celebrated attractions like Table Mountain, the Twelve Apostles Mountain Range, Camps Bay and the Atlantic Ocean, is pretty special indeed.
To ensure you have a stand-out corporate event that wows, here are some of the most incredible private villas that will make the most amazing corporate venues in Cape Town for an evening everyone will be sure to remember: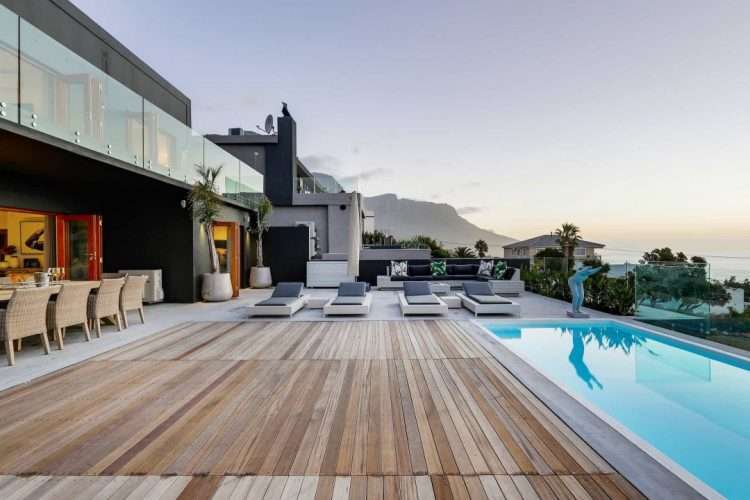 Jo Leo is pure Cape Town private luxury villa perfection, it's incredible range of lavish features and state-of-the-art amenities, combined with its prime location and magnificent backdrop of the Twelve Apostles Mountain range and one of the most picturesque coastlines in the world makes it a top choice for a private corporate venue. While this Cape Town gem boasts one of the most beautiful backdrops and sunset views the Mother City has to offer, it's jam-packed with beauty, luxury, style, comfort and every lavish touch you could imagine.
This beautifully designed 5-star 4-bedroom Camps Bay villa includes a range of luxury amenities and modern furnishes, fully-equipped kitchen, open-plan living spaces, stunning pool-side deck, private terrace, outdoor dining table and a rim-flow swimming pool. Its stunning indoor and outdoor living spaces makes it perfect for both an inside and outside corporate event, as well as the very best combination of both. It's prime Camps Bay location also means that you are a mere walking distance away from the Camps Bay beachfront and its vibrant restaurant and bar strip, as well as just a short drive from the bustling V&A Waterfront and all it's surrounding inner city attractions.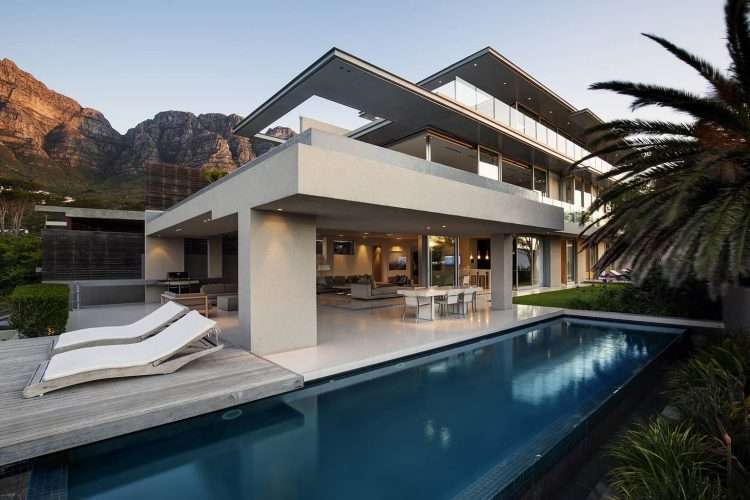 As the name suggests, Modern Luxury is without a doubt one of the most amazing private luxury villas Cape Town has to offer, thereby also making it the perfect corporate venue choice for an evening of extravagance and exclusivity. This jaw-dropping 5-star private Camps Bay villa not only boasts a sensational panoramic view of the Twelve Apostles Mountain Range and all its surrounding scenic glory, but state-of-the-art luxury amenities and lavish features that will provide you with everything you need to make your corporate event a huge success.
Boasting flawless modern contemporary design, multiple chic and spacious open plan living areas flooded with tons of natural light, a fully equipped kitchen, 2 rim-flow swimming pools, pebble box fireplace and a beautiful deck and garden, what more can you ask for? And that's merely scratching the Modern Luxury surface.
Featuring 6 stunning en-suite bedrooms, Modern Luxury makes for the perfect corporate trip or business retreat too, especially if you're looking to plan a weekend or weeklong corporate shindig. It's Camps Bay location also means you're just a short distance away from the famous Camps Bay sunset strip, boasting a variety of incredible restaurants, hangouts and beautiful beachfront, as well as the V&A Waterfront and a range of other prime Cape Town attractions and points of interest.
---
---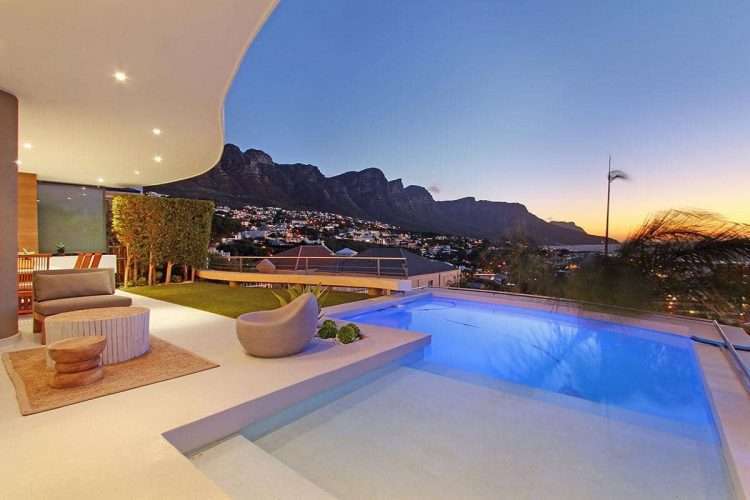 Modern Vistas is a modern 5-star villa in Camps Bay that offers some of the most magnificent Mother City views imaginable, top-tier state-of-the-art amenities and luxury features. The villa is located close to all the major Cape Town attractions and landmarks; thereby offering you the very best of everything and a corporate venue fit for any lavish occasion.
Modern Vistas boasts 3 beautifully designed en-suite bedrooms, contemporary open plan living and dining areas, a modern fully-equipped kitchen and a spacious swimming pool deck and plenty of luxurious touches, thereby ensuring you have everything you want and need in a corporate venue.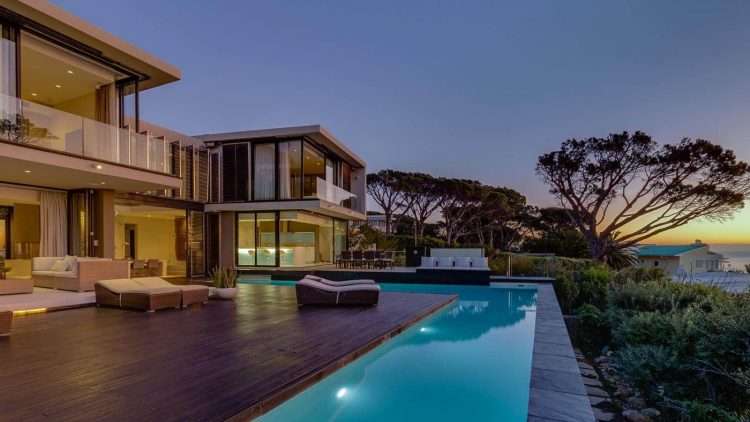 Boasting sensational interiors and a captivatingly beautiful outdoor living area, Modern Hideaway is without a doubt a corporate venue dream come true! It's all encompassing beauty makes it great for hosting both an indoor or outdoor event and promises to give both you and your guests an evening you won't soon forget.
This chic 5-star villa boasts 6 beautiful en-suite bedrooms, spectacular open plan living spaces, contemporary modern touches and furnishes, a beautifully decked outdoor entertainment area with a swimming pool, jacuzzi, sun loungers, ample amounts of space and so much more.
The Modern Hideaway is one private luxury villa that truly has anything and everything your heart could desire. Not only is this private villa beautiful, striking and unique, it's magnificent view of Lions Head, the Twelve Apostles mountain range and the Atlantic Ocean, paired with its prime Camps Bay location and close proximity to a variety of Cape Town's top attractions, makes it the ideal corporate venue location.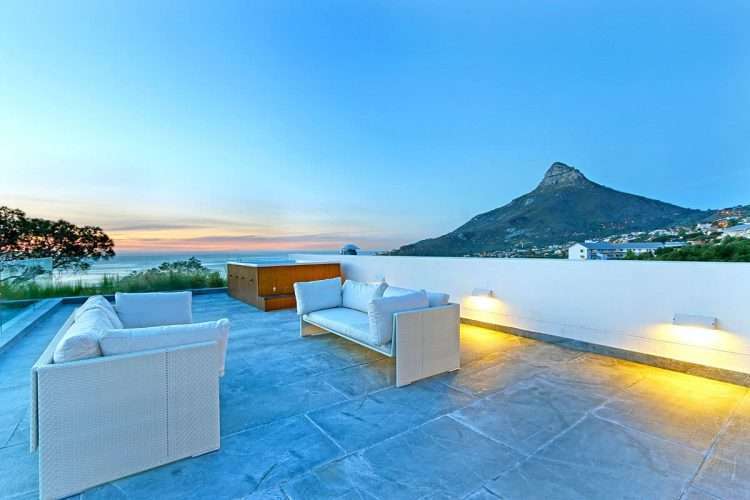 If you're looking to throw the ultimate corporate soiree under the Mother City moonlight and beautiful Cape Town night sky, Modern Panorama promises you and your guests a night to remember. Boasting a variety of beautiful outdoor entertainment areas and lavish features such as glass doors opening onto a stunning decked area, a large balcony on the first floor, a sun roof with a jacuzzi, as well as a spacious terrace boasting a swimming pool and sun loungers, this private luxury villa provides you with the perfect venue for a lavish corporate event.
The luxury villa features a panoramic view of the Atlantic Ocean and Twelve Apostles Mountain Range, which is sure to sweep you off your feet. The 4 beautiful bedrooms, fully equipped kitchen, endless array of lavish features and state-of-the-art amenities as well it's stylishly furnished open-plan living areas just further adds to the exclusive and unforgettable experience this private villa offers.
---
---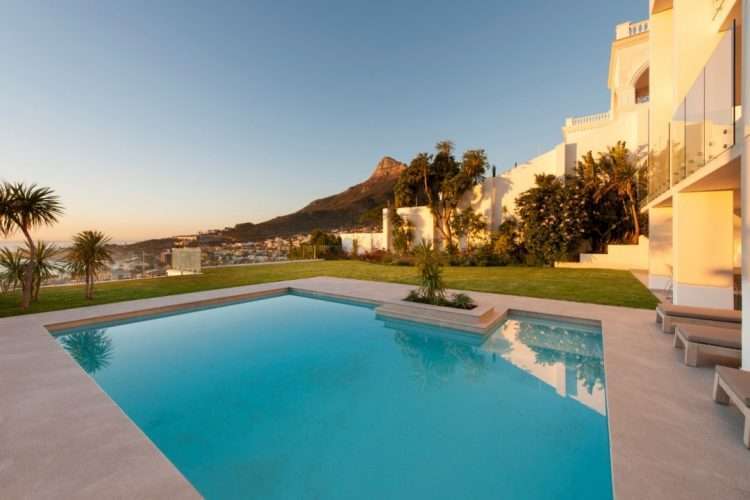 If the ultra-modern spacious interiors of this stunning Cape Town luxury villa doesn't have you falling head-over-heels in love with it, the truly spectacular Atlantic Ocean sunset view over Camps Bay and the Twelve Apostles mountain backdrop certainly will. The prime positioning, modern interiors, open plan living areas, stunning outside entertainment area and magnificent views certainly makes the Sandpiper Villa a top Corporate venue pick.
Boasting 5 double bedroom each with their own sea-facing balconies, beautiful contemporary interior design touches, state-of-the-art features, an upper decked terrace, heated swimming pool and a stunning spacious garden that's perfect for a sunset garden event. The spacious indoor and outdoor living areas, as well as the large garden of this stunning private villa makes it great for a big celebration or corporate soiree of the century.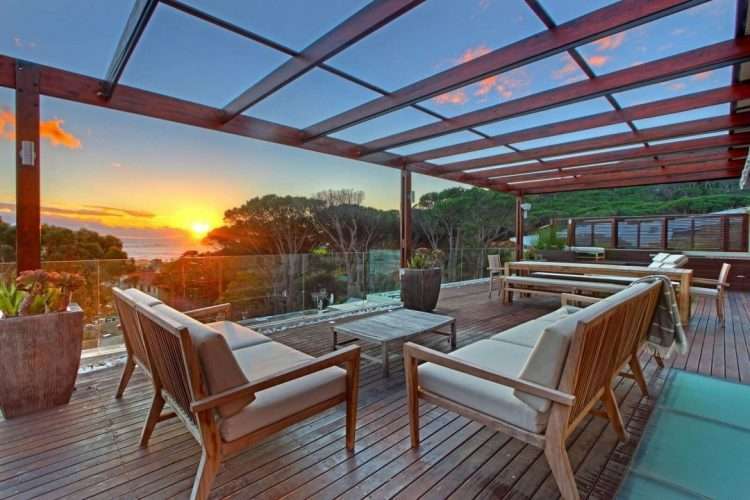 The beautiful decked rooftop patio combined with it's chic, yet rustic furnishes and finishes makes this 3-bedroom Camps Bay private villa the perfect corporate venue for a laid-back get-together or celebration. Plus, nothing will ever come close to the spectacular sunset view over the Atlantic Ocean both you and your guests will have the opportunity to bear witness too, thereby making it perfect for a sunset cocktail event with a lavish Cape Town twist. Besides its stunning outdoor living and entertainment area, Glen Sunset's interior living spaces are equally as spectacular in every way.
Boasting 3 modern en-suite bedrooms, spacious contemporary design open-plan living areas, a fully equipped kitchen, swimming pool, jacuzzi and of course its lovely large wooden deck including sun loungers and a drop-dead-gorgeous ocean and mountain range view. Glen Sunset is a corporate venue that is every bit as versatile as it is beautiful and will make for a truly unforgettable event for all who attends.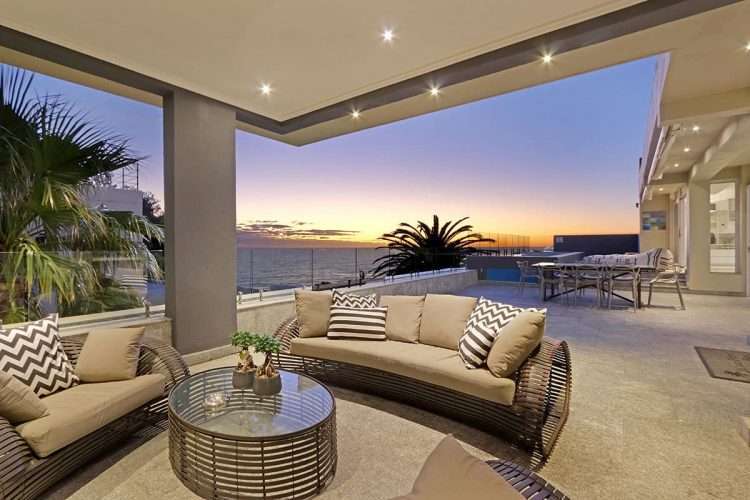 Spacious, luxurious, exclusive and set against the truly spectacular backdrop of the Twelve Apostles, Villa Panorama is sure to provide you with a corporate venue that will have you and your guests celebrating well into the morning hours. Featuring 6 stunning bedrooms, multiple spacious sea-facing living and relaxation areas, state-of-the-art amenities and luxury modern finishes, 2 swimming pools, beautiful spacious patios overlooking the renowned Clifton second beach and Camps Bay beach front and so much more! Due to the ample amounts of space and endless array of features this private luxury villa provides, Villa Panorama is also a great location if you're planning a weekend or week-long corporate getaway as well as an extravagant event, thereby giving you the very best of both options.
When it comes to planning the perfect corporate event, it is important to pick a venue that will allow you to stand out from the crowd, and by choosing a private luxury Cape Town villa as your event backdrop, you will do that and a whole lot more! Because let's be honest, there's nothing more incredible than having one of the Mother City's most iconic and awe-inspiring landmarks as your event setting backdrop. That combined with the lavish luxury and exclusivity that a private villa provides will ensure an evening that you and your guests will remember for many years to come, and for all the right reasons too!
---
Looking for help finding luxury Cape Town private villas for your corporate events? Browse our selection of accommodation by area, or get in touch today for help with finding the perfect corporate venue for your business event.