If you're looking for a really fun and unusual way to explore the Mother City, Cape Town Trike Tours might just be the answer. This one of a kind adventure takes you on a BOOM trike – a three wheeled bike especially designed to carry up to two passengers at a time. The idea is the brainchild of Willem Mulder, who saw a need for something different in the travel sector. After doing some research into the idea, he realised that nothing like it was being offered in Cape Town. He looked into various options for trikes, eventually choosing the German-made BOOM, which showcases the very best in European engineering.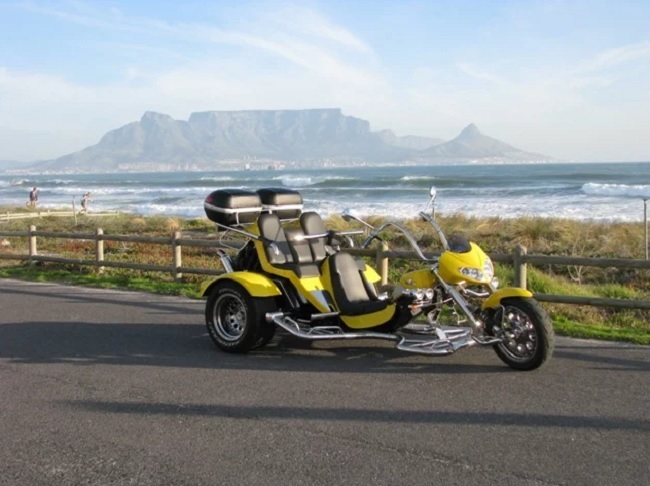 What can you expect on this adventure, and more importantly, why should you try Cape Town Trike Tours? Let's have a look…
Why Try a Cape Town Trike Tour?
Currently, there are five trike tours on offer, which range from Cape Point to Hermanus, the Cape Winelands, a scenic sunset tour and a custom tour that can be designed according to your preferences. Prices for the tours are between R1400 and R3000 per couple. Trike tours in Cape Town include the following options:
1. The Cape Point Tour
R3500 per couple (7 – 8 hours)
This route takes you to Cape Point, passing through Camps Bay, Hout Bay, Chapman's Peak Drive (if it's open), Kommetjie and Misty Cliffs. On the return journey, you will travel via Simons Town, stopping at Boulder's Beach along the way, as well as Fish Hoek, Boyes Drive, the M3 and Rhodes Memorial. Price excludes entry to Cape Point Nature Reserve.
2. The Hermanus Tour
R3500 per couple (about 8 hours)
On this tour, you will travel to Hermanus, going on the N2 through Strand, Gordon's Bay, Clarence Drive and Rooi Els, before reaching Kleinmond and Hermanus. On the way back, you will travel through the Houwhoek Pass to Grabouw, journeying along Sir Lowry's Pass before heading back onto the N2.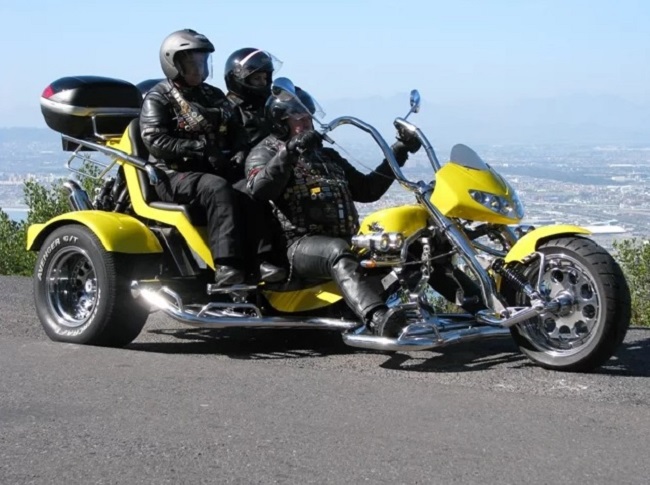 3. The Chapman's Peak Sunset Tour
R1900 per couple (2 – 3 hours)
This tour is not available over weekends. Taken a few hours before sunset, this tour travels through Cape Town, along Sea Point and into Camps Bay, before heading up to Signal Hill. Here, you will be able to enjoy a bottle of sparkling wine and some snacks (included in price), as you watch the sun set over the city below. This tour can also be taken at Chapman's Peak Drive at the cost of R1900 per couple.
4. The Winelands Tour
R3500 per couple (about 8 hours)
Travelling along the N2, you will pass through Somerset West over Sir Lowry's Pass, before heading to Grabouw. You will continue over Franschhoek Pass into Franschhoek, and on Hellshoogte Pass into Stellenbosch. Here, you will stop for lunch and wine tasting at Spier Wine Estate, followed by further wine tasting at Simonsig before continuing back on the N1. Wine tastings are included in this tour price.
5. The Custom Tour
Cost and time dependent on route
Looking for something a bit different? You can also build you own custom tour. There are no restrictions on the route or destinations, as long as the tour can be completed from start to finish in daylight ours and in the Western Cape. Multi-day tours are also possible on request. Prices will vary according to the duration and the destinations selected.
___________________________________________________________
All trike tours include collection from your hotel or pick-up point, where you will be returned once the tour has ended. To learn more about Cape Town Trike tours, visit www.capetriketours.co.za. You can also contact Willem on [email protected] or +27 (0)71 2191 036.