South Africa's Cape Town is packed with activities and events throughout the year and the month of March is no exception. With an average temperature of 27 degrees in March, Cape Town offers plenty of both indoor and outdoor activities to choose from. Let's take a look at some of the most fun and inspiring things to do in Cape Town in March 2018.
1 Potters Market
Come to the biggest gathering of potters in all of Africa on 24 March 2018. This bi-annual market in Rondenbosch offers amazing handmade pottery collections. If you are new to pottery, dozens of teachers and gurus are attending this event.
2 Funderland Festival
A unique 11 day long festival of exciting activities, Funderland Festival starts on 28th of March and lasts until the 7th of April 2018 at the Grand West Resort in Cape Town. Expect to find 28 different fun zones that include everything from cooking and technology to outdoor sports and dinosaurs. There are several stage shows with musicians, dancers, and magicians. Tickets cost R200.
3 SA Eco Film Festival 2018
The Labia Theatre is housing the 5h annual SA Eco Film Festival from March 22 to March 30. The festival explores how change can have an effect on the world and screenings of creative and challenging films are available. Members of the audience will have a chance to rub shoulders with directors, speakers, and filmmakers.
4 SA International Tattoo Convention
The second SA International Tattoo Convention will boast over 80 of the world's best tattoo artists from 23rd to 25th of March. This convention will be held at the popular Lookout where you will have the opportunity to see works from many local and International tattoo artists. Craft gin and beer gardens, lifestyle vendors, and food stalls will be open to visitors.
5 AFI Cape Town Fashion Week
There is no shortage of fun things to do in Cape Town in March and a visit to the Cape Town Fashion Week is one of them. This event will be held at various locations across Cape Town from March 21 to 24.
6 Cape Town International Jazz Festival 2018
The largest music event in the country, Cape Town International Jazz Festival will consists of five stages this year and there will be more than 40 artists performing over two nights. Enjoy performances from both local and International artists including popular names like Corrine Bailey Rae, Mulatu Astatke, Vijay Iyer, and many others.  The festival lasts from 23rd to 24th of March 2018.
7 Grace Notes – Cape Town Opera
Grace Notes is a unique opera of a cappella sacred music that features compositions by Part, Palestrina, and Byrd and religious music from a number of different traditions including Venda, Zulu, and Xhosa. St John's Church will be hosting this opera on March 27.
---
---
8 Easter Vortex
In case you into trance parties and a fan of EDM, head out to Caledon for the popular three-day Easter Vortex trance party. Early bird tickets are available for R450 and the party runs from March 31 to April 2.
9 The Galileo Open Air Cinema
If your idea of a good night out includes watching a movie under the stars, the Galileo Open Air Cinema just might be the perfect place for you. Sit down on the lush lawns at the Kirstenbosch Botanical Gardens and enjoy watching a cult classic with that special someone. The movie screenings here at Galileo Open Air Cinema last until the beginning of April.
10 Two Oceans Marathon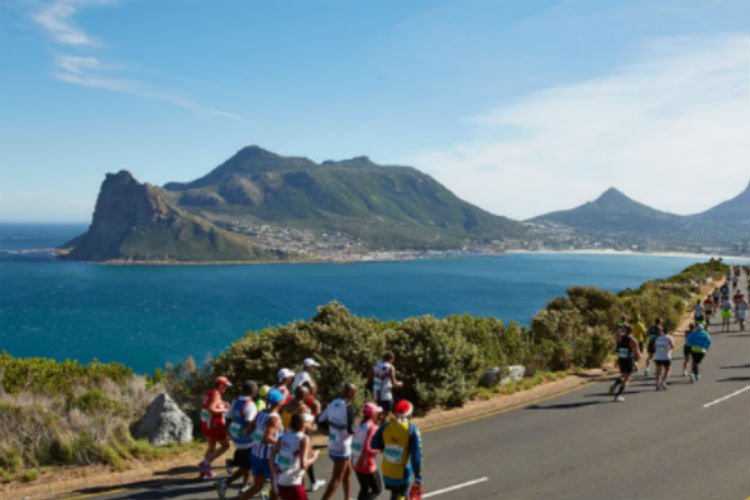 One of the toughest marathons in the region, Two Oceans Marathon on 31st of March will take runners over the Constantia Nek and Chapman's Peak. This 35-mile ultramarathon is run against a backdrop of spectacular scenery through the Cape Peninsula.
11 Boulders Beach
With so many things to do in Cape Town this March, we must not forget to spend some time on the beach. Head out to the popular Boulders Beach to see a colony of gorgeous South African penguins. You can also swim in the deep blue waters and admire these cute creatures from the water.
12 Bowling for Soup Concert
These guys are playing in South Africa for the first time and many people are stoked to see them. If pop-punk music is your jam, head out to the Hillcrest Quarry in Cape Town to catch a Bowling for Soup show. Local support acts include the Rudimentals, Grassy Spark, and Made For Broadway.
13 Tales of Little Grey Rabbit
If you are traveling with kids, come to the Artscape Theatre Foyer to see the popular Tales of Little Gray Rabbit. Find out what a hare, squirrel, and a little grey rabbit have in common and how one weasel influenced them. The theatre play starts at 12 30 am and the tickets cost R90.
When: 29 March to 9 April 2018
14 Cape Epic Cycle Race
Mountain bike racing is quite popular in Cape Town nowadays and the Cape Epic Cycle Race runs from the Meerendal Wine Estate and through the scenic Cape Winelands this March. This is one of the best ways to discover the beauties of the Cape Town Peninsula.
15 Stuart Taylor: Funny You Should Say That
If you like comedy, check out the amazing performance from Stuart Taylor and his Funny You Should Say That one-man show at the Cape Town Comedy Club. Stuart just made his first appearance in a comedy-drama and has new killer material that will surely make you laugh.
When: 26 to 27 March 2018