With a wide variety of midweek activities in Cape Town, finding things to do in the middle of the week does not have to be a challenge. Whether you are on holiday in the Mother City, or you have a few days off, weekdays have a very different energy to weekends. Major attractions are often a little bit quieter (and therefore easier to enjoy in relative peace), the city is humming with activity and the numerous shops, markets and other hot-spots have a very different crowd.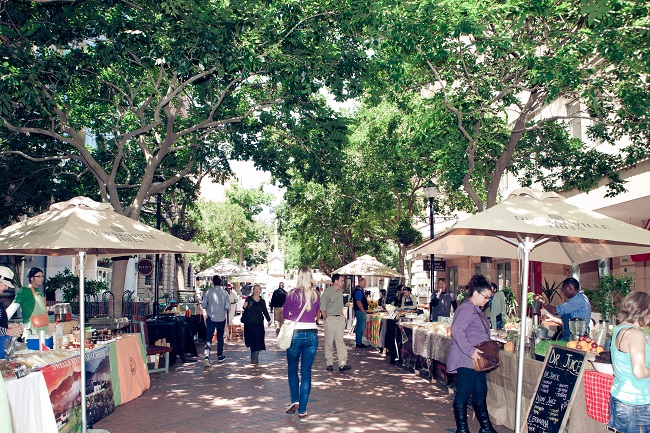 All in all, weekdays are a great time to explore the city. Keen to see what's happening during the week in Cape Town? We've rounded up a few fun ideas that will help you enjoy every single moment in the city and surrounds.
What to do in Cape Town in the Middle of the Week
Some of our favourite things to do in Cape Town in the middle of the week (by day and by night) include the following:
Guided Garden Walks at Kirstenbosch Botanical Gardens
Kirstenbosch Botanical Gardens, Rhodes Drive, Newlands | +27 (0)21 799 8783
From Monday to Saturday, you can enjoy a free guided walk through Kirstenbosch Gardens. Entry to the gardens itself still applies, but the walks are free. Walks last around two hours and are conducted by friendly, knowledgeable guides. Walks are offered at 10h00 and 14h00 from Monday to Saturday, with an additional walk on Tuesday at 11h00. Bookings are advised.
Day Time Concerts presented by SACM
Chisholm Recital Room, South African College of Music, Rondebosch & Baxter Concert Hall, Baxter Theatre Centre, Main Road, Rondebosch | +27 (0)21 650 2626
The South African College of Music has practice recitals that are free to watch. Performances are held on Wednesdays and Thursdays during term time. On Wednesdays at 14h00, weekly performers' classes are held. On Thursdays at 13h05, lunchtime concerts are held. Performances are free and take place either at the SACM or at the nearby Baxter Concert Hall. Contact the college for further information on these shows.
Tuesday Jazz at Asoka
Asoka, 68 Kloof Street, Gardens |  +27 (0)21 422 0909 / +27 (0)21 424 3304
Tuesday nights at Asoka are all about smooth, soulful jazz. Stop for dinner or cocktails between 20h00 and 22h00 to enjoy live jazz, and stick around afterwards for some funky deep house from the resident DJs. Asoka is a perfect choice for a laid-back meal, date night drinks outing, catch up with friends or an evening spent unwinding.
Tuesday Quiz Night at Jamaica Me Crazy
Jamaica Me Crazy, 74 Roodebloem Road, Woodstock | +27 (0)21 448 069 / [email protected]
If jazz is not your thing, you could always try a Tuesday quiz night at the popular Woodstock Caribbean grill house, Jamaica Me Crazy. Bookings are essential so make sure you call in advance. It cost R25 per person to join the fun. For best results, get a few friends together so that you can make up a quiz team. The food here is really good (and the cocktails are delicious, too).
Bitchy Bingo at Beefcakes
Beefcakes Burger Bar, 40 Somerset Rd, Green Point | +27 (0)21 425 9019
While Beefcakes is always a riot, with regular weeknight events ranging from Happy Hump Day to Throwback Thursday, the Tuesday night Bitchy Bingo is without a doubt one of the most entertaining events. In addition to the usual on-stage performances, a crazy few rounds of bingo will be played. Fair warning… this is not your granny's bingo! The fun kicks off at 20h30 and it costs R80 to play. Bookings are advised.
Roof Top Wine Tasting at Tjing Tjing
Tjing Tjing Rooftop Bar, 165 Longmarket Street, City Centre | +27 (0)21 422 4920 / +27 (0)21 422 4374
Every Wednesday evening, you can enjoy free wine tastings on the roof top at Tjing Tjing. Tastings are held from 17h00 to 19h00, making this an ideal way to start your evening. A variety of wines can be sampled, with wines from many local estates sourced from the Cape Winelands and Constantia Winelands. Stay for a cocktail or two, or head out for dinner afterwards in the vibrant City Centre.
Earth Fair Market at St Georges's Mall
St George's Mall, Castle Street, City Centre | [email protected]
On Thursdays, you can visit the Earth Fair Market at St George's Mall (opposite the cathedral in the heart of the city). The market runs from 11h00 until 15h00, but is closed at selected times over the festive season. Various goods are sold here, including fresh and organic produce. The market is family friendly as well, so you can bring the kids.
City Bowl Market on Hope
14 Hope Street, Gardens | [email protected]
Another Thursday market worth visiting is the popular City Bowl Market on Hope Street in Gardens. This is where you will find a variety of goods, including handmade items, food and other delights. Stop and enjoy some farm fresh food, or browse the stalls at your leisure. The market is open from 16h30 to 20h30.
Afrobeat Drumming Circle
Afrobeat, The Palms, 145 Sir Lowry Road, Woodstock | +27 (0)84 566 0531 / [email protected]
On Thursday evenings, Afrobeat offers a fun, rewarding drumming circle. It costs R80 (plus R20 for drum hire), with circles hosted from 19h30 to 21h30. You'll be able to get your drumming jam on, meet new people and generally have a blast. Drums used in the circle are traditional djembe drums.
Whisky Tasting Sessions at Bascule
Bascule Bar, Cape Grace Hotel, V&A Waterfront | +27 (0)21 410 7099
From Saturday to Thursday, you can sample fine whisky at Bascule Bar, which is located at the Cape Grace Hotel in the Waterfront. It costs R350 per person, and bookings are required. This makes for a perfect celebration or treat for the whisky lover in your life, but it's also a great way to learn more about whisky varieties. Tastings are held between 18h00 and 19h00. Email [email protected] for full details.
Galileo Open Air Cinema
Various Venues Across the City | +27 (0)71 471 8728 / [email protected]
Every summer from around September or so, open air cinema can be enjoyed at various spots across the city. Midweek shows include Tuesdays at Hillcrest Quarry in Durbanville, Wednesdays at Kirstenbosch Gardens in Newlands and Thursdays at the V&A Waterfront. Tickets range from R79 to R149. Doors open at 17h00; shows start at sunset.
___________________________________________
These ideas should keep you busy over the course of the week. If you're looking for more things to do in Cape Town during the week, be sure to follow our blog or our Facebook page to stay updated on fun events.