If you have not checked out the amazing Kirstenbosch Canopy Walkway in Cape Town yet, this treetop walk is well-worth a visit… especially for nature fans and those who enjoy a bit of outdoor fun.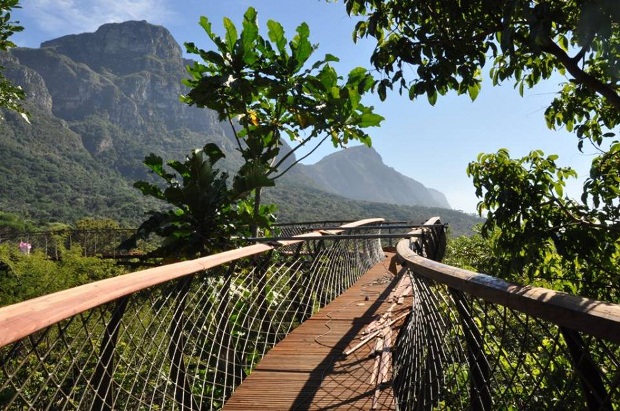 Kirstenbosch Botanical Gardens is situated in the heart of the southern suburbs of Cape Town, in the leafy area of Newlands. Home to a number of unique sections that range from indigenous plants to fynbos, cycads, roses, fragrant plants and many other floral wonders, this garden also hosts regular summer events such as open-air concerts and movies. The walkway offers visitors the chance to get an entirely different view of the gardens along with Table Mountain, with a roped walk that lies high above the trees.
Kirstenbosch Treetop Canopy Walkway
What do you need to know about the Kirstenbosch Treetop Canopy Walkway and why is this a great activity for all? Here are a few quick facts below…
* The Centenary Tree Canopy Walkway is made from steel and wood, and curves through and over the Arboretum trees.
* Entrance to the walkway can be found between the Protea Garden, Cycad Amphitheatre, the Dell, Mathews Rockery and the Concert Lawn.
* It's unofficial name is The Boomslang (tree snake), as it mimics the motions of the snake of the same name that is typically found in trees within South Africa.
* It is 130m long, and began development in 2013 to mark the centenary of Kirstenbosch Gardens. It officially opened in 2014.
* There are no added costs to access the walkway other than the usual entry fees to get into the gardens (R50 for adults, R25 for students, R10 for kids between 6 and 17, free for kids under 6, free for pensioners every Tuesday aside from public holidays).
* Opening hours for the garden and the walkway are 08h00 to 19h00 during summer months and 08h00 to 18h00 during the winter months. The gardens are open Monday to Sunday – visit the SANBI Kirstenbosch page for more visitor information.
Kirstenbosch Botanical Gardens is situated on Rhodes Drive in Newlands, with parking provided at the bottom gate as well as the top gate. The next time you pay this garden a visit, be sure to take a stroll through the treetops on the Kistenbosch Canopy Walkway!
Have you been on the treetop walkway yet? Share your thoughts in the comments below!