This year's Cape Town Fringe has been extended to 8 October 2016, which means that you still have  time to catch a show or few. Taking place every year in spring, close to Heritage Week, the Fringe Festival brings together a diversity of arts and culture performances across multiple genres. The majority of shows take place at the Cape Town City Hall, with others held at locations throughout the city.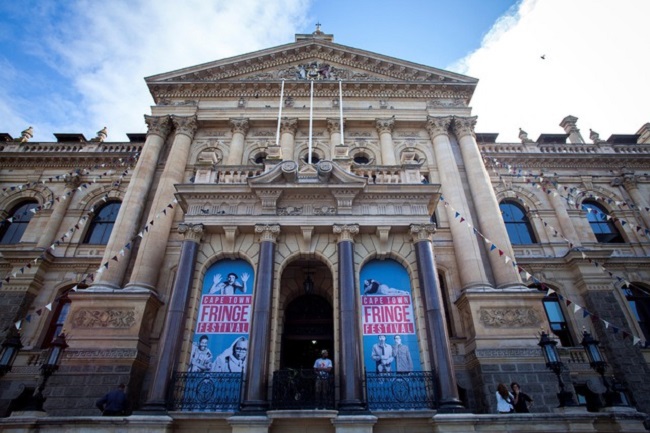 Whether you're keen to watch outstanding theatre productions that are fresh off the National Arts Festival circuit, or you're more interested in taking in a dance show, musical or something entirely unique, Cape Town Fringe offers something for everyone.
What's Happening This Week at Cape Town Fringe Festival 2016?
What shows are taking place in the last few days of this cultural festival in Cape Town? Let's take a look…
4-8 October 2016: Acoustiq Assassins – City Hall, City Centre
Acoustiq Assassins is an acoustic, African pop slash underground soul group who originally hail from Pietermaritzburg. Their music appeals to a variety of audiences, with songs in English and Zulu. Songs are performed with a Capella style, with just two acoustic guitars used to create beautiful, soulful music. Shows will be taking place at City Hall 4, at 18h00 on Thursday and Saturday and 22h00 on Friday.
6&7 October 2016: Woza Albert! – Guga S'Thebe & City Hall
One of the most beloved examples of satirical anti-apartheid South African Theatre, Woza Albert! is a must-see. There are two performances taking place: Thursday at 14h00 at Guga S'Thebe in the Cape township of Langa and Friday at 19h00 at City Hall. As the winner of a Standard Bank Ovation Award at the 2015 NAF, it goes without saying that this show delivers a powerful performance. The show takes a look at what would unfold if Christ (Morena) came back to South Africa during the 1980 apartheid era. Actors TQ Zondi and Mpilo Nzimande play a range of characters in this stellar performance.
6-8 October 2016: Dangled – City Hall, City Centre
Featuring the legendary Rob van Vuuren, Dangled is an adaptation of Nikolai Gogol's Diary of a Madman by multi-award winning writer Louis Viljoen. This show was the winner of the Silver Standard Bank Ovation Award at the 2016 National Arts Festival. A dark comedy with adult themes, it is designed to horrify, fascinate and provoke plenty of thought. The National Arts Fest had this to say about the performance: "Astonishing in every sense. Dangled is dark, brilliant and a performance from Rob van Vuuren you'll never forget." Shows take place on Thursday and Friday at 21h00 and Saturday at 17h00.
6-8 October 2016: Songs for Kwezi – City Hall, City Centre
Fringe Festival calls Songs for Kwezi "a dance and visual arts piece that questions women's freedom within South Africa's democracy." The performance from Refilwe Nkomo takes the form of a choreopoem that seeks to interrogate the state of violence and abuse against women. Afterwards, there will be a facilitated dialogue. Performances take place on Thursday at 16h00, Friday at 20h00 and Saturday at 14h15.
8 October 2016:  When Lion Had Wings – Grand Parade, City Centre
The family performance of Jungle Theatre's new play When Lion Had Wings is free to watch. This beautifully told visual performance makes use of masks and stilts to tell a traditional Khoi-khoi tale. It's suitable for all ages (great for the school holidays) and lasts for a duration of 40 minutes. The Fringe website sums up this tale as follows: "The story starts in ancient times when all the animals lived in fear of Lion who could fly. However some tricky Frogs reveal that Lion's magic is hidden beneath a pile of bones. The Frogs challenges Lion's greed and lead the animals to discover their talents and restore the balance of nature."
6-9 October 2016: Cape Town Buskers' Festival – V&A Waterfront
A collaboration between Cape Town Fringe, V&A Waterfront and South African National Arts Festival, the Buskers' Festival takes place at various venues within the Waterfront, including the Pierhead, Amphitheatre, Watershed and Nobel Square. Look out for street performances from buskers from all over the world. From juggling to mimes, music, comedy and so much more, this event promises fun for the whole family. Performances run from 15h00 to 18h00 on Thursday – Sunday, and 15h00 to 19h00 on Friday. In true busking fashion, instead of paying a set fee, you get to pay for any shows you have enjoyed. For full details, go to  www.ctbuskersfestival.co.za.
______________________________
These are just a few highlights of the shows taking place this week at Cape Town Fringe 2016. To view a full schedule, visit capetownfringe.co.za/2016-programme. Please note that ticket costs for shows will vary. For info on bookings, you can contact boxoffice@capetownfringe.co.za or try calling the hotline on +27 (0)79 605 7871 or +27 (0)82 320 9435.