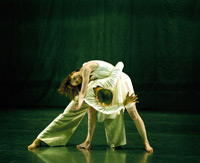 Cape Town offers some of the most diverse arts and culture in South Africa. With such a range of diversity, there are always excellent local productions, offering traditional African dance, jazz, comedy shows, theatre and ballet options for your enjoyment. Below are a few options in and around Cape Town to get you started!
Below are a few options in and around Cape Town to get you started! Best of all there are many flights to South Africa, so you can easily travel here to experience these cultural delights.
Theatre
The Cape Town Arts Arena offers all these activities and more; you are sure to leave having had a distinctly South African experience. To find out what event options you have check local newspaper ads, or phone Computicket at 083.915.8000. You can also get event information at most all major shopping malls.
For ballet, opera and dance options, try Artscape Theatre Complex in City Centre
Baxter Theatre Complex in Rondebosch offers contemporary theater options
Need some world-class drag, cabaret or revues? On Broadway is the place to be!
Maynardville Open-Air Theatre in Wynberg provides Shakespeare with a local twist
The Spier Amphitheatre, Stellenbosch, houses opera events and musical concerts
Theatre on the Bay at Camps Bay provides an upscale contemporary theatre and restaurant
Anything goes at the Armchair Theatre (Observatory), providing a variety of local artists for a very unique experience
Festivals
Cape Town is also home to a large number of famous jazz musicians. Take in the experience at one of two worthy jazz festivals in the area, the Cape Town Jazz Festival, held in March, and the Standard Bank Jazzathon, held in January.
Also in January, the Cape Minstrels perform throughout the streets, complete with brightly colored costumes and style!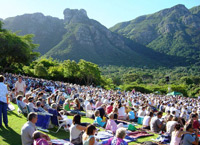 Kirstenbosch Gardens also hosts Sunday sunset concerts during the months of November through April. The musical selections are varied; anything from opera to rock could be the flavor of the night. These events are a perfect excuse to enjoy a picnic in the park before the concert.
Art
If its art you crave, Cape offers the South African National Gallery, displaying local art, including paintings and sculptures and everything in between.
Cape Town offers a variety of art galleries, offering local & international art for sale