Locals and visitors are in for a treat this winter, with an amazing range of July events in Cape Town for 2016. From ballet to music; food to musicals; book fairs to yacht races, this month is certainly packed full of things to do. Whether you're in the mood for a daytrip out to the Winelands to enjoy Bastille Day celebrations, or you're looking for something to do to keep the kids from driving you crazy, you're sure to find a good selection of July events in and around Cape Town.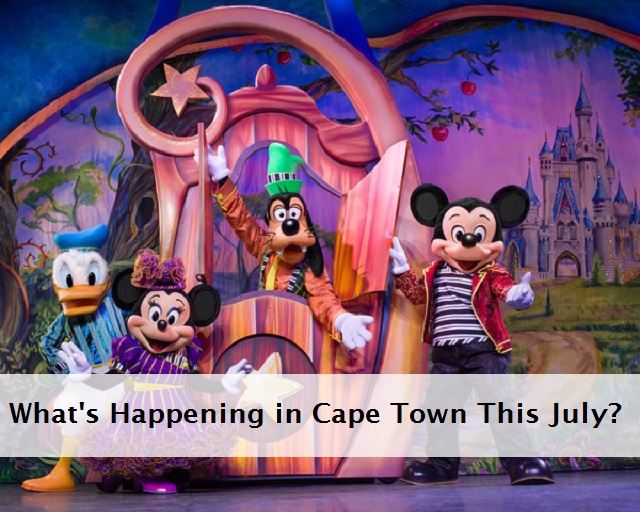 Let's take a look at what's happening in Cape Town in July, shall we?
What's Happening in Cape Town This July?
Getting right down to it, here are some of our top picks on things to see and do in Cape Town this July…
24 June to 11 July 2016 @ V&A Waterfront: Floating Bookfair 
In case you missed this incredible floating library at the Waterfront (Jetty 2) in June, you can still catch it until 11 July. Entrance is just R5 at the gate, and booklovers of all ages are welcome. Kids will love this holiday activity, but grownups are sure to find some great reads here as well. Over 5000 book titles will be available for purchase, along with treats from the on-board International Cafe. The Logos Hope Floating Bookfair is open from Sunday to Tuesday between 14h00 and 21h30, and Wednesday to Saturday between 10h00 and 21h30.
6 – 10 July 2016 @ GrandWest Casino, Goodwood: Disney on Ice
For the kids (and the young at heart), Disney on Ice is a winter holiday must-see. Watch as your favourite Disney characters take to the ice in a fun-filled extravaganza that is sure to be a hit with all ages. Tickets are R150 per person (available via Computicket). Look out for Lightning McQueen, Mater and the crew of Disney Pixar's Cars, The Little Mermaid, Woody, Buzz and the Toy Story gang, Anna and Elsa and Olaf from Frozen and many other beloved characters.
8 July 2016 @ Cape Town City Hall, City Centre:  Francofesty – International Music and Arts Festival
Acts include Gabon based hip hop star J.O.J.O, Namibian kwaito duo Cool Under Pressure (CUP), Cape Town performer Storm, Cape Flats performers RFYK Entertainment, turntable legend Ready D and plenty of other current and rising stars across the continent. This event aims to bring people together through a love of good music. Tickets for the City Hall event cost R150 and are available via Computicket outlets. For more info, contact info@francofesty.com.
8 – 15 July 2016 @ Royal Yacht Club, Table Bay: Lipton Cup Challenge
This fun race is held every year, with yachting teams from all over the country competing to claim victory. It is a popular race for teams as well as spectators, and also one of the most prestigious. The trophy's value is estimated to be in the lines of some R2 million, making it one of the most valuable cups in South African sailing. The Royal Yacht Club is situated in Duncan Road at the Table Bay Harbour. For full details on this event, contact +27 (0)21 421 1354.
11 July – 7 August 2016 @ Baxter Theatre, Rondebosch: Jive Cape Town Funny Festival
This legendary comedy festival features a range of local and international comedians, ranging from Marc Lottering, to Alan Committie, Gino Fabbri,UK comedy pianist Kev Orkian, human cartoonist Ennio and plenty of other hilarious acts. Held at the Baxter Theatre, on Main Road in Rondebosch, the event will be running until early August. Tickets are around R170 and are available via Computicket.
15 – 18 July 2016 @ The Artscape Theatre, Foreshore: The Vortex
In this performance, a Noel Coward play is presented by Cape Town City Ballet. One of his earlier plays, The Vortex is set in the 1920s. It introduces Nicky, a troubled  young man dealing with addiction, a rocky relationship with his mother and his new engagement to Bunty. Included on the programme is the ballet Of Gods & Men, which is choreographed by Kirsten Isenberg. Tickets cost around R150-R180 via Computicket, with discounts available for students and pensioners as well as Friends of Cape Town City Ballet.
16 – 17 July 2016 @ Franschhoek, Cape Winelands: Bastille Day Celebrations
Celebrate Bastille Day in true Cape style in the magical Cape Winelands town of Franschhoek, which proudly traces its routes back to the early French Huguenots. French food, wine, entertainment and fun for the whole family are just a glimpse of what you can expect over this weekend of indulgence. Tickets cost R220 and are available on entry into the town. For details, contact +27 (0)21 876 2861.
16 July – 7 August 2016 @ The Artscape Theatre, Foreshore: My Fair Lady
Featuring the beloved Eliza Doolittle and her benefactor, Henry Higgins, whose mission is to transform her from a humble flower seller to a Duchess, this musical has been a favourite since it's first run in 1959. With plenty of heart, humour and fun, this story is a classic for all ages. Tickets range from R150 to R325 and are available through Computicket.
______________________________________
Please note that all information is correct at the time of publishing. For full event details, use the contact details provided or contact the event host directly.
What will you be doing in Cape Town this July? Share your plans and let us know why you love this time of year!