With so many July 2017 events in Cape Town, we have had to break the list down into two parts to ensure that we cover as many as possible. This will give you plenty of ideas and inspiration on what to see, do and discover this July in Cape Town!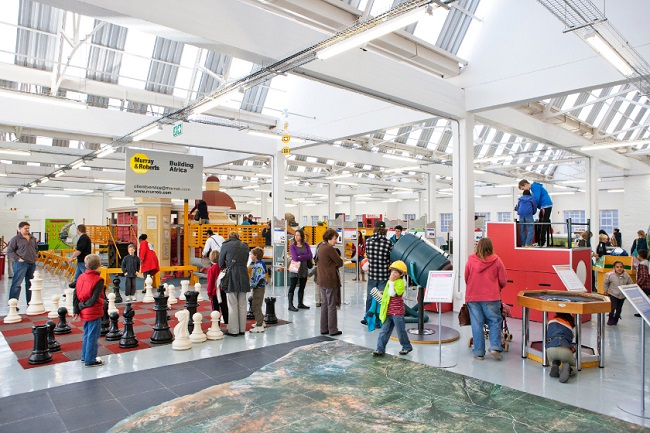 Our first part of our guide to July 2017 events in Cape Town is packed full of things to do for families, singles, couples and just about anyone else. As parents prepare for the upcoming winter school holidays in the Mother City, finding things to do with kids becomes something of a challenge. To help you plan your holidays, or simply give you ideas on what to do in July, we have put together list of July 2017 events in Cape Town.
Upcoming July 2017 Events in Cape Town
In our first part, we have the following July 2017 events in Cape Town lined up…
30 June – 1 July 2017: Delheim Mushroom Forage
Delheim Wine Estate, Knorhoek Road, Stellenbosch / +27 (0)21 888 4600 / R695 per person
From 09h30 until 14h30, the Delheim Mushroom Forage offers a chance to hunt fresh mushrooms within the estate's pine forest. Offered to adults only, ticket sales are limited to 40 per day. This event was awarded 'Highly Commended' in the Best Wine Event category in the Drinks International Wine Tourism Challenge 2017. Attendees are taught to identify, forage and clean hand-picked mushrooms. Highlights include a mushroom identification workshop, a walk to the mushroom hunt, and a three-course meal focused on mushrooms, paired with Delheim wines.
30 June – 9 July 2017: Stellenbosch International Chamber Music Festival 2017
Endler Hall, University of Stellenbosch, Victoria Street, Stellenbosch / +27 (0)21 808 9571 / R20 – R140 per person
The 14th annual Stellenbosch International Chamber Music Festival (SICMF) offers 10 days of classical music concerts. SICMF aims to inspire young people through chamber music and orchestral music. Highlights include University of Stellenbosch faculty members, such as Thomas Caroll and Peter Martens, Nina Schumann and Luis Magalhães, Alissa Margulis, composers such as Vivaldi, Mendelssohn, Schönberg, Shostakovich, Piazzolla, Mozart, ans Brahms, living composer Robert Fokkens, and plenty more besides.
1 July 2017: Arno Carstens – Die Aandblom 13
Baxter Theatre, Main Road, Rondebosch / www.baxter.co.za / R200 per person
Arno Carstens presents Die Aandblom 13 – a bilingual rock show featuring both English and Afrikaans songs from this talented South African musician. Highlights include songs from Arno's Springbok Nude Girls time along with his English solo tracks and a few cover songs. This is a great show for anyone who is a fan of Arno's music.
1 – 21 July 2017: Science Centre Holiday Camps & Courses
Cape Town Science Centre, Main Road, Observatory / [email protected] / R400 – R750 per person
With school holidays taking place over July, the Cape Town Science Centre offers a variety of child-friendly July 2017 events in Cape Town. Programmes on the line up for July 2017 school holidays in Cape Town include Minecraft courses that enable kids to develop STEM (science, technology, engineering and maths) skills through coding and game design; Winter Science Camp that offers daily science activities; and the Let's Code Holiday Camp for budding techies. Space is limited, with workshops dependent on age groups. Email the centre using the address above for bookings and details.
1 – 23 July 2017: Peter Pan – The Musical
Canal Walk, Century Boulevard, Century City / +27 (0)21 529 9699/8 / R80 per person
Directed by Fred Abrahamse, and featuring an award-winning cast, the J.M. Barrie story of Peter Pan and the magical world of Neverland come to life in this epic production that is hosted by Canal Walk. This show is a musical interpretation featuring beloved characters such as Peter Pan, Wendy Darling, Tinkerbell and the Lost Boys. Canal Walk will be donating all proceeds from this show to LEAP Science and Maths schools. Shows will run Tuesday to Suday at 11h00, 12h30 and 14h00.
10 July – 6 August 2017: Jive Cape Town Funny Festival
Baxter Theatre, Main Road, Rondebosch / www.baxter.co.za / R190 per person
Now in its 13th year, the Jive Cape Town Funny Festival offers a fantastic selection of award-winning local and international comedy stars. Highlights include Alan Committie as MC, Marc Lottering, Captain Frodo and Mario Queen of the Circus. This is a great way to get in some laughs to take the winter blues away. Shows run at various times throughout the festival's run. For details, visit The Baxter Theatre website above.
12 July 2017: The Greatest Love of All – Whitney Houston Tribute Black Sash Fundraiser
Artscape Opera House, D.F. Malan Street, Foreshore / www.blacksash.org.za / R320 per person
Kicking off at 20h00, this musical tribute to award-winning songstress Whitney Houston is a fundraiser organised by Black Sash to raise money for the Hands Off Our Grants campaign. Local singer Belinda Davis will perform hits such as I Will Always Love You, I Wanna Dance With Somebody, One Moment in Time, Didn't We Almost Have It All, I'm Every Woman and others. Ticket holders have the chance to win prizes ranging from artworks to a signed Zapiro cartoon book.
15 – 16 July 2017: Franschhoek Bastille Festival
Franschhoek Huguenot Monument, Lambrechts Road, Franschhoek / +27 (0)21 876 2861 / R280 per person (under 18s get in for free)
The Franschhoek Wine Valley is where the annual Bastille Festival takes place. This event gives visitors as well as locals a chance to celebrate the region's French Huguenot heritage. Highlights include the Food and Wine Marquee based at the historic Huguenot Monument, offering a variety of wines and food from local eateries, a quirky caricature artist , the popular Porcupine Ridge Barrel Rolling Competition and a children's area.
______________________________________________
Coming to Cape Town in July? Browse our wide range of accommodation options to see what we have in store, then contact our bookings team to get started! With so much to see and do over the next month, part 2 of our July 2017 events in Cape Town will cover what is happening towards the middle and end of the month ahead.
Image: Cape Town Science Centre