Held every year on 18 July, Mandela Day in Cape Town 2016 is just around the corner. This day is unlike any other… created and inspired by our former leader Nelson Mandela, it's all about getting involved to help make the world a better place. This year, the day has gone international. Cities all over the world will be donating 67 minutes (a small token of the 67 years Madiba spent fighting injustice) to the spirit of giving.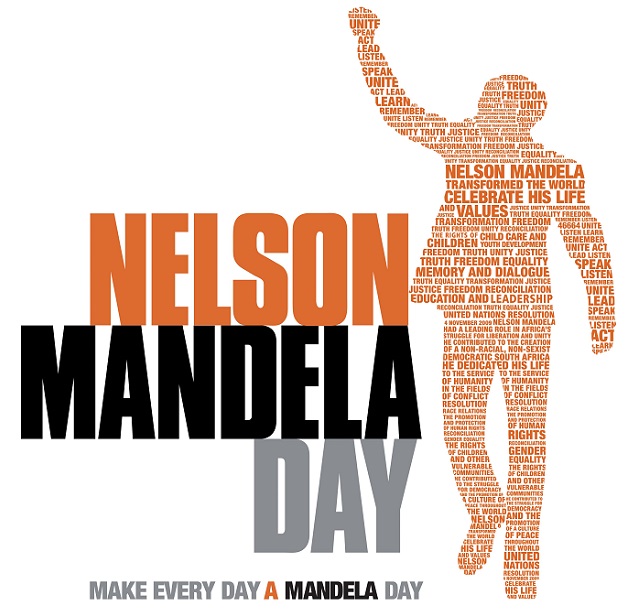 The day is held on Madiba's birthday. Even though the beloved former leader is no longer here to celebrate with us in person, his legacy will continue to live on through all of us. As he famously told leaders at his 90's birthday address in London's Hyde Park on 27 June 2008, "It's in your hands now."
Where and How to Spend Mandela Day in Cape Town
How should you spend your 67 minutes? Only you can answer that one, but to give you some inspiration, here are a few ideas on how you can spend your Mandela Day in Cape Town this year…
Enjoy Vusi Mahlasela in Concert
18 Queen Victoria Street, City Centre | +27(0)21 424 5586
Head to a special concert on Monday 18 July 2016 at the Cape Town Club to listen to one of the finest voices in Africa – Vusi Mahlasela. Proceeds from the concert will go to The Vusi Mahlasela Foundation and The Casterbridge Music Development Academy, which means that you can do good while enjoying this massive He performed at Nelson Mandela's inauguration in 1994, and again at his 90th birthday bash in 2008. There is no doubt that this voice has the power to move mountains! Tickets are available from Webtickets.co.za at R200 per person, but book while you can as space is limited.
Create and Fill Care Packages with the Rape Crisis Trust
Observatory Community Centre, Observatory | +27 (0) 21 447 1467
Rape Crisis Trust is a non-profit who works with survivors. You can help out by creating and filling care packages at the Observatory Community Centre on Saturday 16 July 2016 or by donating cash or items beforehand. Things that are needed urgently include underwear for children and adults, toothpaste and brushes, shampoo and conditioner, soap, facecloths, sanitary pads and nappies. Volunteers will work to fill care packages, and anyone can drop in on the day to help.
Join a Cape Town Beach Walk and Fill a DOT Box
Big Bay Beach, Bloubergstrand  | +27 (0) 82 873 1962
Join CleanC for a Mandela Day Full Moon Beach Walk on Monday 18 July at Big Bay, from 18h30 and help clean up the city's beautiful beaches. It's free to join for families and even dogs. You can also choose to donate items to a DOT (Do One Thing) Box that will be distributed to kids in need across the city. Items needed for these boxes include colouring books, paper, crayons, pencils, toothpaste, toothbrushes and facecloths and soaps.
Make HOPE Bracelets for the Chaeli Campaign
Blue Route Mall, 16 Tokai Road, Tokai | +27 (0) 861 242 354
Between 10h00 and 17h00 on Mandela Day, for just R67, you can make and purchase HOPE (Helping Other People Every Day) bracelets. You can make one for yourself and one to pay it forward to someone else in need. You can also sponsor stationery kits for R150. Proceeds go to the Chaeli Campaign, which supports children living with disabilities.
Build Kennels for Pets in Khayelitsha
21297 Govan Mbeki Road, Khayelitsha |+27 (0) 82 200 9962
In the Cape Township of Khayelitsha, you can help build much-needed kennels for dogs.  Mdzananda Animal Clinic, which is the only permanent vet in the area, is calling for volunteers to help them make kennels from pallets. Saturday 16 July is when you can go and help make kennels as an individual, with an additional day for corporates. You can pay R67 or R167 to help towards kennel making supplies, and you can bring along any building supplies like hammers and nails to further assist. You can also donate books to the local children's project. RSVP via email to [email protected] if you'd like to get involved.
Serve Soup to the Homeless with Ladles of Love
Mandela Rhodes Place Hotel and Spa, Cnr Wale & Burg Street, City Centre |  [email protected]
This Mandela Day, help put food into hungry tummies as we enter the middle of winter in Cape Town. At Mandela Rhodes Place on Monday 18 July at 13h00, you can help serve soup to the city's homeless with Ladles of Love. You can also make donations to this worthy cause by emailing [email protected] if you're not able to get to the event on the day.
___________________________________________
You can also have a look at the recent blog post we did on the STOP HUNGER NOW Mandela Day event for additional inspiration, or have a look at our tips on how to make every day Mandela Day.
How will YOU be spending Mandela Day in Cape Town this year?