On 13 July 2016, you can do your bit to address global poverty by partaking in the very first International Mandela Day in Cape Town. Organised by STOP HUNGER NOW, the Follow the Sun International Food Packing Event is a massive event that will take place in multiple cities and countries around the world. Here in Cape Town, the event will take place at GrandWest Casino on Wednesday 13 July 2016 from 08h00.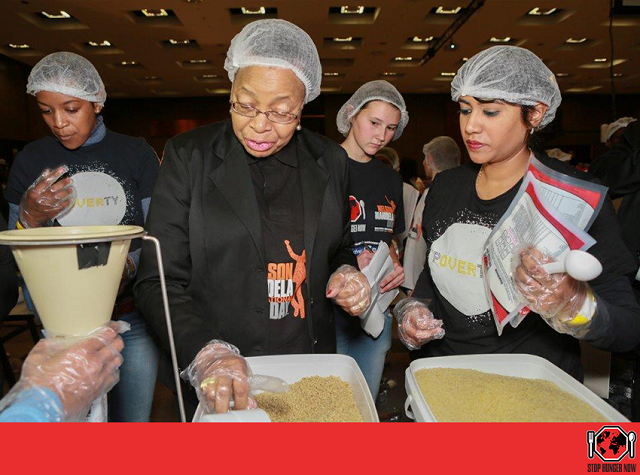 While the official day falls on 18 July, many events will be taking place within the week. If you're wondering how to spend your 67 minutes on Mandela Day this year, this event is definitely one that is worth noting!
Food Packing in Cape Town – A Great Way to Spend Mandela Day in Cape Town
First, let's take a look at what this event is all about…
Where: Market Hall, GrandWest Casino, Goodwood
When: 13 July 2016, from 08h00 to 17h00
Cost: R500 donation for individuals
What: full details below!
How will your 67 minutes be spent?
Over the course of the day, the Market Hall at GrandWest will be transformed into a packing facility. Some 30 production lines will be in place, each needing 20 volunteers. Hundreds of volunteers will be organised into many small groups of three people, working four shifts. A total of 12, 500 meal boxes will be packed, with 36 meal bags in each box. Each box contains six meals, which have been carefully planned to provide optimal nutritional value. Packs include rice, soya, soup mixes and a multi-vitamin sachet. Once boxes are packed, they will be stored safely for distribution over the next 12 months.
Heidi Edson, Sun International Group Socio-Economic Development Manager said, "We appeal to Capetonians, and especially to other corporate companies based in Cape Town, to join us in making a difference in the lives of vulnerable children. From our privileged position it is often difficult to imagine what it must be like to go to bed hungry every night, but for 3-million South Africans this is a reality. Please help us to make this challenge a reality, and to ensure that 450 000 children can stop worrying about where their next meal will come from".
Companies and individuals can get involved after registering. Saira Khan CEO of STOP HUNGER NOW Southern Africa explains how it works: "An entry fee of R10 000 will be levied for each corporate team of 20 people. This money will be used to buy the dry ingredients and to cover the basic cost of the packaging. Individuals wishing to participate can do so for a donation of R500."
Pre-register online: www.stophungernow.org/south-africas-million-meal-challenge-for-mandela-day
Request a registration form via mail: [email protected]
Global Ambassador on Food Sustainability, former Miss Universe Paulina Vega, will be in attendance, as well as our Chief Patron Mrs. Graca Machel and other celebrity volunteers. For more information on the event, visit www.stophungernow.org.
_______________________________________________
As a day that honours the selfless work done by former South African leader Nelson Mandela, this day gives us the opportunity to do our bit to make the world a better place. However you spend Mandela Day in Cape Town this year, make your 67 minutes count!