It was one of those movies that became not just a cult classic back in the 80s; but a message of fun, freedom and the pursuit of leisure for all ages. I'm talking of course about Ferris Bueller's Day Off – a teen movie that few have managed to top since.
Today is Friday, and because we could all do with some fun after yesterday's load shedding, we bring to you… the Cape Town Day Off. From morning to evening, a full day of fun things that Ferris himself would love. Minus epic car mishap, of course (if you haven't seen the movie, now would be a good time to check out the Ferris Bueller trailer at least!).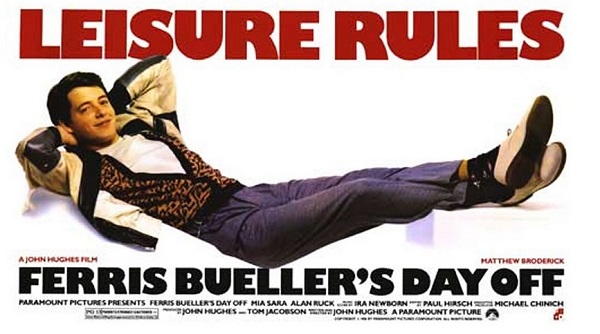 A Cape Town Day Off
Suits and fancy 80s attire optional; game face required. Here is your schedule for your Ferris-worthy day off in Cape Town…
08h00: we have to say at this point that it is probably best to choose a weekend day, but if you really insist doing it old-school style, get your sick voice ready (unless your boss doesn't mind your parents excusing you instead).
08h30: give your bestest bestie a holler, and order them to be at your house on the double.
09h00: do either of you have access to a styling convertible that you can borrow for the day? No? Try renting a car then.
10h00: take a spin around the beautiful Camps Bay coastline, taking in the views and impressing passers-by with your cool wheels.
11h00: stop for an early lunch at one of the fanciest restaurants in town, such as The Grand Cafe & Room or The Roundhouse on the Atlantic Seaboard.
13h00: time to see what sporting events are taking place – since we can't always predict when there are any games taking place, try a stop past Green Point Stadium anyway to see the famous stadium used during the 2010 FIFA Soccer World Cup hosted in Cape Town.
14h00: head to the beautiful Green Point Urban Park next door, and enjoy one of the city's favourite leisure spots for picnics, walks and relaxation.
14h30: hit the road again, heading towards the City Centre of Cape Town to see what's happening in the trendy urban hub of the Mother City.
15h00: yes, we know that finding parking is tough in the city, but it's well worth the driving around to find that perfect spot.
15h10: take a stroll down to Green Market Square to see some live marimba bands, market stalls and interesting sights – if you plan your day off during the Cape Town Carnival weekend, you will even get a chance to make like Ferris and join a float procession!
15h30: just over the road from the market is the much-loved South African National Art Gallery, where a wide range of local and international artists showcase their work.
16h00: further towards the City Bowl area (you may need to drive) is the South African Museum – home to some amazing exhibits, not least including a life-size whale skeleton.
17h00: it's getting towards evening, and by now you are either getting a bit hungry, or stressing that your parents will arrive home before you do (we hope that it's the former). Kloof Street is a great place to enjoy some relaxed dinner and drinks options – try Bombay Cafe or Asoka, or try Fat Cactus or Ricks on Park Road (just off Kloof).
18h00: to wind down your Cape Town Day Off, you could a) find out what happens when you accidentally lose an expensive rented convertible, or more sensibly, b) sit back, relax and share your favourite moments from your day.
So there you have it poppets – a lovely day out in the world's favourite city, with not a care in the world. Because we are responsible grown-ups now instead of wayward teenagers, remember to follow the basics of leisure time – no drinking and driving (you can hire a driver with your car if you want to indulge), no crashing your bestie's dad's expensive car and most important of all… no getting caught taking a day off!
What would you do on a Ferris Bueller style day off in Cape Town? Share your ideas below and let's get talking!