We don't know about you, but we can't wait for the Cape Town Carnival 2014 to bring its unique dose of culture, entertainment and fun to the Mother City!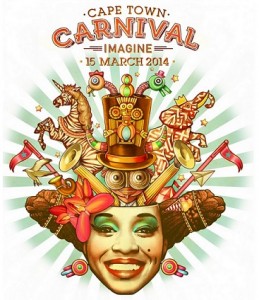 Taking place on 15 March 2014, the theme for this year's festival is 'Imagine'. This means over the top acts, mesmerising colours, bright lights, big visuals and all sorts of other mind-bending things! It is also a very fitting theme for this year's event, being that Cape Town is the World Design Capital for 2014.
Like most locals and visitors, I am expecting nothing but sheer awesomeness right from the get-go. 
But what else can we expect on 15 March? Let's take a look and find out…
Cape Town Carnival Guide 2014
Date: 15 March 2014
Start time: 19h30
Venue: Green Point FanWalk, Cape Town
Cost: FREE
Kicking off in the early evening, the Green Point FanWalk will come alive with a huge range of stalls, live acts, music and other features. Festival-goers will be able to join the fun at any point of the evening, with free entry that opens things up to everyone. There will be a parade along with many other highlights.
The parade will take place at 19h30, with over 2000 performers, floats and other spectacles to take in over a two hour period. After that, there will be a festival after party, which will see the likes of local bands such as Freshly Ground and MiCasa, plus DJ Fresh taking to the stage to wow the crowds. Check out the official 2014 Cape Town Carnival website for more information. 
Some other things to keep in mind for this year's Cape Town Carnival: 
Food and drinks can be purchased at any restaurant or bar along the FanWalk – there will also be food stands within the festival grounds too.
Alcohol may be enjoyed only at restaurants and bars, and may not be taken onto the FanWalk. CCID and police will be on patrol and fines may be given to those who do not follow these rules.
Children are welcomed but must be supervised at all times by adult caregivers.
Do not drink and drive – use the many available buses and public transport options available on the night of the carnival to get home safely if you have been drinking.
Be sure to wear comfortable shoes for walking and standing (and dancing, of course!)
Looking for somewhere safe, central and affordable to stay on carnival weekend? Have a look at our ideally located accommodation in Green Point and the City Centre to get the best deals on overnight accommodation. 
Stay safe, party responsibly and bring all your friends, family, co-workers and gym buddies to join the fun. If you really want to get into the spirit of things, get dressed up and show your support for your favourite city too! This is one event that you don't want to miss! 
How do you plan to dress up for the Cape Town Carnival this year? Leave your thoughts in the comments below and let us know!