If you're looking for something to look forward to while the last month or two of winter eases into spring, you are sure to feel as excited as we are about the upcoming Earthwave Beach Festival that is happening in Cape Town this September. This event will be taking place at Surfers Corner on Muizenberg Beach on 26 & 27 September 2015, and from the sneak-peek we have seen so far, it looks pretty awesome.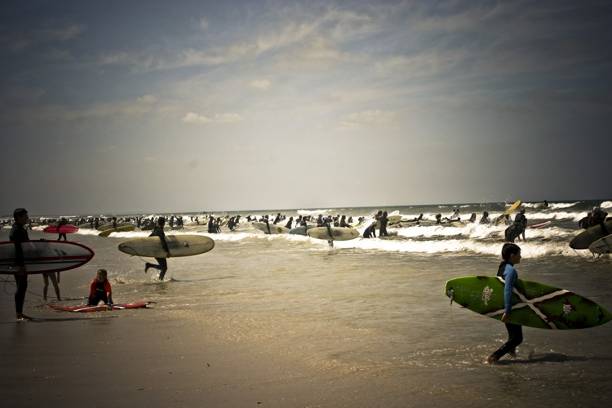 This surfing event was held for the first time in Cape Town in 2006, with Earthwave Beach Festivals also being held in Brazil, England, the Netherlands, Argentina, Australia, Tahiti and Reunion. While surfing and beach lifestyle is certainly par for the course, this event is also held to create awareness for climate change as well as sustainable living. It offers plenty of fun for the whole family, with highlight such as attempts to set new Guinness World Records for surfing stunts (including a world record for 'most surfers riding the same wave', which was set at Earthwave Cape Town in 2009) and plenty of other fun in the sun.
What to Expect at Earthwave Cape Town 2015
A full line-up for this year's event includes the following:
– Guinness World Record attempt for 'most surfers riding the same wave'
– Guinness World Record attempt for 'largest bikini parade'
– Beach activities and competitions
– Fund-raising events for Shark Spotters, NSRI and AfriOceans
– Exhibits featuring environmentally friendly products and services
– Talks on climate change and sustainable lifestyle choices
– Surf film evening
– After-party with live local music acts
As one of the top surfing spots in the province, Muizenberg Beach lies on the beautiful False Bay coastline. The water here is warm, coming from the Indian Ocean side. During the late winter and early spring month from July to October, whales can often be seen in these waters (great for whale watching encounters!) while there are also many shark species found on this coast. This make for an outstanding venue for such an event, giving you the benefit of warm waters, and amazing marine views.
We will keep you updated on this event as the time draws closer, both on our blog and on our Facebook channel. But for now, be sure to add this to your diary so that you can start looking forward to one of the top beach festivals in the world, right here in South Africa's Mother City!
…
Have you ever been to the Earthwave Beach Festival? We'd love to hear your thoughts – tell us whether you will be going to this year's event, and let us know!