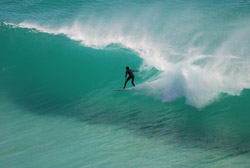 No matter what level of surfer, beginner, and intermediate or advanced, you'll find one of hundreds of surf spots that will fit your needs in South Africa. Some of the best surfing spots in the world reside in South Africa, where you'll find amazing coastal scenery and sparkling beaches to compliment your surfing activities.
The surfing activities in South Africa have become very popular, and the numbers of locations where you can enjoy your sport are plentiful. Some of these locations are detailed below.
Port Elizabeth and East London, located in Eastern Cape, offers some of the most beautiful beaches and surf areas around. Its serious seas have attracted millions. People travel from far and wide to ride these waves. Surfing in South Africa is a once in a life time experience that you don't want to miss out on.
Some of the more popular destinations include King's Beach and "the pipe". Although the surfing area here is rather small, a few days a year you can capture the unexpected swells along the coast which will provide a most exhilarating ride.
In East London don't miss Nahoon Beach. this legendary surfing beach is a popular destination as well. Also try Port St. Johns, with beautiful stretches of natural tropic coastline.
Along the Western coast of Cape Town you'll find Camps Bay, Bloubergstrand, Clifton and Hermanus. Each of these locations offer picturesque scenery and fantastic waves for your surfing pleasures.
You may also be joined by penguins and dolphins that frequent these areas. Although the waters may be a bit cold, the waves are well worth the effort. Another area known for its natural beauty and spectacular beaches is the Garden Route. One of the more favorite surfing areas along this route is Plettenberg Bay, a favorite surfing destination.
Plettenberg Bay offers two of South Africa's most favorite beaches, Robberg and Lookout. Wilderness also promises spectacular seas and waves.
Victoria Bay is another location not to miss during your surfing adventures. Just outside Wilderness, this area boasts grand waves and is home to many surfing competitions.
Lastly is KwaZulu Natal, known as one of the surfing paradises of the world. Amazing waves meet the coast up and down the beautiful beaches for one of the best surfing opportunities in South Africa. Hollow beach breaks, classic reef breaks and points are among the attractions to this location.
In addition, the water is warm all year, making the waves even more enjoyable for riding; leave your wetsuit at home if you plan to surf this popular beach!
This location also provides some of the most consistent surfing available between May and August. Expect at least 6 to 8 feet swells in the winter, a bit smaller in summer months.
In and around Durban you can find popular surf locations at New Pier, Cave Rock, St. Mike's Bay of Plenty, Umdloti, Ballito and Alkanstrand. All of these areas offer the best of South African surfing, in addition to pristine beaches and dazzling coastlines.