For those wanting to see the gentle giants of the ocean, whale watching in Cape Town can be enjoyed throughout the spring and early summer months. These boat-based adventures are a great choice for nature lovers, photographers, families and anyone else who appreciates the beauty of being out at sea.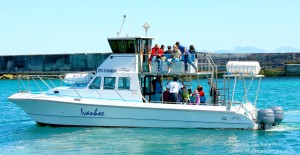 Ivanhoe Safaris is a registered charter that offers a variety of boat tours, ranging from whale viewing to eco safaris and many other ocean activities. Take a look below to see what you can expect from such a trip, and to get more information on how to book a tour.
What to Expect from Cape Town Whale Watching?
Some things to know about whale watching trips in Cape Town that are offered by Ivanhoe Safaris include the following:
Boat trips are taken on the Ivanhoe – a 13m catamaran that is fully equipped with toilet facilities, an upper viewing deck, lower deck, dry cabins and other features that ensure the safety and comfort of passengers at all times.
Whale watching trips are taken during season, from June to December. This is when hordes of Southern right whales come into the bays to breed and calve. They can be seen in large numbers in the Walker Bay area, which includes Hermanus and Gansbaai.
Off season trips include eco safaris, sunset cruises, Danger Point trips to see Brydes whales and marine bird trips. Cape fur seals can also be seen along with many other species of marine life, including dolphin, game fish and a variety of sea birds.
Tour prices range from R325 to R850, depending on the type of tour, season and availability. Visit www.whaleviewing.co.za to learn more about the tours offered by this operator.