A unique celebration of surf, soul and sea, Wavescape Surf Film Festival 2015 is coming to a Cape Town beach near you. The festival runs from 23 November until 13 December, and comprises a series of mini-events that include a board exhibition, community meet-up, inspiring conservation talks, and, of course, the film festival itself.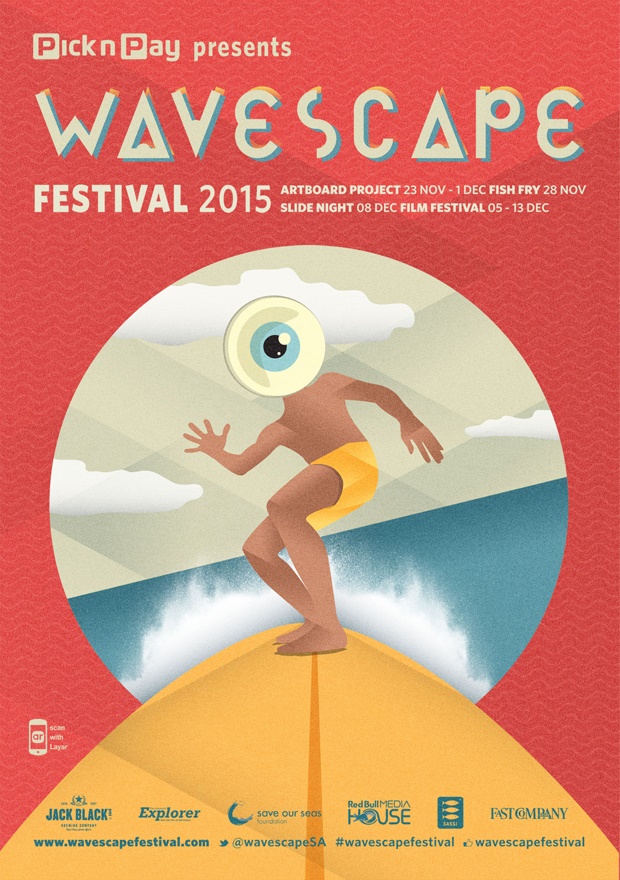 Whether you ride the waves or prefer to stay on land, what makes Wavescape such a unique event is that it brings together the community spirit and inspiration of surfing to all. It's not all for fun either – many profits from the exhibition and auction will be going towards important organisations such as Save Our Seas, 4 Change and other youth development and conservation initiatives.
What is this year's Wavescape Festival line-up, and what else should you know about the event? Let's take a look…
Wavescape 2015
So, as I mentioned briefly above, the event is broken up into mini events over the course of its duration. Info for each of these events can be found right here below:
1. Art Board Exhibition & Auction
This auction and expo will raise money for assorted youth and conservation charities, including NSRI, and others. Artists and creatives will be showcasing some of the most insane boards ever to grace the waves (well, some may be more decorative than functional, but you get my drift), and there'll be an auction, too.
Date: 23 November to 1 December (Auction to be held 1 December)
Venue: Tigers Milk, Muizenberg
Time: 19h00
2. Fish Fry
This community meet-up brings together the surfing community in Muizenberg, at the popular local market, Blue Bird Garage. Here, shapers, artists, surfers, environmentalists and others can enjoy conversation, live music, board swapping, braais and other such fun.
Date: 28 November
Venue: Blue Bird Garage, Muizenberg
Time: 15h00
3. Slide Night
Presented by Pick n Pay and the Save Our Seas Foundation, this event entails an evening of 10 minute talks, which will be done by 10 thought-leaders with a deep connection to the ocean.
Date: 8 December
Venue: Centre for the Book, City Centre
Time: 19h00
4. Film Festival
Ah, now we get to the main event. This festival is a series of surf and ocean films screened across the city at various venues – including one of Clifton's beautiful beaches.
Clifton 4th Beach, Clifton: 5 December
Bras Bell, Kalk Bay: 6 – 9 December
Labia, Gardens: 10 – 13 December
…
For a full schedule, head on over to the official Wavescape Festival website. You will also be able to get more info on specific films that are being screened, as well as costs for entry to various events.
I may not have the balance or coordination to stand up straight on a board without falling off (vertigo, anyone?), but as a lover of the ocean, I think that the Wavescape 2015 film festival is one that has a great cause.
Will we be seeing you at this year's Wavescape? Leave your thoughts below and let us know!