This coming Saturday on 18 March 2017, the much-anticipated Cape Town Carnival 2017 will be taking to the streets of the City Centre. This event is a 100% free, family-friendly event that includes a magical costumed procession down the Fan Walk. Afterwards, a major street party keeps the festivities going until midnight. Every year has a theme, with costumes and performances tailored around the theme. The performances are incredible, with some jaw-dropping costumes that add even more to the show.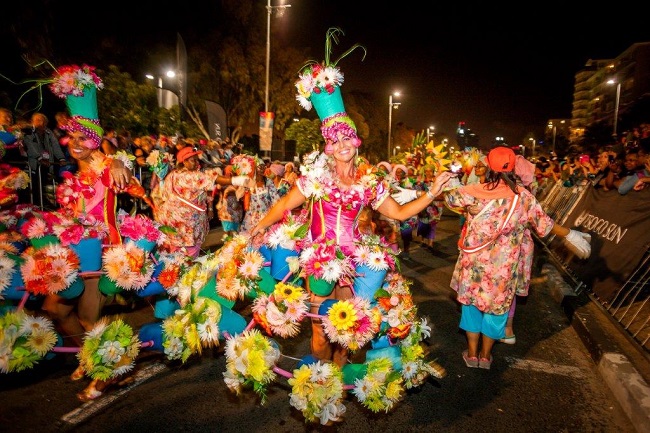 If you're looking for something fun to do this weekend, make sure that you head on down to the CBD to watch the carnival unfold! In this guide, we take a look at this year's carnival info to see what you need to know before heading out.
Everything You Need to Know About Cape Town Carnival 2017
First up, here is all the info you need about the Cape Town Carnival 2017:
Date: Saturday 18 March 2017
Time: 15h00 until 24h00 (street party starts at 21h30)
Venue: Green Point Fan Walk (Somerset Road to Main Road)
Cost: FREE (there are also VIP packages available)
Contact: +27 (0) 21 406 2947 / info@capetowncarnival.com / www.capetowncarnival.com
This year's theme is AMAZA – Ocean Odyssey. From the official carnival website, here's what this theme represents:
"From sunny beaches, rock pools & seashells, surfers and sunshine, to our place at the confluence of two oceans: The Atlantic & Indian Oceans. The Ocean is a world of possibilities. Beyond turbulence and uncertainty, there's hope & smooth sailing. Go with the flow but navigate your way as we discover a South African ocean adventure for the Cape Town Carnival 2017. Walk on the Promenade. Play on the beach. Imagine the Strandlopers who first walked these shores. See dolphins, penguins & fishermen. Surf the waves. Dive deep beneath the surface into mystery, magic and wonder. See strange & amazing creatures from another world. Discover treasure, perhaps even Atlantis! We may return but we'll never be the same."
With over 2000 performers expected, all dressed in dazzling costumes, the Cape Town Fan Walk will be transformed into a riot of colour, sound and magic. Floats, dance routines and more fun will be on the cards, after which a massive street party will take place, featuring some of the country's hottest musical legends. The street party kicks off at 21h30. On the lineup will be Oshri, DJ Fresh & DJ Euphonik.
The carnival will begin at 15h00 on Somerset Road in De Waterkant, at the end of Riebeek Street. The Fan Walk will turn into a massive party venue, and the procession will begin moving towards Green Point at around 19h00. There will be food and drink vendors along the way, while various bars and restaurants will be open as well. Please note that entry to bars and restaurants may not be free, although the carnival itself is 100% free. Take extra cash just in case.
______________________________________________________
For more details on the event, visit www.capetowncarnival.com. Looking for accommodation for the Cape Town Carnival 2017? Contact us today to see what properties we currently have available over the weekend!
Image: capetowncarnival.com