Looking for free things to do in Cape Town this weekend? If you're anything like me, you enjoy the free things in life just as much as the finer things. In fact, to quote an overused saying, some of the best things in life are free. You can't put a price tag on friends, family, sunshine or nature, and it's hard to put one on to good times that require no special access, equipment or dress code.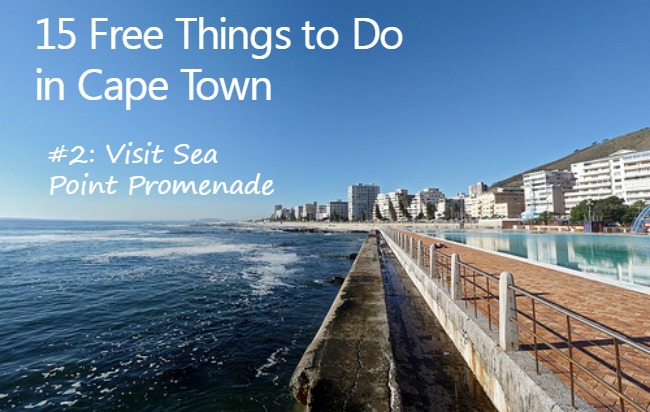 Helping you stretch out your travel budget / pocket money / left-over-after-debit-orders-and-bills money or any other sort of budget you set for non-essentials, we bring you a list of fun, free things to do in and around the Mother City. Print it out, stick on the fridge and start doing your best to cross off as many as you can on the weekends that lie ahead!
Top Things to Do in Cape Town That Don't Cost a Thing
Without further ado, let's get right onto the list, shall we? In no particular order, here are our top picks for free activities in Cape Town.
1. Climb Lion's Head. If hiking and/or nature walks are your thing, you can enjoy a memorable trip up Lion's Head. Try a daytime hike (early morning if you want to avoid the heat on summer hikes; any time on a clear winter's day) or, for an even more magical experience, join locals on the next full moon hike and watch the moon rise over the city.
2. Visit Sea Point Promenade. This lovely stretch of promenade runs from Mouille Point all the way to the swimming pools, and is ideal for a walk, jog, game of soccer on the grass, picnic, sunset watching, people watching, ice cream (look out for the ice cream truck near the pools) or even pop-up outdoor yoga. There's also an outdoor gym and regular art installations to enjoy… all at no cost.
3. Explore Green Point Urban Park. In the area, close to the Cape Town Stadium, lies Green Point Park – an amazing urban oasis of greenery. Entry is free, and you can wander around paths, sit on the lawn and look out for all sorts of birds, plants, insects and other creatures. There is also a play area for kids, making this spot ideal for all ages.
4. Stroll Through the Company Gardens. In the Cape Town CBD area, the Company Gardens is situated in the heart of the city, housing the museum and planetarium. There are cool shaded paths, friendly squirrels to feed, a large bird aviary, rose gardens, fish ponds, statues and lawns to sit on. Entry points can be found on Adderly Street and Orange Street (opposite the Mount Nelson Hotel).
5. Unwind at De Waal Park. On Camp Street, near Oranjezicht, the iconic De Waal Park is a free community park for dogs and people. In summer, free concerts are held, but any time of year is good for a bit of frisbee, a walk through the lawns or a sit under the tall, ancient trees. You can also see the reservoir that is located in the area – very exciting when helicopters fetch water during summer wild fires on Signal Hill!
6. Take a Tour of Parliament. Set aside your views on politics, for a tour of the beautiful old parliament buildings in Cape Town. Free tours are offered between 09h00 and 12h00 Monday to Friday, and last about an hour. The buildings are located at 120 Plein Street, near the Company Gardens.
7. Full Moon Night Cycle. Another activity for nights when the moon is full, this free cycle is so popular that even celebrities such as Helen Zille have joined the fun. Cyclists meet every full moon at 21h00 under the Green Point roundabout, with a route that changes often (but usually ends at a local bar for a celebratory drink).
 8. Read a Book. With an excellent selection of free to join libraries across the city, not to mention the Centre For the Book, which is also free to enter, reading is something that the city offers to all. Kloof Street Library is a great spot to start in the City Bowl as well, with a garden to enjoy (even if it is a fair hike up the hill to get there).
9. Walk on the Beach. Any beach! With so many to choose from, you won't have any trouble finding great beaches in Cape Town. And, best of all, they are nearly all free. The only exceptions are beaches that are designated nature reserves, such as Boulders and Cape Point. Our top picks include Camps Bay, all of the Clifton Beaches, Llandudno Beach, Noordhoek Long Beach and Blouberg Beach to name just a few.
10. Take a Diamond Tour. At Shimansky, you can enjoy a free diamond tour of their workshop that is located in the Clock Tower section of the V&A Waterfront. Having taken one of these tours myself, I can tell you from personal experience that they are seriously interesting. Fair warning though, you may wish you could buy everything in sight! Call +27 (0)21 420 2788 for more information on the tours (bookings are advised).
11. Walk a Shelter Dog at TEARS. This hard-working non-profit group always needs help with keeping their current canines happy and healthy. If you love dogs and want to help an organisation that works tirelessly to help animals, this is a great way to get involved. For more info, email [email protected].
12. Hang Out at the V&A Waterfront. With regular free concerts and entertainment held at the amphitheatre, not to mention live marimba bands, markets and other things to see and do, the Waterfront is a great place to enjoy free things to do in Cape Town. Watch the seals laze around, walk along the board walks, check out the Blue Shed Craft Market and window shop to your heart's content… without paying a cent.
13. Visit Green Market Square. Another great spot to enjoy a few hours of strolling about is the lively market that is hosted in the heart of the City Centre. Green Market has been around for many, many years – back to the very earliest days. Today, it offers a melting pot of goods, stores and sights. African curios, designer goods, music, food, clothing, leather, jewellery and anything in between are all up for grabs.
14. Sample Wine. Head to the Constantia Wine Route, the iconic Cape Winelands or even a nearby restaurant or wine store to enjoy regular tastings at no cost. In the City Bowl, Wine Concepts on Kloof Street (inside the Lifestyles on Kloof centre) often has free wine tastings (it is a nice idea to buy wine if you're going to sample it however). Hotspots such as &Union and TjingTjing also often have tastings.
15. Visit Free Museums. Almost all South African museums are free on public holidays, but for the rest of the year, free museums to try include the Holocaust Museum (Monday to Friday, 10h00 to 17h00), Social History Centre (Church Street) and Cape Medical Museum in Green Point (technically free but donations are asked instead of entry fee).
…
This list should give you some new ideas on how to enjoy Cape Town at no cost. We'd love to hear your favourite free things to do in the Cape… share your ideas below and let us know what you love to do for free!