The weekend is upon us and there are plenty of activities and events in Cape Town to keep you entertained. From numerous Valentine's Day events to live music performances and beach festivals, here is my list of the best things to do this weekend in South Africa's Mother City.
1 A-ha South African Tour (February 14)
The Norwegian trio, A-ha are scheduled to perform in Cape Town this weekend at the Green Point A Track. This stellar band dominated the pop charts back in the '80s and now they are celebrating their 35th anniversary with a South African tour. Their 1985 debut album Hunting High And Low is simply amazing and the concert promises to be magnificent. This is actually the first time since 1994 that A-ha is playing in South Africa, so make sure to get your tickets that range from R595 to R895.
Venue: Green Point A Track, 11 Fritz Sonnenberg Rd, Green Point
2 Moonstruck Beach Festival, with Cape Talk and Simply Asia (February 15)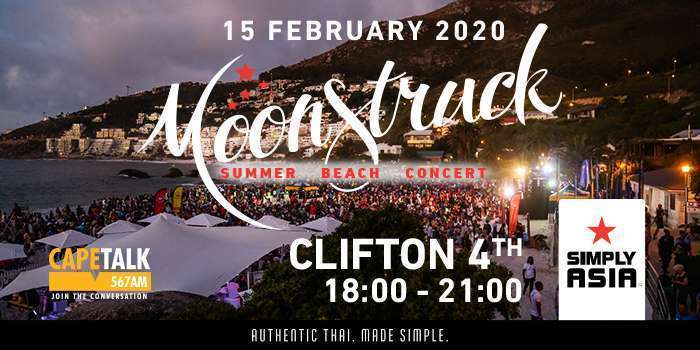 The annual Moonstruck Beach festival is back to Cape Town. This shore-side event with Cape Talk and Simply Asia is a one-night-only musical experience with free admission. Two simple rules need to be followed: picnic baskets and no shoes. Invite your family and friends to join you in the celebration of mesmerizing music.  The line-up includes Legends, music curated by the legendary Camillo Lombard with special performances by the Solid Gold Band featuring: Jarrad Ricketts, Elwira Standili and the CPYO String.
Venue: Clifton 4th Beach
---
---
3 Valentine's Day Galileo Open Air Cinema (February 14)
There are many Valentine's Day events in Cape Town happening this weekend, but my favorite one is definitely Valentine's Day Galileo Open Air Cinema which features a screening of the romantic Hollywood blockbuster About Time. Head out to the Nooitgedacht Wine Estate in Stellenbosch where you will be welcomed with a delicious chocolate treat and a complimentary drink before the movie. The lawns at the Nooitgedacht Wine Estate provide an ideal setting for a romantic experience for Valentine's Day. Live entertainment is provided by Ezra Lingeveldt.
Venue: Nooitgedacht Wine Estate, R304 Koelenhof Road Stellenbosch
4 Love at First Sail, Twilight Valentine's Day Cruise (February 14)
If you wish to spend Valentine's Day with that special someone in the ultimate romantic setting, hop on the Twilight Valentine's Day Cruise. This 2 hour and 30 minutes-long Love at First Sail Twilight Valentine's Day cruise includes a bottle of Graham Beck Bubbles for every couple, as well as a chocolate rose, gin tasting, and live music. Boarding starts at 6.30 pm sharp.
Venue: The Mirage, Victoria & Alfred Waterfront, Cape Town
---
Recommended Accommodation
---
5 15th Cape Town Folk n Acoustic Music Festival (February 16)
Head out to the Kirstenbosch National Botanical Garden on the 16th of February to see the 15th edition of the Cape Town Folk n Acoustic Music Festival. This stellar festival showcases some of the best folk and acoustic artists from South Africa including names such as James Stewart, Ross Learmonth, Andre De Villiers, Louise Carver, and many others. You can even bring your picnic food basket to the event, as well as refreshing drinks.
Venue: Kirstenbosch National Botanical Garden, Rhodes Dr, Newlands, Cape Town
---
Looking for more things to do in Cape Town this weekend? You can check out a range of tours packages you can enjoy. Be sure to follow us on Facebook or check out our blog, which has a huge range of ideas on what to see and do, where to stay and how to put every moment of your weekend to good use. If you're planning a longer stay, be sure to get in touch. We will help you find the perfect place to stay in Cape Town this weekend or any other weekend you plan to visit.