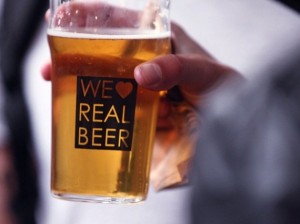 Craft beer in Cape Town is more than simply something to drink when you are out and about. It is a movement – or even a way of life, some would say. While there is a huge selection of mass produced beer to be found across the city, from South African Breweries (SAB) that is situated in Newlands near the famous cricket and rugby grounds, to imported brands, the demand for craft beer shows no sign of slowing down. And it is not surprising either – brewed the traditional way, with no additives or fancy frills, this is beer as it was meant to be enjoyed.
With the Cape Town Festival of Beer just around the corner in late November, we take a look at some of the best craft beer in the Mother City, and where you can enjoy the awesomeness in every sip of these fine ales, lagers and stouts.
Where to Drink Craft Beer in Cape Town
Spend some time at local bars, pubs and restaurants, and you may come across the odd We Love Real Beer sign. This initiative promotes craft beer, but it also carries forth the sentiment of beer drinkers in the Cape, and just about everywhere else in the world. If you love real beer, be sure to try one of these local spots to get the best craft brews in the city.
&Union – 110 Bree Street, City Centre
Where better to get started than the home of Brewers &Union? Travelling the world in search of Europe's oldest family-run breweries, &Union produce luxury artisan beers made from the finest barley malt, yeast, hops and water. Try an ice cold Steph Weiss as you hang out with the city's trendy crowds, and indulge in their famous pork pregos.
 Mitchell's – Dock Road, Waterfront
Mitchell's also offer their own beers, with a micro-brewery situated in the popular Waterfront, along with a traditional English style tavern that is perfect for Friday afternoons or lazy weekends. Using British mashing and German lagering techniques and natural ingredients, brews such as Foster's Lager, Bosuns Bitter, Ninety Shilling Ale and Raven Stout are all worth a try.
Hudson's Burger Joint – Somerset Road, Green Point
Famous for their excellent burgers and equally delicious beer, Hudson's offers Jack Black Pale Ale and Lager as well as their own signature Hudson's Pale Ale. Even better, draughts and starters are available at half-price during Happy Hour, which runs between 16h30 and 18h30 (EST) every day. With the weather continuing its slow and steady progress into summer, you can sit outdoors to wind off your day in the late afternoon sun.
While the list goes on and on, there are almost too many We Love Reel Beer supporting hangouts to mention in a single article. Mention should however be given to hotspots such as El Burro in Green Point (&Union, Boston Breweries, Darling Brew and others), The Pride and the Glory on Kloof Nek Road (Darling Brew, Camelthorn and others) and Rick's Café Americana on Park Road (Camelthorn, Jack Black and others).
So the next time you are in the mood for a slow-brewed, 100% natural beer that celebrates the return of real beer, make sure to ask your barman or waiter for their craft beer menu. We promise, your taste buds will thank you.
What is your favourite craft beer? Head on over to the ComeToCapeTown Facebook page and share your thoughts!