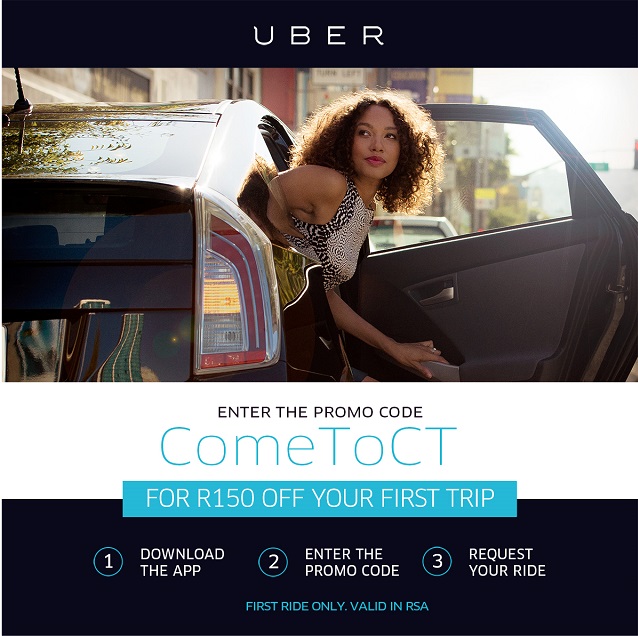 Great news for all you lovely readers out there… ComeToCapeTown.com and Uber have partnered up to bring you a super amazing deal for all new users. Sign up using our special code, and you will get a first free ride of up to R150! All you need to do to request your free Uber ride is to get Uber on your phone (available for free on iPhone, Android, BlackBerry 7 and Windows Phone) or visit the mobile website on http://get.uber.com/go/ComeToCT.
Once you have signed up by mobile or online, make sure that you enter the promotion code ComeToCT. This will ensure that you get your first ride of up to R150 absolutely free. It really is as simple as that. Go sign up now, and save a bundle on that long airport fare, that big night out with friends, the late night work function or any other occasion coming up that requires you to be transported safely and simply.
Why Uber is the Smartest, Safest Way to Get Around Cape Town
We love Uber long time, and we are pretty sure that you will too. An on-demand service that connects you with a private driver at the touch of a button, this service is cash free, with fare deducted from your credit card that is securely filed on registration. With a choice of affordable options on hand, not to mention world-class support that includes social media platforms such as Twitter, this revolutionary service is fast becoming a global force to be reckoned with… so much in fact, that traditional, old fashioned cabs are becoming passe!
Current pricing options (correct at time of going to press) are as follows – contact supportcapetown@uber.com
UberX: R5.00 base fare / R20 min fare / R0.70 per minute / R7.00 per kilometre
UberBlack: R15.00 base fare / R50 min fare / R1.10 per minute / R11.00 per kilometre
…
Why should you sign up for Uber? Well, for starters, it is the smart thing to do if you like to head out at night for a few drinks. Whether you live in the area or you have hired a car for your holiday in the Cape, drinking and driving is never acceptable. In addition to putting you at risk of danger (and putting others at risk, too), you put yourself at risk of getting arrested. Ending up with a prison record, jail time or ongoing court cases is not worth that dumb idea to hop in and drive after drinking. No matter how short a distance the drive may be.
Another reason that Uber has become the preferred choice of transportation for people all over the world is that it is convenient, fast and easy. As an app on your phone, you can book a driver, track the driver's progress and know when to be ready and waiting outside without having the frustration of busy tones and hectic taxi call centres. And I know first hand how annoying those are… trust me.
Now you have even more reason to give this incredible service a try… a first free ride of up to R150! Don't forget to use our exclusive promo code when signing up so that you get this deal – if you don't use the code, you will lose out on that free ride. Just to remind you again, the code is ComeToCT and the signup link for online registration is http://get.uber.com/go/ComeToCT.
…
This offer is only valid in South Africa, and is designed for new Uber users. Sign up now and grab your awesome new user discount while this offer stands! We'd love to hear about how you get around Cape Town too – share your comments below and let us know if you use this service!