Known as one of the most beautiful, vibrant and charismatic cities in the world, Cape Town certainly knows how to get people talking, visiting and coming back for more again and again. Every year thousands of people from all corners of the globe travel to Cape Town to catch a glimpse of its most prized and celebrated possessions – it's glorious natural wonders and iconic landmarks. And while the Mother City certainly has no shortage of incredible natural gems, here are just 6 natural wonders you'll love to see in the Western Cape! But in case you're looking for something a little extra, our Best of the Cape Full Day Tour will be sure to fill your day with as many beautiful sites, natural gems and celebrated Cape Town landmarks and attractions as possible: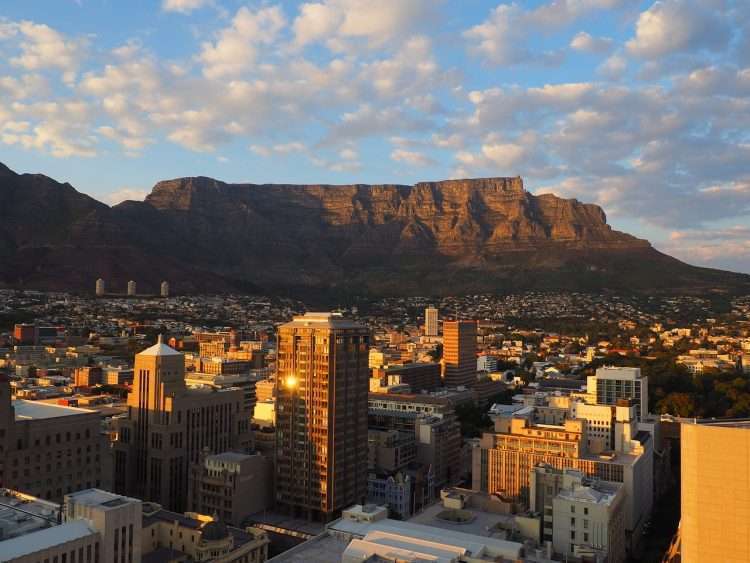 1) The Glorious Table Mountain: One of the New7Wonders of Nature
View this post on Instagram
How can we not start our natural wonders in the Western Cape list with the most glorious Cape Town natural wonder of them all – the striking Table Mountain! With its highest point, Maclear's Beacon, peaking at 1085 meters above sea level, Table Mountain is without a doubt one of Mother Nature's finest works of art. In 2012 this iconic flat-topped mountain was inaugurated as one of the world's 'New7Wonders of Nature, and it only takes one glimpse to know exactly why. It is over 260 million years old, making it older than the Andes, the Alps, the Rocky Mountains and the Himalayas, and it's awe-inspiring beauty, power and grace trumps all others and has earned it a prime spot as one of the most photographed places in the world. This Cape Town natural gem is also home to a rich bounty of fauna and flora, many species of which are endemic and survive only in the unique ecosystem contained on the Table Mountain slopes, making it truly one of a kind. In 1998, former President and iconic leader and change-maker Nelson Mandela proclaimed Table Mountain, "a gift to the Earth", it is this and so much more that has made Table Mountain a beloved symbol of home to all Capetonians and earned it a very special place in all our hearts. This is one Western Cape natural wonder that will have you falling head-over-heels in love, forever charmed and captivated by it's magic! And if you're in the mood for some extra Table Mountain thrill, our Table Mountain Hike & Abseil Tour is one Cape Town adventure you will NEVER forget and truly allows you to experience this Cape Town natural wonder in a whole new way!
2) The Cape of Good Hope: A natural gem at the tip of the Cape Peninsula
View this post on Instagram
Named the 'Cape of Storms' by Bartolomeu Dias in 1488, or simply known as Cape Point, this ever-striking Western Cape natural wonder has certainly earned itself a prime spot on our celebrated Cape Town natural gem list! At the very tip of the Cape Peninsula, 60km south-west of the city of Cape Town, is where you will find this nature lover's paradise and scenic dream come true. Located within the world-renowned Table Mountain National Park, a declared Natural World Heritage site, Cape Point is home to the magnificent Table Mountain chain and the coastlines of the Cape Peninsula. You therefore get to witness some of South Africa's most beautiful landmarks all at once! Encompassing 7750 hectares of rich and varied fauna and flora, 250 species of birds, and abounded with bucks, baboon and cape mountain zebra, IT truly is any nature lover's paradise. It also boasts some of the most beautiful and unspoilt beaches in the Cape and a few Cape Town secret beaches that are guaranteed to set your beach-loving heart on fire! Why not embark on our magnificent Cape Peninsula Tour and experience the magic of Cape Point and a few other spectacular Cape Town landmarks and incredible attractions all in 1 jam-packed day!
---
---
3) Cederberg Wilderness: Over 71 000 hectares of raw, unapologetic beauty
View this post on Instagram
Just 3 hours from Cape Town you will encounter the raw, unapologetic and untamed beauty of the Cederberg wilderness, and what a sensational sight it is indeed! With burnt ochre mountains, jagged sandstone rock formations and ancient San and Khoi rock art, it will feel like you've escaped to another world entirely. This Western Cape natural wonder stretches from the Middelberg Pass in Citrusdal to north of the Pakhuis Pass at Clanwilliam and forms part of the Cape Floral region. The Cederberg wilderness is also a World Heritage site and encompasses the 100 km long protected Cederberg mountain range and 71 000 hectares of protected reserve made up of rugged terrain, thereby making it a top spot in the Western Cape for hiking and rock-climbing enthusiasts. This Cape Town natural gem also celebrates the unique fauna and flora of the Western Cape. It is covered in mountain fynbos, including the laurel protea, the red disa, rooibos, and the rare and endemic snow protea. The rare Clanwilliam cedars, the area's namesake, can also be found in the higher mountain cliffs. Be sure to keep your eyes open for some wildlife spottings too! The Cederberg Wilderness is an absolute must-see for anyone visiting the Western Cape!
4) Kirstenbosch National Botanical Gardens: One of the GREAT Botanic gardens of the world
View this post on Instagram
Acclaimed as one of the great botanic gardens of the world, Kirstenbosch National Botanical Gardens has won the highly esteemed 'International Garden of the Year' award and very few gardens can actually match the sheer grandeur of the setting of Kirstenbosch. Known as the Cape Floristic Region, Kirstenbosch lies in the heart of the Cape Floral Kingdom. The Cape Floral Kingdom is the smallest of the world's floral kingdoms, yet by far the richest in terms of biodiversity with well over 9 000 different plants, 69% of which are found nowhere else in the world. It is also the only floral kingdom in the world to be contained within one country and the first botanical garden in the world to be devoted to a country's indigenous flora. Kirstenbosch therefore takes it upon itself to celebrate Cape Town's natural beauty in every single way. Kirstenbosch is also known as one of the best picnic spots in Cape Town as well as boasts a variety of hiking trails, walking tours, tree-canopy walkways, waterfalls, waterways and so much more. This Western Cape natural wonder is definitely worth a visit and also ensures a fun day out for the whole family!
---
---
5) Kogelberg Nature Reserve: One of the greatest displays of untouched beauty in the Cape
View this post on Instagram

Considered by many to be the Cape's most beautiful protected area, Kogelberg Nature Reserve is another one of the Western Cape's world-renowned World Heritage Sites and a truly remarkable Western Cape natural wonder. Kogelberg was South Africa's first registered biosphere reserve and encompasses the entire coastal area from Gordon's Bay to the Bot River vlei, and inland to Grabouw and the Groenland Mountain. The Kogelberg Nature Reserve's reputation as one of the Western Cape's leading natural stunner's is greatly owed to its largely untouched and unspoilt beauty that has endured minimal human interface. It's real, raw, rugged and unapologetic untamed wilderness is everything and more you could ever hope to see. It is also considered the heart and soul of the Cape Floral Kingdom due to its exceptional diversity and quality of fynbos, and is also perhaps the finest example of mountain fynbos in the Western Cape.
6) Beaches, beaches & more Cape Town beaches: Because it's all about that Cape Town beach life!
View this post on Instagram
Our celebrated Western Cape Natural Wonders list just wouldn't be complete without mentioning the sensational beauty of Cape Town's many magnificent beaches! Cape Town has a diverse and spectacular selection of beaches dotted along its Atlantic and Indian Ocean coastlines, each with their own distinct personality and unique beauty. There is no doubt that the Mother City's glorious selection of beaches is one of her top tourist attractions. From world-renowned white sand strips and charismatic bays framed by boulders, to an endless selection of secret beaches and hidden hideaways to explore, Cape Town beaches certainly have it all! From Camps Bay, Scarborough, Paternoster, Yzerfontein, Clifton, Muizenberg and Bakoven to Llandudno, Melkbosstrand, Long Beach, Jacobsbaai and so much more, the Western Cape is filled with an endless area of sandy natural wonders just waiting to be explored by you!
While this is merely 6 natural wonders you'll love in the Western Cape, there is SO much more! The beautiful Western Cape truly is a natural treasure chest filled with the most magnificent natural gems, nature's best kept secrets and Mother Nature's most celebrated works of art. No other place in the world can compare with the sheer natural, raw and unapologetic beauty of the Western Cape, and it deserves to be seen, cherished and celebrated by all!
---
If you're looking for things to do in Cape Town, we will be more than happy to help. If you're also looking for a great all–inclusive holiday accommodation in Cape Town, we offer excellent Cape Town accommodation options – apartments, villas and hotels you can actually afford. Browse our selection of accommodation by area and tours, or get in touch today for help with finding the perfect places to stay in Cape Town.