Did you know that besides a vibrant nightlife and spectacular sightseeing attractions, the Mother City is also home to dozens of amazing museums? Whether you are looking for science and art museums or wish to visit historical and sports spaces, Cape Town offers a variety of great museums that you should definitely include on your bucket list of places to visit in the city. Here are our picks for 6 great museums worth checking out while visiting the Mother City.
1 Bo-Kaap Museum
Located in the Malay Quarter of the Mother City between several colorful houses, Bo-Kaap Museum focuses on the heritage and the local Islamic culture. This amazing museum was founded in 1978 and attracts a number of visitors who wish to learn about the lifestyle of nineteenth-century Muslim families. Some of the most interesting exhibitions in the museum include Pattern of Beauty, Who built Cape Town, and New Year Carnival and the Alibama.
2 The South African Jewish Museum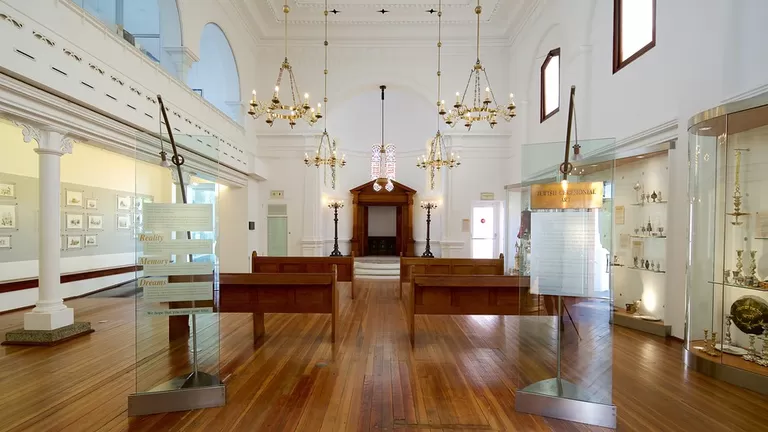 The South African Jewish Museum was founded by Mendel Kaplan and features a bold architectural design with many Jewish collections of works by William Kendridge, Irma Stern, and Marc Chagall Hadassah. Make sure to check out the model of a Lithuanian Jewish village and Jacob Gitlin Library. This museum also features several audio-visual presentations, as well as a fine collection of miniature Japanese art.
3 Springbok Experience Rugby Museum
There are many great museums in Cape Town and Springbok Experience Rugby Museum is definitely one of them. People from South Africa are generally crazy about rugby, so it comes as no surprise that there is a rugby museum with video clips, various exhibits, trophies, and jerseys in the city. Most of the items in the museums are connected to the Springbok team and showcase the history of players, facts, and unforgettable moments.
---
---
4 District 6 Museum
Located on Buitenkant Street, District 6 Museum allows guests to discover information about the everyday life of thousands of residents of District 6 neighborhood who were forced to move out from their homes by the apartheid government. Expect to find artifacts and newspaper clippings, as well as guided tours of the area run by an ex-resident of the house. There is also a nice garden in front of the District 6 Museum and the staff organizes nature walks.
5 Cape Town Diamond Museum
One of the great museums in the Mother City that offers free entrance, Cape Town Diamond Museum is located on the V&A Waterfront and focuses on the diamond industry. Listen to stories about the transformation of rough diamonds in the Polishing Factory and learn what happens at the Jewelry Manufacturing Factory. The guided tour is led by Shimansky, who is the owner of this amazing place. Visitors will also have a chance to hear about the history of diamonds and can even try local South African wines and have a cup of freshly brewed coffee during the guided tour.
6 Robben Island Museum
No visit to Cape Town is complete without taking a ferry ride to the popular Robben Island Museum, a UNESCO World Heritage Site that used to be a prison where the first resident of South Africa, Nelson Mandela spent 18 years as a political prisoner. A tour of the museum is held by an ex-prisoner who will tell you all about this place from his own perspective and experience. You can also visit the military base and the mental hospital, as well as the Murray's harbor. The Robben Island is easily accessible by boat from V&A Waterfront, but make sure to book tickets for the museum beforehand, as it is one of the most popular tourist attractions in Cape Town.
Looking for more things to do in Cape Town during your stay? Get in touch with the ComeToCapeTown.com team today to start planning your dream holiday right now. We offer a wide range of affordable accommodationoptions at the best rates in town. Contact us today with any booking related queries you may have, or to learn more about finding free things to do in Cape Town and surrounds.