Green Point Urban Park is an incredible park that lies alongside the Cape Town Stadium in Green Point. With a scenic wetlands area, biodiversity garden, two play parks for kids, an art park for special events, a tea garden, nursery, paths that are ideal for jogging, cycling and walking and even a 'green' fitness park, this park is a haven for locals and visitors alike.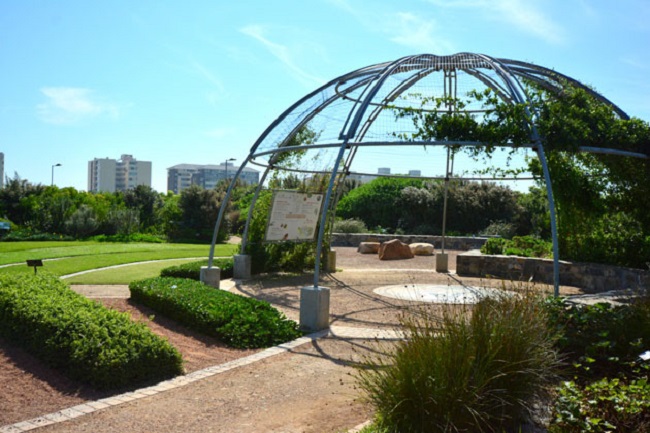 Today, we're taking a virtual tour of Green Point Park to find out more about what the park has to offer visitors.
Why Visit Green Point Urban Park in Cape Town?
One of the best free community parks in Cape Town, Green Point Urban Park is situated on Fritz Sonnenberg Road. Before we share some of our favourite things to see and do at the park, here are some 'need-to-knows':
Address: 1 Fritz Sonnenberg Road, Green Point
Hours: Open daily from 07h00 – 19h00
Cost: Free!
Contact: +27 (0)21 417 0111
Now that we've got the important details out of the way, what can you see, do and experience at Green Point Park? Let's have a look…
Wetlands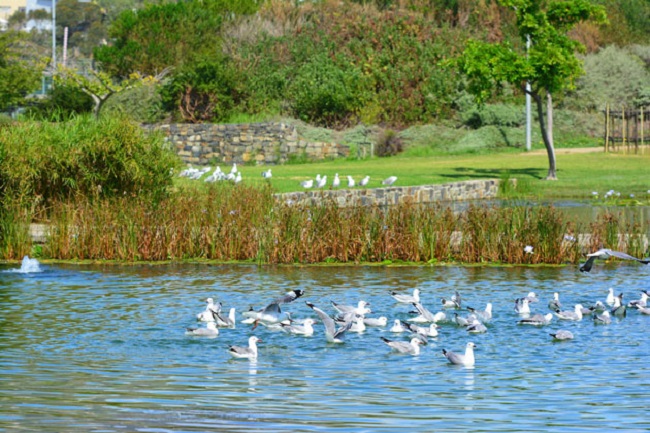 The water features are a major highlight. Many water birds can be seen here, along with a diversity of wetland flora. Thanks to streams that flow directly from Table Mountain, the water is fresh and clean. The wetlands attracts a diversity of insects and other creatures, further adding to the park's beauty.
Biodiversity Showcase Garden
The Biodiversity Garden is filled with flora and fauna, with hundreds of endemic plant species. There are also beautiful animal sculptures, a Khoi display, interactive features, demonstration gardens and other amazing things to explore. Look out for the biodiversity trail and the wetland walk, spot unique artwork and statues, and enjoy the useful interpretative boards that help you navigate through the garden.
Play Parks
There are two separate play parks for children. The Tot-Lot Play Park is especially designed for toddlers and smaller kids between the ages of 1 and 6 years. There's also an Adventure Play Park that is ideal for older children of 7 to 16 years. This means that little ones can enjoy a safe environment with age-appropriate equipment, while the bigger kids can let off steam with a range of 'big kid' facilities.
Picnic Areas
There are plenty of pretty areas to enjoy a picnic at the park. These include covered picnic areas as well as lawns. Bring a picnic basket, find a sunny spot on the grass and relax as you take in the heavenly views that abound. It is a good idea to take along an empty plastic bag for any trash. There are bins situated throughout the park but as littering is strictly prohibited, it's best to be prepared with your own trash bag.
Fitness Park
Getting fit has never been more fun or rewarding. The fitness park is home to a wide range of outdoor fitness facilities. You'll be able to get a great workout at this outdoor gym, which is out in the fresh air, surrounded by spectacular natural scenery. Best of all, it doesn't cost a cent to access the fitness park.
Paths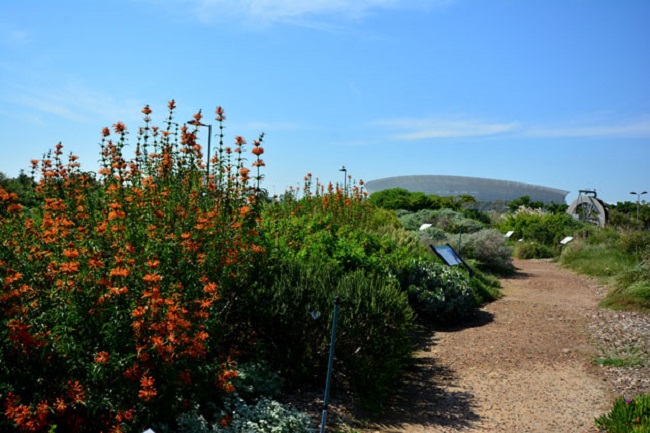 Regular Park Runs are often held here. There are many wide paths that are perfect for running, walking, cycling or even prams and wheelchairs. Sign posts are positioned throughout the park. These are important to read as they explain which areas are designated for specific activities.
The City of Cape Town has a few regulations for using the park at no cost. These include the following:
* The park is used at visitor's own risk (including play and exercise equipment).
* Camping, bathing, fires, braais, overnight sleeping, loud music, flower picking and alcohol are all prohibited.
* Children must be supervised at all times, especially near the water.
* Dogs are welcome in all areas of the park except for the Biodiversity Garden as long as they are kept on leash. Owners must pick up and dispose of dog waste.
* Picnics are permitted as long as refuse is collected and disposed of afterwards.
* Skateboarding and swimming are prohibited.
________________________________________
Have you been to Green Point Urban Park in Cape Town? Share your thoughts and let us know why you love this amazing Cape Town park!
Images sourced from CitySightseeing-Blog.co.za.