One of the best things about hiring a car in Cape Town (or anywhere else you are visiting, for that matter) is that it allows you to enjoy plenty of self drive adventure opportunities. While getting around this particular city is fairly easy, the convenience and flexibility of having your own car for the duration of your holiday or business trip makes it possible to head out wherever the wind may take you. And, with so many incredible tourist routes, interesting places and fascinating stops to visit within the city and its surrounds, you are sure to have plenty of choice when it comes to self drive in Cape Town, too.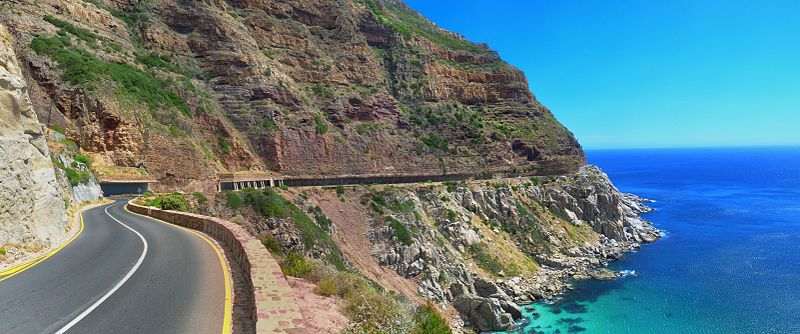 If you are not too familiar with places to go in Cape Town and the Western Cape Province in general, you may be wondering where to get started. Luckily for you, we have compiled a list of the best spots to visit with your rented car, which offer plenty of rest, relaxation, culture, entertainment, history and all that other good stuff. You don't have to necessarily plan for a full roadtrip or long stay either – these places can be explored in a single day and still get you home in time for dinner.
First of all though, you may want to take a read through our tips on driving in South Africa so that you know the rules of the road. The most important things to keep in mind: driving is done on the left hand side, drinking and driving is absolutely not tolerated, pedestrians have right of way and the majority of car makes and models in South Africa have manual transmission. We also recommend that you have a look at our helpful Cape Town maps so that you can plan your route beforehand.
Self Drive Tours in Cape Town – Where to Go & What to See
Depending on whether you have a few hours to spare or a full day, here are some of our favourite Cape Town self drive ideas…
1. Constantia to Cape Point
The beautiful Constantia Wine Route may not be as huge or well-known as the Cape Wine Route (more about the latter soon), but it certainly is worth a visit. There are some incredible roads throughout this area, and from here, you can get into the False Bay route to venture into Cape Point Nature Reserve. Note-worthy places along the way include Noordhoek, Scarborough, Kommetjie, Simons Town (and Boulder's Penguin Beach), Millers Point and Cape Point, while Hout Bay can also be accessed from here to venture into the scenic Atlantic Seaboard. A drive from the CBD to Constantia, then into Cape Point, will take a few hours or a full day (depending on how long you stop for on various points of interest along the way).
2. Atlantic Seaboard
The Atlantic Seaboard lies along the coast of the Atlantic Ocean. There are many different entry points along the route, but in full, the route runs between Mouille Point/Granger Bay near the Waterfront (close to the City Centre) and Hout Bay (closer to the southern suburbs). On the way lie the glorious coastal suburbs of Camps Bay, Clifton and Llandudno, as well as the vibrant hubs of Green Point, Sea Point and the popular V&A Waterfront. There is a plethora of little sidewalk cafes, cocktail bars, trendy restaurants, oyster bars and other eateries also found along the way, all of which are great for sundowners. This route is where some of the most spectacular sunsets can be seen, too – from beaches or viewing points such as Chapman's Peak, which runs from Noordhoek into Hout Bay. While technically, Chapman's Peak is on the False Bay route, it is still well-worth exploring if you plan on visiting Hout Bay. Exploring the Atlantic Seaboard destinations closer to the city can take just a few hours – even if you venture into Hout Bay and take the long way round, it will not take more than an afternoon.
3. Cape Wine Route
Heading out of the city, the Cape Wine Route makes for a great day out. This route comprises the towns of Stellenbosch, Paarl and Franshhoek, which lie next to each other about an hour or so out of the city. The largest of these towns (and the best known) is Stellenbosch. Here, a number of award-winning wineries are found, including Spier, JC Le Roux and Springfield Estate. It is almost impossible to see every estate here, and you may find that you only have time to explore a handful. If you are driving, it is best to skip the wine tasting or opt for a chauffeur driven car, or take a guided wine tour instead. You can still enjoy this route without drinking anything however – wine can be purchased at cellar prices to be enjoyed back home instead. Besides the wine farms, this region also has a number of interesting attractions including the Taal Monument and Paarl Rock, Auto Museum at Franschhoek and many beautiful old buildings.
4. West Coast
Situated about an hour and a half to two hours away from Cape Town, the West Coast is home to a number of fascinating places. This is where the Cape Floral Route bursts into life in spring, and where the West Coast National Park is found along with many other nature reserves, fishing villages and other interesting things can be seen. The West Coast Fossil Park is well worth a visit, while just a bit onwards lies the charming village of Darling and the Klein Karoo. The landscapes here are vast, open and surrounded by sky as far as the eye can see, with wild seas forming an impressive backdrop. Towns such as Paternoster and Saldanha offer a taste of quaint harbourside scenery, seafood restaurants and peaceful ambiance, while the drive from the northern coastal suburbs of Blauwberg in Cape Town is one you will certainly remember. It can easily take a day or so to explore this route so plan ahead to allow plenty of time.
5. Garden Route
About three hours or so away from Cape Town, the Garden Route is aptly named for its incredibly green surrounds. This route continues up to the Eastern Cape. If you are exploring in full, it can take more than a day. But you can enjoy plenty of sights and attractions without venturing all the way along the route. One of the best towns on the route is without a doubt Hermanus, which is 'whale capital' of the Western Cape. This is a great place to visit between August and November, which is when the Southern right whales come to the coast to breed and calve, making whale watching a must-do. Other towns along the route include Mossel Bay, Knysna, George and Montagu.
…
With the help of your hired car, you can choose to explore over a weekend or visit a new route every week. With so much to see within the city itself as well as its amazing surrounds, it is no wonder that self drive tours in Cape Town have become so popular!
Now it's your turn… what is your favourite route to explore in the Mother City? Share your road tripping favourites  below and let us know!