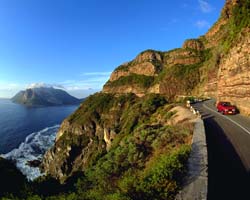 Cape Town Driving Tips
To avoid running out of gas late at night, or in an unsafe, remote area, be sure to keep your tank full at all times. You can find petrol stations throughout Cape Town, with many open 24 hours.
Always park in designated, well-lit areas, and be sure to lock the car at all times. Valuables should be stored in the trunk of the car where they are not visible.
While travelling throughout Cape Town you may notice car attendants. These attendants will assist you with parking or will watch over your car in your absence.
Many locations throughout Cape Town will places offer parking attendants to assist you with parking your vehicle. Tipping these attendants is customary, but is not mandatory. Attendants should not badger you or beg for tips.
Whilst in Cape Town, we recommend hiring a car which can be done via our car hire page.