Bloubergstrand Cape Town lies on the coast of Table Bay, less than 20km from the City Centre, and less than 7km away from Robben Island by boat. Translated from Afrikaans, Bloubergstrand means blue mountain beach. The name comes also comes from Blaauwberg, which is a nearby mountain. Commonly referred to as Blouberg, this largely residential neighbourhood is most famous for its beautiful beach that offers postcard-perfect views of Table Mountain.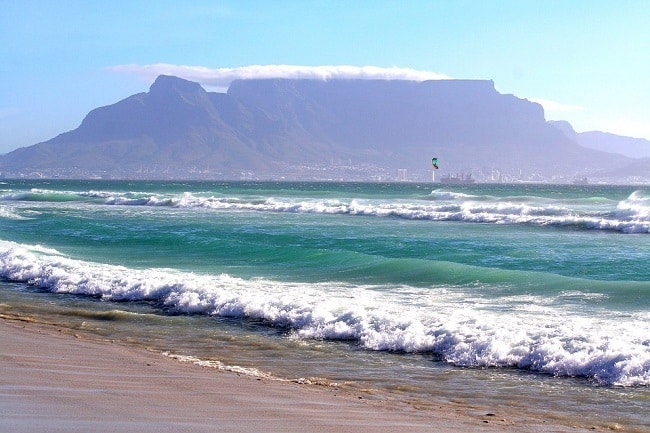 Wondering what to see and do in Bloubergstand Cape Town? Join us today as we take a virtual tour of this Northern Atlantic destination that offers beach, views, dining, entertainment and plenty more besides…
3 Things to Enjoy at Bloubergstrand Cape Town
With its iconic views made famous in guidebooks and Instagram snaps, Bloubergstrand Cape Town is a must-visit for anyone wanting to take in the top sights of South Africa's Mother City. In no particular order, some of the top highlights to enjoy in Blouberg include the following:
1. Bloubergstrand Beach
Situated on Otto Du Plessis Drive (M14), between Big Bay and Table View Beach, Blouberg Beach should be your first stop on any visit to this neck of the woods. Here, you can enjoy views spanning as far as Robben Island, with Table Mountain offering the type of photographic opportunities that cannot be missed. Other highlights include rock pools, kite-surfing and wind-surfing when the wind is high, beach walks, tanning in the hot summer months and so much more.
2. Wining and Dining
Almost directly on the sands of Blouberg Beach lies the Blue Peter – an idyllic beach bar and restaurant to enjoy a bite to eat or a few drinks after lazing on the beach. This restaurant is as laid back as they come. There is no dress code, so you can arrive straight from the beach. The menu is also laid-back, with burgers, salads, pizza, hot chips and other easy dishes all on offer. Needless to say, given the views to be seen here, sunsets are a great time to relax here with a drink and something to eat. For something more upmarket, try Blowfish – an excellent seafood restaurant found on Marine Drive. Bookings here are essential – call +27 (0)21 556 5464 to make a reservation.
3. SANCCOB Tours
The Southern African Foundation for the Conservation of Coastal Birds (SANCOB) is a non-profit organisation that helps seabirds. Penguins who have been rescued after oil spills and other disasters are commonly found here. A behind the scenes tour is sure to appeal to all ages. You will have the chance to learn more about the work done by SANCOB, while seeing penguins and other seabirds. This is also a great place to volunteer. Although the work can be tough, it is certainly worthwhile. Tours are generally for groups only, at various costs. For more details and bookings, contact SANCOB on +27 (0)21 557 6155.
Wondering Where to Stay in Bloubergstrand Cape Town?
We offer a wide range of accommodation in Bloubergstrand, including apartments, villas, holiday homes and other self-catering accommodation. If you'd like to be close to all the action but a little outside of town, we also have a variety of places to stay in the broader Blaauwberg region. This includes Big Bay, Melkbos, Sunset Beach, Milnerton and even Century City.
_________________________________________
Contact the bookings team right now for assistance in finding the perfect place to stay in Bloubergstrand Cape Town and surrounds, to start planning your dream holiday today!